A general contractor shares the challenges and successes of converting a dilapidated building into a sustainable modern office.
Thursday, November 29, 2012
Despite green and sustainable buildings representing only a small percentage of the markets across the United States, the market for such buildings has been growing substantially over the last 15 years. Throughout the 10-year history of our Texas-based contracting firm, Burt-Watts, we have advised numerous clients on green benefits and initiatives. When we decided to build our new headquarters, we knew we had to practice what we had preached and construct a sustainable, green office building. It was time for us to experience what it's like to be on the other side of such a project.
A Diamond in the Rough
While searching for potential locations, my business partner Shane Watts and I, along with investors, saw an opportunity to convert a neglected 1960s structure in downtown Austin, Texas. The dilapidated building had a partial basement, no elevator and substandard stairs and roofing. We were working with a defined budget, and this location had opportunity written all over it. The building just blocks away from the State Capitol building would allow for some stunning views of our great city.
Our vision for 1300 Guadalupe was a modern, sustainable office building which would appeal to the needs of today's urban workforce and meet the requirements of the Austin Energy Green Building (AEGB) process. The AEGB program was started by the city of Austin in 1990 as the nation's first green building initiative, and today it is one of the most successful.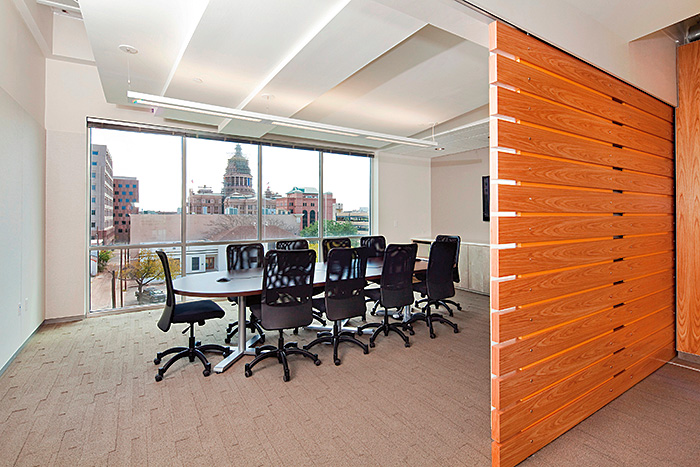 With Burt-Watts' experience in sustainable design, we knew that achieving the full benefits of going green meant planning ahead even during the conceptual stage of our project. Since we had helped clients meet AEGB requirements and achieve LEED certifications over the years, we also understood the value that sustainable elements add. It seemed only logical to achieve these certifications for our own building.
Long-Term Value vs. Short-Term Gains
Realizing the value of sustainable elements was one of the first hurdles we had to overcome. After much discussion by the investors and a review of our own experiences, we knew our long-term financial gains would come from the retrofit process.
As the owners and general contractors of our new headquarters, we began the retrofit process with clear objectives around the sustainability of the space. These objectives included obtaining a LEED certification, providing a high-quality work environment, reducing energy costs by at least 25 percent when compared to traditional office spaces and improving operational efficiencies through smart maintenance systems. Another important part of the process was to forecast owners' and tenants'  monthly savings.
Building reuse is a big plus in green retrofits. We retained most of the original structure, stripping it down to its steel and concrete beams, which we maintained as our starting point. We then added an elevator, one and a half floors and a roof deck that showcases an amazing view of the State Capitol building.
The major sustainable components for our building were lighting and water strategies, high-efficiency HVAC and reduction of energy and maintenance costs. Traditionally, these elements represent the majority of a building's operating costs, so implementing sustainable systems made sense for our long-term financial goal of 1300 Guadalupe.
Cost Challenges
In achieving these green initiatives, we had to carefully evaluate the budget against all the sustainable goals we had in place. We knew a LEED certification would add 10 to 20 percent to our project's documentation costs. That extra cost did not include additional construction fees, which can vary widely depending on the systems used. On the other hand, when marketing these projects, LEED can enhance their attractiveness to eco-conscious tenants.
For our project, we decided that creating a truly sustainable structure did not necessarily require LEED certification. As an alternative, we could utilize the local AEGB program and reap similar benefits at a lower upfront cost. We decided to use the money we would spend on LEED certification and put it toward greater sustainability.
AEGB began seven years earlier than LEED, making it the nation's first comprehensive green building program, and it costs significantly less to achieve than the latter. The rating systems are very similar, with the primary difference being the language used by each. LEED's levels of certification are bronze, silver, gold and platinum, and AEGB's are one to five stars.
Tough Choices
Many times we had to choose whether to pursue the immediate or long-term value. For example: Do we go with a high-grade HVAC and insulation system or sun shading for our windows? The payback for a high-grade system would be five years or more, but it would also improve flexibility and control for our tenants. In the end, we selected the high-grade system. This reduced energy consumption by 10 percent.
We knew that the productivity of our building's tenants could represent one of the greatest savings by far. In a study by the U.S. Green Building Council, it was determined that the two environmental attributes that most greatly affect the occupants of a commercial office building are lighting quality and thermal system control. The study showed that these two implementations alone can result in a three-percent increase in productivity.
Reaping the Rewards
In just three years after moving in and reaching our tenant capacity, we have recouped over 10 times our initial investment into the retrofit. Some offices within the building are surpassing savings estimates, registering at less than 40 percent of traditional office spaces. Today, 1300 Guadalupe is 100-percent occupied, with continuous leasing interest by tenants of good credit quality.
It was a unique opportunity to be on the other side of a contracting project, heeding the advice I had handed out so many times to clients, this time for my own company's headquarters. There is now no doubt in my mind that the decision we made to turn this previously abandoned and rundown office space into a state-of-the-art sustainable building has paid off. In fact, it has been one of the most fiscally sound decisions I've made.