Reduce fuel costs by using clean alternative fuel.
Wednesday, November 20, 2013
Performance is critical for work trucks, and fuel is key to optimal performance. Propane autogas is stepping up to meet this demand.
Propane autogas technology has rapidly improved during the last five years. Modern liquid fuel injection systems have replaced the vapor carbureted systems of the past. In a liquid system, liquid propane autogas is injected directly into each cylinder's intake port. The liquid fuel vaporizes in the cylinder, cooling the air and resulting in no loss of horsepower, torque or engine performance. With propane's octane rating of 104, the engine is "detuned" to match the gasoline horsepower and torque numbers.
This new technology has been adapted to a wide variety of light- and medium-duty commercial vehicles. Propane autogas can benefit the construction industry in multiple ways—without compromising performance.
What is Propane Autogas?
Nontoxic, colorless, non-carcinogenic propane autogas is an approved clean alternative fuel under the Clean Air Act. It's a naturally occurring byproduct of the natural gas and petroleum refining process. Currently, more than 90 percent of U.S. propane supplies come from domestic production, making propane autogas an excellent alternative to foreign oil.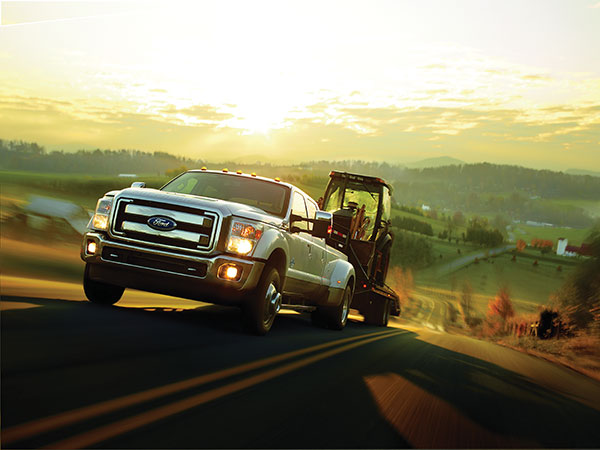 ROUSH CleanTech liquid propane autogas injection fuel systems for Ford F-series trucks offer the same horsepower, torque and towing capacity rating as gasoline-fueled equivalents.
Propane autogas is available at a lower cost than gasoline and diesel—approximately 40 percent less than gasoline and 50 percent less than diesel.
This alternative fuel has the added benefit of reducing emissions. According to a 2009 study by the Propane Education and Research Council, vehicles fueled by propane autogas emit up to 18 percent fewer greenhouse gases with 20 percent less nitrogen oxide, 60 percent less carbon monoxide and fewer particulate emissions than trucks fueled by gasoline.
Already the nation's third most commonly used vehicle fuel after gasoline and diesel, propane autogas fuels pickup trucks and vans for use in the construction industry. According to the World LP Gas Association, more than 21 million on-road vehicles around the world are fueled by propane autogas.
Studies by ICF International and white papers by government organizations have shown operational savings that fleet managers can achieve by converting to propane autogas. Since propane autogas is a cleaner-burning fuel, oil changes and routine maintenance costs decrease. With less wear and tear on engines fueled by propane autogas, the life of the vehicles may also be extended.
This clean fuel offers the same horsepower, torque and towing capacity rating as gasoline-fueled equivalents.
Refueling stations
Propane autogas has an established, widely available fueling infrastructure already in place. In fact, the U.S. has thousands of propane autogas refueling stations, with at least one in every state.
Many fleets are making the refueling process convenient by installing on-site refueling infrastructure that eliminates trips to off-site stations. Depending on storage necessity, longevity and available space, underground storage tanks for longer-term use or aboveground skids that can be replaced or removed are available.
Product Availability
A number of propane autogas-powered trucks and vans are available in today's construction market. For instance, Ford offers a full line of commercial vehicles with engines prepped from the factory for gaseous fuels like propane autogas or compressed natural gas. Ford's gaseous fuels prep package offers hardened valves and valve seats for improved wear resistance and durability.
The Bottom Line
Many companies are significantly lowering their operating costs, carbon footprint and imported oil dependence. For example, DHL has seen a 42 percent per-mile fuel cost reduction by operating propane autogas vehicles. Renzenberger Inc. has reduced operating costs by $14,500 per vehicle annually. ThyssenKrupp Elevator is paying $1.50 for propane compared to $3.75 for their gas vehicles.
Contractors can reap the same rewards by adopting affordable, clean, American-made propane autogas.