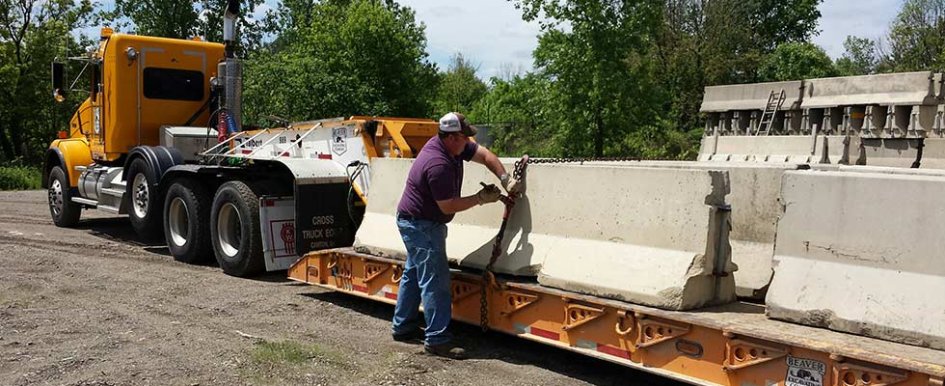 Preventing costly damage to your trailers
It's only natural to want an easier solution for efficiency-draining tasks like maintenance. Heavy-haul trailers trek thousands of miles during their service lives and encounter many challenges — from rocks and ruts to bumps and jolts, no trailer gets out unscathed. Still, the rewards that come with a well-honed trailer maintenance routine — increased safety, more productivity, longer service life and better return on investment (ROI) — make it a worthwhile goal for any contractor. The following are 10 tips to prevent costly damage and keep your trailers in top condition.
1. Consider the Construction
Minimizing heavy-haul trailer maintenance starts long before the load hits the road. To ensure long-term durability, choose units with high-strength steel, such as 12-inch-deep I-beams with a minimum yield strength of 100,000 pounds per square inch (psi).
High-quality finishes are also important. A trailer with premium primer and topcoat finishes will look great for years to come and will, as a result, have a higher resale value.
2. Determine Your Capacity Needs
To minimize wear on components such as brakes and tires and to ensure safety, follow the right loading capacity for the trailer. This means getting a true idea of load concentrations as well as weight, speed and safety ratings. Manufacturers are great resources for providing a clear picture of each trailer's true capacity.
3. Conduct a Pre-Trip Inspection
Before taking off with each load, inspect your heavy-haul trailer, checking that brakes and tires are in good condition. Also ensure tires are properly inflated to the right psi, and confirm hydraulic hoses are free from cracks or damage. If you're operating a detachable or rear-load model, be sure to properly maintain hydraulic pressure even on self-contained and wet lines.
A quick walk around the trailer to look at the frame, chains and straps for damage is a good idea as well. Trailers see a lot of use and abuse, particularly in harsher weather conditions, so repairs or replacements could be needed sooner rather than later.
4. Examine the Hydraulic Cylinders
Hydraulic cylinders should be fully retracted when not in use to minimize the stainless-steel rams' exposure to the elements and maximize their longevity.
5. Ensure Proper Lubrication
Keep wheel ends lubricated to minimize wear and prevent gear-oil leakage. Well-lubricated wheel ends also ensure proper and safe operation. Brakes, cams and slack adjusters need to be lubricated as well.
In addition, use dielectric grease on lighting connections, electrical components, lights and lighting harnesses to reduce corrosion. Always refer to the manufacturer's recommendations and grease guidelines.
6. Check Tire Inflation
Traveling with underinflated tires is one of the biggest culprits of premature wear, so keeping them properly inflated will allow them to last longer and boost fuel efficiency. Regularly check tire pressure and keep them properly inflated, either manually or with an automatic tire inflation system.
It's important to replace tires when they become worn to avoid a blowout and downtime. Always select the right size and rating to ensure optimal performance and keep tire pressure equalized for the greatest longevity.
7. Incorporate a Preventative Maintenance Program
Developing a preventative maintenance program that aligns with an owner's business needs will minimize breakdowns and optimize the longevity of trailers and their components. It will also enhance safety. Trailer-fleet owners should match their equipment needs to a maintenance schedule. For example, will the trailer need to be on the road all the time, or will it sit idle for long periods of time?
One of the best ways to see a direct reflection of the success of your maintenance program is through the Commercial Vehicle Safety Alliance's (CVSA) inspection program. The nonprofit organization scores commercial motor vehicles based on inspection procedures and CVSA criteria — and the lower the number, the better.
8. Take Notes
Proper record keeping is also important, so you know when preventative maintenance is needed and what has already been done. This helps your operation optimize efficiency and prevent any small issues from becoming larger headaches down the road. Putting proper procedures in place will keep appropriate personnel accountable for performing maintenance when needed.
9. Find Proper Training & Mechanics
Trailer owners should ensure anyone involved with any aspect of the trailer's use has proper training, not only to prevent damage to the trailer, but also for their safety and the safety of others. In addition, ensure mechanics are well trained on maintaining heavy-haul trailers and that they follow manufacturers' guidelines.
10. Don't Underestimate the Value of Communication
Drivers and maintenance technicians should have open lines of communication regarding trailer issues or required maintenance. This will ensure the right kind of maintenance is performed and that it's done in a timely manner.
A comprehensive maintenance plan is vital for keeping your equipment, employees and loads protected. Creating a maintenance routine can significantly boost efficiency and provide the best productivity and long-term ROI for your trailer.
With these tips in mind, partner with your local dealer or manufacturer to develop a game plan that works for your business.