5 ways to convert unused equipment from an idle burden to a cash flow solution
Thursday, December 18, 2014
You've probably seen it—that piece of heavy equipment abandoned in a field and overtaken by weeds, or the entire row of machines collecting dust in a fleet yard. Although many equipment owners sold idle equipment during the 2008 economic downturn, some businesses failed to sell off all of their depreciating assets. Understanding the cost of sitting equipment and what to consider before selling a machine can help fleet managers build smarter disposal strategies.
A Burden on Business
Because heavy equipment can cost hundreds of thousands of dollars, equipment owners want to maximize the value of their investment. Often, this means operating equipment routinely so that every machine can reach a low cost per use and help generate profit for the business. Although the total cost of ownership (TCO) includes storage, maintenance, transport, labor and fuel costs, frequent use drives the cost per working hour lower, helping owners make the most of their investment.
Although owners aim to keep equipment active, idleness can occur for several reasons. Perhaps the equipment is no longer needed for project work or it suffers a major issue that will require extensive repair. In some cases, it's simply forgotten among the dozens or hundreds of other machines in the fleet yard. For those with an idle fleet, now is the time to turn equipment into cash. This is because the demand for well-maintained used equipment continues to rise, leading to higher price realization at auctions.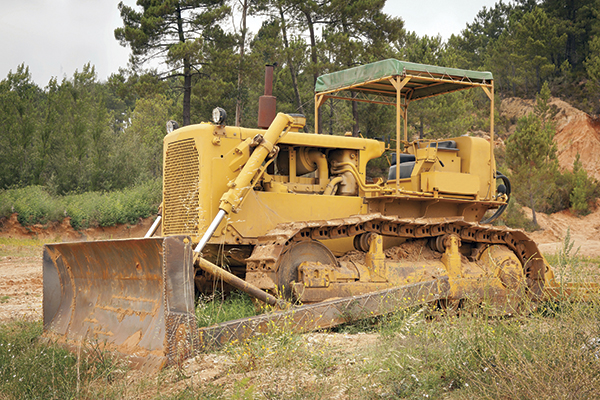 Idle Equipment Considerations
Once an owner recognizes that equipment is idle, the next step is deciding what to do with it. Should it be disposed of or remain in the fleet? Should it be repaired or left as is? Organizations should take into account the following tips in order to determine plans for the equipment.
1. Project pipeline
Idle equipment will only sit longer if there are no upcoming projects that require it. Fleet managers should take a look at the current pipeline of projects and outgoing bids to assess immediate and potential requirements and needs. It makes sense to hold onto a stable supply of core equipment that can be regularly used across many projects, but consider selling some or all lesser-used specialized pieces of equipment if the appropriate projects have not been secured. If specialty items are needed in the future, they can be rented or bought used at auction.
2. Maintenance requirements
Equipment should be properly maintained over its lifetime in order to keep it in good working condition. Idle equipment is often not regularly maintained, leading it to fall into disrepair. This can end up costing owners if they decide to sell because buyers are less likely to pay high prices for machines in poor condition. In some cases, repairs may make sense so that equipment can be used by the business again or sold for a higher profit. However, repairs can be more expensive than expected because the machine may not have been well-maintained over its lifetime.
3. Current market conditions
Fleet managers should assess the current market conditions to determine whether to sell equipment now or keep it in the fleet and wait until demand increases. Fortunately, because of today's online heavy equipment auctions, owners are no longer restricted to selling within their local area. Many people around the world are looking to buy used machines and they can be easily reached via the Internet. If idle equipment is low hour, late model and well maintained, owners have a great chance of finding a buyer. However, owners shouldn't discount a piece of sitting equipment if it is damaged, old or has been heavily used. Too often, equipment remains idle because fleet managers don't believe that it still has value. Not all buyers want "rental ready" machines. In fact, some buyers purchase equipment with the intention of fixing it themselves or using it for parts. Developing countries typically prefer older models—they are less expensive and easier to operate and maintain.
4. Business needs
Fleet managers should outline their business needs and determine if idle equipment is preventing goals from being met. Tying up capital in idle equipment hurts an organization that wants to establish itself as a safe credit risk, making it harder to secure the bank loans and bonding required for many contractors to do business. Selling unused or underutilized equipment provides leverage, demonstrating that a company has cash on hand and is flexible to the changing marketplace. Disposing of idle equipment also provides access to funds that can be used to manage other areas of the business or to reinvest in specialty or additional core equipment that will be a better fit for the season and/or the current pipeline of business projects. This can open an organization up to new types of
projects and greater revenue.
5. Available storage
Equipment requires ample, reliable and appropriate storage to protect machines from harsh weather, vandalism and theft. Owners should regularly review current inventory so that they can determine which equipment is taking up the most space, both indoors and in the fleet yard, and which items require the largest storage investment. If equipment will sit idle for a portion of the year or longer and require complex storage, selling it will free up space for more frequently used equipment.
Disposal Options
Once fleet managers have weighed each of these tips, they may find that getting rid of idle equipment is the best option. There are a number of ways to dispose of these items. Some organizations trade in used equipment while others sell it at local auctions. A growing number are turning to online marketplaces to reach buyers around the world and achieve true market value. Online auctions provide quicker access to cash compared to traditional physical auctions because equipment can be listed on the seller's schedule. It's also more cost-effective for a buyer to sell equipment from the fleet yard rather than transporting it to auction.
Most, if not all, fleet managers would rather have extra cash to invest in the business in place of unused or underutilized equipment. Properly managing idle equipment strengthens an organization and ensures that all items in the fleet are being utilized to the best of their ability. Carefully considering the best disposal option can also make a world of difference and yield a higher return on the assets.