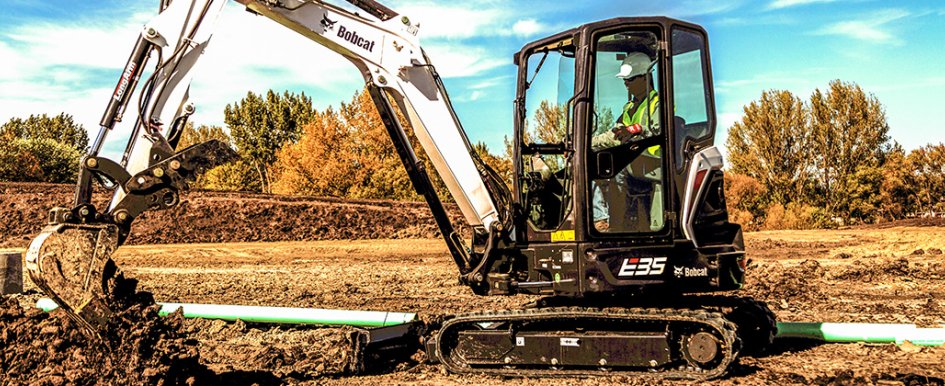 6 tips to gain a competitive edge on the jobsite
Tuesday, August 29th, 2017
Renting compact equipment continues to be a strategic alternative to ownership for a variety of reasons. It gives you and your operators the opportunity to take on short-term projects and access new revenue sources, as well as use the newest and most advanced equipment, all while reducing operating costs and minimizing downtime.
There are many benefits to renting equipment, but in order to reap these benefits, you must first make sure your operators understand how to properly use it. It's important for you to invest in training and educational resources, explain safety guidelines, follow maintenance procedures, adhere to fuel best practices and be aware of jobsite conditions.
1. Provide Proper Equipment Training
Anytime you rent compact equipment, make sure your operators have the proper education and training. This begins with reviewing the manufacturer's operation and maintenance manual and operator handbook. Many rental stores keep the manufacturer's operator handbook inside the machine's cab for easy access. An electric copy may also be available for access on a smartphone or tablet.
Next, review the safety and instructional decals on the machine. Some manufacturers place decals on the interior and exterior of compact equipment to alert operators about potential hazards, the consequences of injury and instructions on how to avoid hazards. Make sure to alert your rental store if you see any decals that become worn, damaged or missing.
Additional training resources and quick reference guides on proper operating practices include the Association of Equipment Manufacturers (AEM) safety manuals—available in print and digital formats. AEM is a trade association that provides global services to companies that manufacture equipment, products and services. AEM manuals encourage operators to wear protective clothing and personal protection equipment (PPE) to keep safe on jobsites.
Some manufacturers offer training and service safety training course kits that are also designed to improve safety and productivity when operating rented equipment. Most include a DVD with videos for individual or classroom instruction. Manufacturers may also offer short instructional videos on their website.
If operators are unfamiliar with the manufacturer's equipment, ask the rental store or dealership to provide hands-on training or to explain basic operating procedures. Service technicians also can articulate recent technology updates, encourage demonstrations and show you how to get the best performance out of your equipment.
2. Follow Safety Guidelines
A safety culture starts with management and operational staff members who treat safety and health as an investment, not a cost, and who demonstrate model behaviors. Wearing protective clothing and personal safety devices are two ways to keep you and your operators safe.
Other guidelines include wearing a seat belt; using the grab handles and steps that are provided for a three-point contact when entering and exiting the machine; and wearing tight-fitting clothing that cannot get caught on working components or the machine. Depending on jobsite rules, your operators should use work lights and a horn for efficient and safe operation.
3. Perform Necessary Maintenance
Although rental stores take care of major maintenance during a rental contract, you are obligated to perform routine equipment maintenance. Before using the equipment, make sure your operators take a few minutes to walk around the machine to look for potential problems. During the walkaround, be sure to complete a full compact track loader or compact excavator undercarriage inspection for excessive or uneven wear. Look for damaged or missing components and clean the undercarriage to help minimize any material buildup that can contribute to wear. Routinely and properly cleaning the undercarriage helps to prevent unnecessary downtime and reduces potential wear later.
For skid steer loaders, regularly inspect tire pressure. Inflate the tires to the proper pressure shown on the tire's sidewall. This can save you a significant amount of money by preventing downtime and keeping operators productive and profitable. Inspect the battery cables and connections before operation. Corroded terminals can cause hard starting and charging issues that can negatively affect your experience with your machines.
In addition, it's a good idea to have a general understanding of fluid levels for the machine. This includes DEF, hydraulic fluids and cooling fluids. Keeping all fluid at proper levels will help prevent downtime. Equipment operators should be expected to complete routine maintenance and should possess the necessary skills and tools to complete the job correctly. Typical maintenance procedures, which are provided in the operation and maintenance manual, can be performed without any specific technical training.
4. Understand equipment Fuel Considerations
Fuel can be one of the most expensive operational expenses for owners, and it is an important consideration to note when renting compact equipment, especially when using the machine for an extended period. Using clean fuel is your first line of defense to keep the machine running in top performance. The following are a few steps to make sure you are purchasing the cleanest fuel possible for your rental.
Purchase fuel from a trusted supplier.
Confirm the fuel's cloud point, which is dependent on geographic location and time of year.
Test bulk fuel tanks every 6 months if you store bulk fuel at your company's facility or yard.
Keep supply tank fuel filters clean if they are stored at your company's facility or yard.
Use 2-micron fuel filters.
Fill machine tanks at the end of each workday.
For long-term rentals, be sure to keep a preventive maintenance log.
Your rental store should understand how today's diesel fuel is different and how it relates to advanced engines so they can treat fuel-related issues.
5. Assess Jobsite Conditions
After your operators are comfortable using the equipment, using the controls safely under all conditions of the work area and understanding fuel considerations, then assess the jobsite conditions. Getting a feel for the work area and looking for potential dangers is important. You and your operators should look around the jobsite to make sure there are no bystanders. Use barrier tape, traffic cones or gates to keep other individuals and equipment out of the work area. All underground utilities should be clearly marked before excavating. If they are not identified, operators should call 811 to schedule a trained professional to identify the underground utilities.
6. Lock Out Unwanted Use
The success of your company and renting compact equipment is dependent on proper use, storage and upkeep of the equipment. Jobsites are easy targets for equipment theft, so make sure your operators are taking the necessary procedures to lock out unwanted use.
It is also advantageous to ask the rental store if the compact equipment you are renting has any additional security features. Some compact equipment manufacturers design machines that are password protected, preventing unauthorized use which can lead to damage or loss.
As an equipment owner, it's up to you to communicate proper operating procedures to your compact equipment operators. By following these tips, you and your operators can promote a safer work environment, avoid preventable downtime and maximize your rental dollars.