These trucks offer the right mix of muscle and versatility for many contractors.
Thursday, January 31, 2013
When you have a frozen half-inch nut, you hit it with a little penetrating oil and grab your trusty half-inch wrench or socket. You don't use a five-eighths wrench or a seven-sixteenths socket; you use the right tool for the job. The same is true when it comes to work trucks. You should select a truck that's up to the task of tackling your day-to-day duties. That's why truck companies produce a wide range of models in a variety of gross vehicle weight ratings (GVWR)—so you can select the truck that meets your work needs.
There are the various types of trucks that are typical contractor work trucks: pickups, vans, low cab forward (LCF) trucks, conventional cab trucks and tractor-trailer trucks.
Work trucks are rated by class, which is based on their GVWR. The GVWR represents the capacity of the truck to carry its own weight plus the weight of any upfitted body, fluids and cargo. The higher the GVWR, the more the truck can accommodate. Light-duty trucks encompass class 1, 2 and 3 vehicles and have GVWRs from 0 to 14,000 pounds. Typically, these are pickups and vans. Medium-duty trucks encompass classes 4, 5 and 6 and have GVWRs from 14,001 to 26,000 pounds. This includes heavier-duty pickup trucks as well as most low cab forward trucks. Heavy-duty trucks are class 7 and 8 and have GVWRs above 26,001 pounds. These large trucks require a Class B license to operate.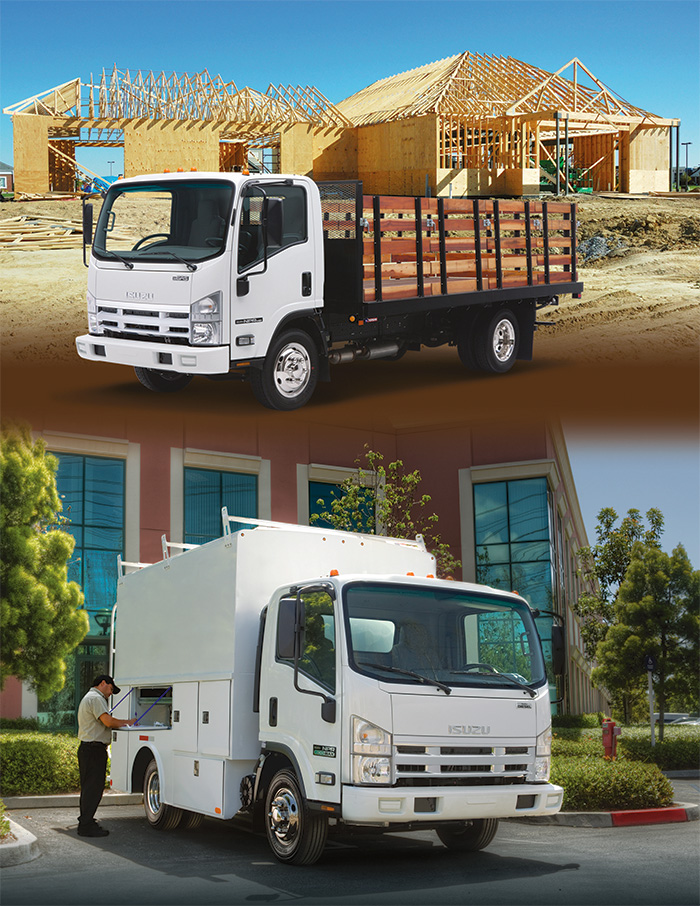 The most popular work trucks for contractors are medium-duty trucks. These often provide the right mix of capability and versatility, and they don't require a special license to operate.
Low Cab Forward (LCF) Trucks
The key differentiator of the low cab forward design is that it positions drivers at the extreme front of the vehicle with no engine in front of them. In addition, most low cab forward trucks have wide-opening doors, making it easy for driver and passenger entry and exit.
Because drivers sit farther forward in low cab forward vehicles compared to conventional trucks, they have exceptional forward and side visibility. This makes the low cab forward truck more maneuverable in traffic and on the jobsite. They also have a tighter turning radius compared to conventional work trucks.
Versatility
The "basic" low cab forward truck is just the cab and the chassis. To that, the contractor selects the appropriate body or bed, which is then "upfitted" to the truck. A properly upfitted work truck helps organize tools and other equipment. There are a variety of upfitting options, including everything from utility bodies made of steel, aluminum or fiberglass, to stake bodies with hardwood or steel construction. Enclosed utility bodies have become popular with many vocations, as they offer versatility and security and can be easily outfitted with shelving units and organizers.
New Engine Choices
Every contractor and fleet operator has different needs based on their operation. That's why most commercial truck companies offer a full range of power plants (engines) so contractors can select what works best for their business.
In the past, the choice was fairly simple: diesel- or gasoline-powered. Today, there are also options such as eco-friendly fuel-efficient diesel engines and gasoline engines reconfigured to operate on compressed natural gas or liquid petroleum gas (propane or butane). There are even diesel-electric hybrid commercial trucks.
Many contractors today want a vehicle that delivers good fuel economy and is easy on the environment. Responding to that, low cab forward manufacturers have developed eco-friendly diesel engines that deliver respectable horsepower and torque while achieving up to 20-percent better fuel economy than a comparable diesel engine. One way engines accomplish this is by utilizing an intercooled, variable-geometry turbocharger, which provides excellent response over the engine's entire RPM range. This design offers an environmentally friendly, sustainable platform that reduces the vehicle's carbon footprint and fuel consumption while using a traditional fuel source and avoiding the complexity of a hybrid.
Traditional diesel engines have also been refined to improve power output while delivering better fuel economy than their predecessors. And some companies continue to offer gasoline-powered truck engines. Some low cab forward truck companies also recognize that certain contractors want to employ an alternative fuel vehicle, so they offer a version of the gas-powered V-8 engine that is CNG/LPG capable.
The choice between diesel, gasoline or CNG/LPG comes down to a variety of factors: fuel efficiency (diesels tend to get better fuel economy than gasoline engines), acquisition cost (diesel trucks tend to be more expensive than gasoline-powered commercial trucks), fuel cost per gallon (gasoline tends to cost less than diesel), miles driven per year, maintenance cost, usage, availability of fuel in the area and resale value.
Access to Technology
Many of today's modern low cab forward commercial trucks provide contractors and fleet operators with access to technology that can help lower the cost of ownership. Here are three examples of such technology:
Multi-information display -  this is a display in the instrument panel that is coupled to a computer in the vehicle that alerts the driver to the status of over a dozen different functions, including the following:
Diesel exhaust fluid level
Particulate matter emissions level
Estimated remaining life in mileage of engine, transmission, oils and fuel filters
Fuel economy
This information allows drivers to adapt their driving habits to reduce fuel consumption and emissions while improving overall performance.
Vehicle health reports - Some trucks incorporate a built-in data recording module that monitors the truck's performance and enables dealership technicians to produce a vehicle health report. The health report permits speedy and accurate service diagnosis, identifies component failure and wear history, maximizes vehicle uptime and provides the information needed to reduce fuel usage.
Telematic devices - Some trucks are available with a fully integrated, web-based telematics system that allows fleet managers and dispatchers to track vehicle usage in real time by sending detailed vehicle and driver performance reports that are accessible from any Internet-connected computer. The system can also generate management reports that document vehicle location, operational status, mileage, speed, idle time and more.
The bottom line: when it comes to work trucks, diesel- and gasoline-powered low cab forward trucks provide contractors with a wide range of choices that can help make them more efficient and more productive.