Contractors can increase productivity, savings and sustainability with this new energy storage solution
In the construction industry, required industrial equipment can be costly. Expenses can branch beyond the initial cost of machinery. Fuel and maintenance costs can be high and unpredictable, and money and time are often lost when work is delayed due to equipment failure. In order to achieve a significant return on investment, contractors should evaluate various technologies to make sure their equipment operates reliably and efficiently. A technology that many in the transportation and industrial equipment industries are already familiar with is ultracapacitor technology, which helps operators improve their daily function and work toward achieving higher sustainability practices.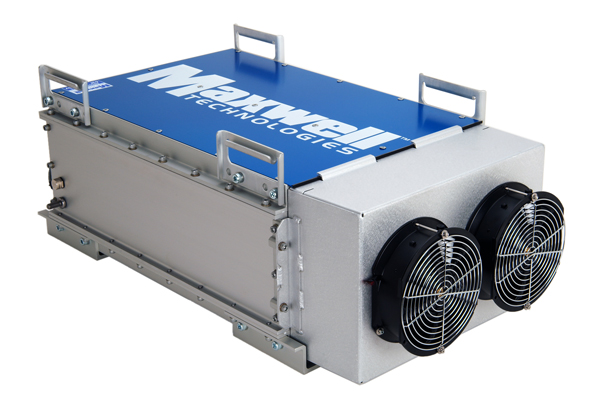 Companies such as Caterpillar use heavy transportation modules in hybrid busses, trucks, trolleys, light rail, mining, construction and seaport applications because of their high charge/discharge performance, reliability and long operational life.
Ultracapacitors, also referred to as supercapacitors, store energy in an electric field by placing an electrical charge on plates separated by an insulator. The technology provides reliable energy storage, even in extreme temperatures, ranging from -40 C to 65 C. Ultracapacitors are often compared to batteries, but the devices differ. Batteries provide energy storage through a chemical reaction, while ultracapacitors use an electrical field to store energy. The two technologies are often paired together to create an energy storage and power delivery system. In some cases, ultracapacitors can function in place of batteries. Ultracapacitors also tolerate high levels of shock and vibration and can function at full capacity for one million or more charge and discharge cycles in most applications. This technology provides a safe, clean and cost-effective alternative energy solution for a wide range of construction equipment, including trucks and cranes.
How Do Ultracapacitors Work in Construction?
Ultracapacitors have several functions in industrial and construction equipment, including regenerative power, peak assist and engine starting. When added to an existing battery-powered system, ultracapacitors enhance the durability and productivity of the machinery in which they're installed. In regenerative power applications, ultracapacitors capture and store energy during movement, and then apply this stored energy during high-strain activities. These activities do increase fuel consumption and emissions, but by utilizing regenerative energy to supplement the main power supply, ultracapacitor users can reduce fuel use and emissions.
During times of high demand, ultracapacitors deliver a surge of power to lessen peak power requirements from the primary energy source. Diesel-powered industrial equipment can use ultracapacitors to handle peak power demand times and reduce fuel consumption.
In trucks, ultracapacitors are a supplement to the primary energy source—lead-acid batteries—to provide the power to start the engine. When batteries are partially or fully discharged from excessive loads, weekend or seasonal inactivity, frequent stops and starts and overuse of the lift gate while the engine is turned off, they do not hold enough energy to start the engine. Ultracapacitors can provide the necessary power to reliably start the engine, saving the fleet owner the cost of multiple jumpstarts per year. This technology also helps encourage drivers to avoid idling, saving even more fuel. An Argonne National Laboratory report estimates that one hour of idling per day burns about one gallon of diesel fuel and results in the equivalent of 64,000 miles in engine wear per year. Beyond the obvious financial ROI of eliminating idling time, ultracapacitors guarantee that an operator's truck will start in any weather conditions—even in locations where temperatures might reach -40 F.
In addition to creating cost-effective energy, ultracapacitors are clean and sustainable, as the recycled energy from the stored regenerative energy is reused to assist power demands, requiring less fuel to power equipment and decreasing emissions. Ultracapacitors also extend equipment life and lengthen intervals between battery replacements, which reduce operating downtime and maintenance costs.
Who Benefits?
Ultracapacitor modules benefit any diesel truck driver, operator or fleet manager by ensuring engine starts, even in harsh environments. For example, a fleet of ready-mix concrete trucks swapped out one of the lead-acid batteries in its trucks' battery boxes for an ultracapacitor module. Its drivers don't have to worry about jeopardizing their schedule and on-time deliveries at construction sites, because they're assured their trucks will start even if the batteries are seriously discharged. Ultracapacitor modules provide reliable cranks in a wide range of temperatures (from -40 F to 149 F), which is a serious challenge for batteries.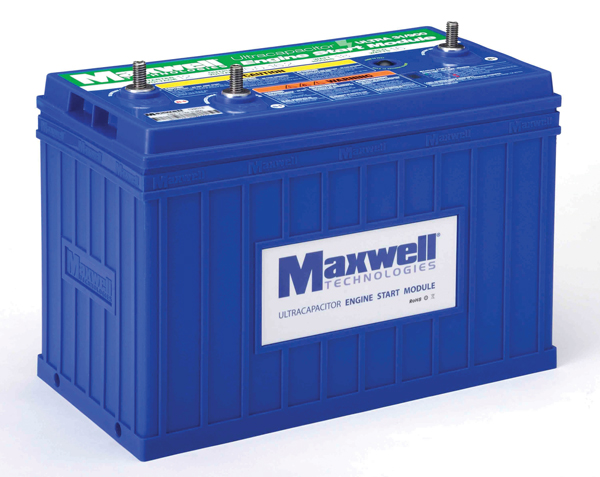 Engine start modules provide power to start a truck's engine when batteries are partially or fully discharged from excessive loads, weekend or seasonal inactivity, frequent stops and starts and overuse of the lift gate while the engine is off, preventing the cost of multiple jump starts per year.
Ultracapacitors can be applied to a variety of industrial machinery, including cranes, forklifts and mining shovels. Caterpillar Inc., for example, integrated ultracapacitors into its hydraulic mining shovel. At 1,400 tons and a height spanning several stories, the Cat 6120B H FS hydraulic shovel is currently the largest in the world. The shovel has ultracapacitors incorporated into the power system to store energy during brief shovel movements and immediately deliver that energy during times of high demand. Each time the shovel turns or moves up and down, the power system recuperates the kinetic energy and uses it to supplement power to the hydraulic system. Because of the energy management system, Caterpillar increased fuel efficiency up to 25 percent.
Shanghai ISSON Power Quality Co. Ltd. installed ultracapacitors in 26 of its ship-to-shore cranes, which are used for loading and unloading container ships at the Yangshan Deep-Water Port, located in Hangzhou Bay, south of Shanghai. The harbor is a national-grade super harbor connected to the mainland by a 20-mile long bridge. Simultaneous operation of the variable voltage, variable frequency (VVVF) cranes often results in peak power demand that overloads the electrical grid and causes outages, but ultracapacitors help stabilize voltage and smooth the fluctuations of the power output. As a result, ISSON installed more than a hundred ultracapacitors into the cranes, resulting in the largest ultracapacitor installation in Asia. The ultracapacitor-based power system allows the cranes to consistently lift loads and avoid the costs associated with port operation disruptions, as well as reducing the maintenance costs associated with batteries.
These are just a few examples of how ultracapacitors are transforming machine operation in multiple industries. Overall, ultracapacitors have proven to be a reliable form of energy storage in a variety of industrial operations, extending the life of various equipment and vehicles and providing significant return on investment. As power demands evolve with progressing technology and sustainability standards, ultracapacitors will continue to infiltrate a diverse spectrum of applications, including many in the construction industry.