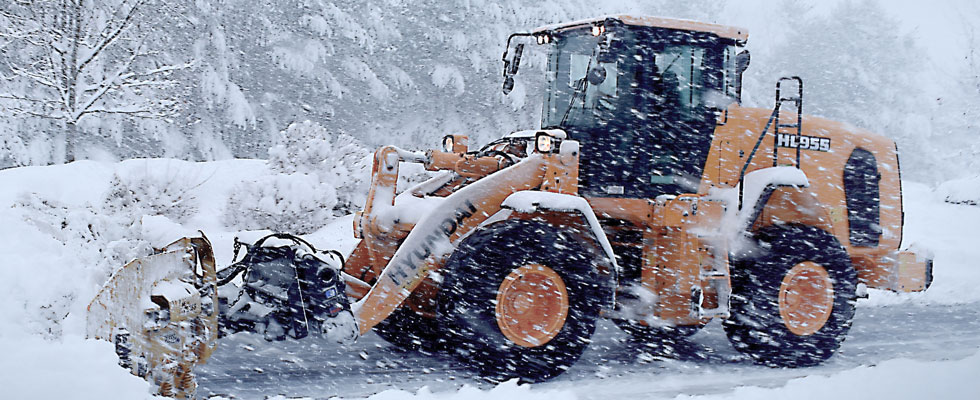 Metal Pless product pro's top tips to make sure your fleet & operators are covered
Thursday, October 29, 2020
As wheel loaders continue to play a larger role in snow removal, many contractors and state and local municipalities are taking steps to help their fleet's wheel loaders be more productive in snow-removal applications during periods when construction work is on hold.
And the opportunities to gain new clients and more work is two-fold: engaging clients for snow removal jobs during the winter could turn into construction projects from those same clients in the spring. Diversifying your firm's offerings can only help in the long run. The following list features a few things to keep in mind if you're considering multitasking your equipment this winter.
Attachments
With the right combination of wheel loader and plow attachment, a wheel loader operator can plow more than 10 acres an hour. You will want to check with your equipment dealer for assistance selecting the right attachments for your wheel loader. Relatively new to the United States, hydraulic snow blades have been in heavy use in Canada for many years.
As with other equipment exposed to extreme winter weather, these expandable snow blades require special use and maintenance care. When it comes to teaming hydraulic snow blades with wheel loaders, Jason Whittemore, sales manager for snow removal equipment manufacturer and distributer Metal Pless, provides expert insight.
"The weight of the loader and traction ability—the type of tire used—are key factors for properly matching the size of the snow blade to the loader," Whittemore said. "For example, a 25,000-pound wheel loader with good snow tires can handle a bigger blade than a 30,000-pound loader with regular tires."
Moldboard
Whittemore added that the size of the moldboard is another consideration. "A 12-22 unit has a 12-foot moldboard and 5-foot wings; while a 10-22 unit has a 10-foot moldboard and 6-foot wings. The wings contain the load of snow being plowed, enhance safety and direct the snow where the operator needs it to go," he said.
He noted that the combination of three-spool hydraulic controls and a quick coupler available on some wheel loaders, for example, allows for fast switching between a bucket and a fully controllable snow blade.
Blade Position
According to Whittemore, it's fairly easy to learn how to position hydraulic snow blades. "The key is in finding the correct height and dumping/tilting angle," he said. "Once it's set, leave it there."
He noted that leveling guides on their blades allow the operator to match black- and red-colored pieces on the blade for proper leveling. Ease of use and ease of adjustment for the return-to-dig option are features that add to operator productivity.
Blade Maintenance
Hydraulic snow blade maintenance is fairly simple. After every shift, the operator should walk around the plow blade and coupler to identify and immediately repair any hydraulic oil leaks. The operator should also check for damage to wear edges on the blade and replace damaged edge components as needed.
Tires
Reliable snow-grip tires provide positive grip at all times, regardless of the direction in which the wheel loader is turning. "In snow removal applications, most of the weight, or load, is being pushed, rather than lifted," said Brad Bisaillon, regional sales director for the Americas for Nokian Tires. "Standard tire maintenance practices throughout the winter season should include air-pressure checks and corrections to manufacturer's specifications, as well as a visual inspection of the tire surface and sidewalls and the bead area where the tire meets the rim. Sometimes, the smallest rim damage can lead to perceived tire failures."
Daily Maintenance
For snow-plowing applications, in addition to regular daily maintenance, it's recommended to use auto-greasing while working and while bushings are hot. Keeping pins and bushings covered helps to resist salt corrosion.
Cold-Weather Checklist for the Whole Fleet
While you're looking for offseason opportunities for your wheel loaders and other multiuse equipment, make sure you do right by the pieces of your fleet that you plan to store for the winter.
Skipping the proper maintenance and storage preparation for your equipment will result in a construction fleet that is out of service when it's time to hit the ground running next spring. Here's a checklist to help you take care and prepare:
Consider the climate—Protect your fleet from extreme winter environments as much as possible. If a climate-controlled storage area is available, take advantage of it.
Inspect, inspect, and inspect again—Before each piece is moved into storage, conduct a thorough inspection. Complete any regular maintenance tasks and schedule repairs before settling in for the season. 
Charge those batteries—If you want equipment that starts up easily come spring, regularly  check your batteries to ensure they stay charged and warm. If you are storing your equipment outside in below-freezing temperatures, consider taking the batteries out and storing in a warmer environment. 
Pay attention to your fluids—A contaminated fuel tank or frozen diesel exhaust fluid (DEF)  will be no help to your team when it's time to start work again. Follow proper manufacturer recommendations for storage and preparation for both fuel tanks and DEF storage. The same goes for oil, too—check the oil you are using in each machine and decide whether you need to switch to an oil formulated for cooler temps. 
Make a spring to-do list—Maybe it doesn't make financial sense to complete all of your  equipment repairs at once, but make sure your team has a firm grasp of what will be left to do in a couple months when you need your fleet to be up and running. 
Get creative with your fleet's capabilities—Is your wheel loader the only piece of equipment you can use in other applications this winter? Take stock of what's up and running in your fleet and could bring your company more money in the off season.