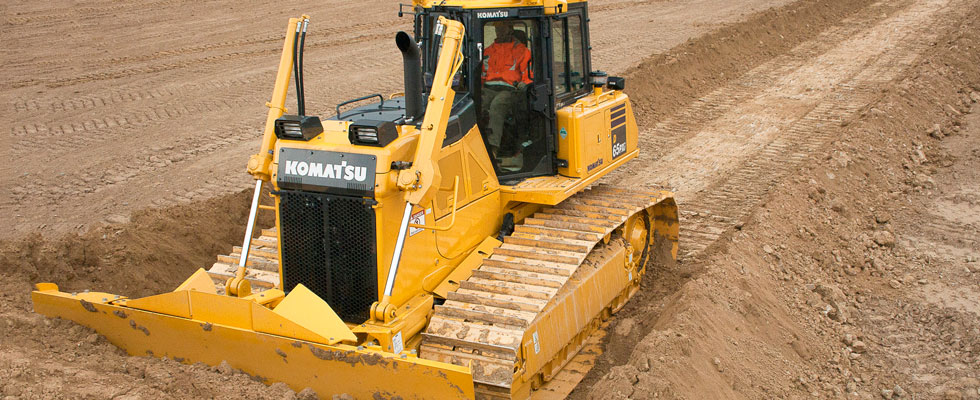 Insight from 2 industry leaders on navigating today's construction environment & what's ahead for equipment
Wednesday, November 4, 2020
Change is a driving factor in the planning, performance and delivery of a construction project—a statement now more evident than ever, as the industry continues to withstand the effects of a global pandemic. Fortunately, many original equipment manufacturers (OEMs) already faced the pressures of change years ago, when technology first began to disrupt traditional equipment design and manufacturing.
Today, these manufacturers are positioned to help contractors take on new challenges resulting from the pandemic environment. In the interest of exploring some of the concerns facing contractors and the role equipment has played in COVID-19 recovery, CBO spoke with Rich Smith, vice president of product and services at Komatsu, and Steve Adkins, head coach and chief storyteller at CornerStone One, a commercial contractor in Southeastern Wisconsin. Read on for their feedback on today's construction environment, COVID-19 consequences and what the future holds for the construction industry.
CBO: With respect to construction equipment, how have you seen the construction industry change in 2020?
RS: Komtrax, Komatsu's telematics platform, continues to be a fantastic tool for Komatsu, our distributors and most importantly for our customers. At the beginning of the pandemic, it showed us a drop in both the number of machines reporting, and the number of hours being run per month. In North America, that reduction was only temporary, and machine utilization has returned to normal levels compared to years past. The rental utilization industry is down, but our customer-owned machines continue to be very busy.
SA: 2020 has proven to provide unrivaled disruptions in the marketplace. From tariffs to a global pandemic and supply chain disruptions, these unnatural outside influences have proven to be both challenges and opportunities.
CBO: How has COVID-19 affected you & your business?
RS: A lot of our focus and effort has been on measures designed to keep our employees and their families safe. As an essential business, Komatsu has continued to operate while following government and global health organization guidance regarding COVID-19. To reduce risk for our employees, we have enacted policies, such as:
Remote work for all who can
Rotating and segregating essential operations and supply shifts
Strict travel restrictions
Limiting on-site access to our facilities
Supporting sick leave and providing extra time off for COVID-related concerns
For our employees who cannot perform their jobs from home, we are fully complying with all Centers for Disease Control and Prevention (CDC), state, and national best practices for hygiene, social distancing and protective measures.
SA: At CornerStone One, we have a very strong foundation of seeing the potential in our people and our process. Facing these unique challenges has tested those beliefs and deepened our faith in each other. I would say that as a team we have become stronger because we faced these changes together.
CBO: What effect has the pandemic environment had on the manufacturing industry/environment as a whole?
RS: All of our United States factories are operating, but we did have some planned shutdowns to bring inventory in line with demand. We haven't had any prolonged shutdowns specifically due to the pandemic. Of course, additional safety measures have been deployed to assist with social distancing, mask-wearing and the promotion of good hygiene overall.
Decision-making at Komatsu is based on a hierarchy of key principles: safety, legal (and compliance), quality, delivery and cost. Following these principles has been core to our success for many years and has served us well with the recent impact of COVID-19.
CBO: What pros or cons can manufacturers & contractors expect to experience as a result of the pandemic?
RS: Our supply chains are robust, and our teams are in very close communication with our suppliers to ensure we can support our distributors and our customers. Komatsu is fortunate to have diverse and global supply chain business partners. We work hard to avoid disruptions in supply. However, because of the pandemic we have taken a closer look into our supply chain to ensure stable supply, and that deeper investigation is definitely a business pro. As a con, I really must go back to safety.
One illness is a negative, and we continue to strive for zero harm. I also believe we should look at every con as an opportunity for our company to improve. Something we have become more aware of in the past 6 months is that there are many aspects of life outside of work on which we must remember to be empathetic. For example, altered school schedules mean we should be more flexible with how and when our employees work. Komatsu is known as a customer-focused company, but we also take pride in being an employee-focused company.
SA: The pros include a renewed awareness of a proper work-life balance, and an appreciation for all the little things life has to offer. As people, we crave interaction with others. As cons, I would list the stress and anxiety of the unknown and how it has fractured the stability and mental health of those around us.
CBO: What changes or trends are you seeing in terms of client expectations?
RS: I have seen an increased focus on collaboration between Komatsu, our distributors and our customers, as we all know we must work together to be successful. During these difficult times, many of our customers asked Komatsu for suggestions on how to become more efficient or perhaps maintain production with a portion of their workforce unavailable due to illness. We have a group that is focused on exactly those customer needs—our Business Solutions Group. They work closely with our customers and distributors, listen to their concerns, and make fleet or schedule recommendations to help our customers be more efficient. Sometimes these must be done in person, but often, we can make those recommendations with a couple of interviews and some jobsite specific information.
SA: Client expectations are magnified during the uncertainly of COVID-19. The construction phase of the project has always been the greatest risk to the developer, and there is now a greater sense of urgency to bring these projects to a close quickly.
CBO: How has your equipment played a part in your pandemic response?
RS: Our role is all about supporting our customers. Komatsu employees are considered essential in many (if not most) regions. They support our equipment and our customers who build and maintain infrastructure, mine essential minerals, and keep waste services and landfills in operation. This includes finding new ways to troubleshoot and repair machines from a distance while minimizing machine downtime.
SA: Komatsu's smart construction and intelligent machines allow the transfer of real-time, relevant information to happen remotely.
CBO: What existing or new equipment upgrades or technologies can help to overcome any deficits resulting from COVID-19?
RS: We developed the ability to update most of the controllers on our machines remotely without sending a technician to the machine about 2 years ago—Komatsu Remote Solutions (KRS). Our intent was to reduce customer downtime, provide the customer with the most up-to-date program, improve machine performance and reduce the strain on our distributors dealing with technician shortages. We have performed over 10,000 machine updates without a technician present. With the pandemic, KRS offers another benefit by limiting potential person-to-person interaction. Komatsu also introduced its next generation of intelligent Machine Control, (iMC 2.0) at ConExpo/ConAgg in March 2020.
It's a suite of features that utilize advanced machine technology to increase productivity. iMC 2.0 includes the proactive dozing control we introduced on the D51i and D61i machines last summer. In addition to proactive dozing control, it also includes tilt steering, quick surface, layered lift and other patent-pending improvements. We are also in the process of releasing our Smart Construction solutions. We have partnered with global tech leaders to bring digital solutions to the jobsite.
Smart Construction is a journey we've been on since 2002, when we first equipped construction machinery with wireless communication. With our partners, we want to make construction smarter, more sustainable and highly productive, while driving for zero harm. Smart Construction supports our industry's digital transformation by connecting people, equipment and construction processes.
It enhances workflows through an open platform, and we are excited to continue this advancement. By tapping into the power of IoT, soon our customers will be able to remotely control construction planning, management, schedule, costs and optimize processes in real time. For our newest iteration of Smart Construction, we have nine solutions in development for release over the next year.
SA: COVID-19 presents a lot of opportunities for those of us who continue to invest in innovation. Through this innovation, productivity and efficiencies can be maximized to create a more effective and lean construction model. The augmentation of technology in construction equipment is only here to maximize the potential of the people who operate it.