Exceptional field service via lube skids & trailers enhances performance, service life & resale value
Wednesday, April 20, 2016
For heavy equipment rental companies, business is only as good as their equipment uptime because assets can quickly turn into costly liabilities when they fail in the field. Without proper care, faulty equipment will also turn good customers into ex-customers, as well as decrease service life and resale value.
While preventing downtime with necessary lubrication and preventive maintenance is critical, rental companies cannot afford to bring their heavy equipment back from the field to a repair shop to do this. The high cost of downtime and the labor and logistics of getting equipment to a shop makes this financially infeasible. As a result, it is standard practice for rental companies to service their heavy equipment at the customers' construction site, off hours, with trained field technicians.
"Our commitment to our rental customers is to keep the equipment they rent up and running and to make them productive and profitable with our rental fleet, and that requires needed lubrication and preventive maintenance in the field at set intervals," said Gregg Erb, president of Erb Equipment Company, a full line general construction, forestry and commercial worksite rental equipment company.
However, the traditional field service model of hauling a variety of containers of grease, hydraulic fluid, oil and other lubricants that must be lifted in and out of trucks and then poured or pumped by hand is no longer adequate. This is not only a slow and inefficient way to complete such work, but it also increases the risk of injury to technicians, spills and the potential to accidentally ignite the highly flammable products. 
"We prioritize safety and uptime for our customers' equipment and our technicians," said Erb. "Older maintenance methods, such as having technicians lift 5-gallon containers of oil and lubricants on and off trucks, can be unsafe and inefficient. It can lead to injury when lifting or jumping in and out of the truck bed."
According to Erb, containers that are not properly sealed can also lead to contamination of lubricant with water from rain or snow. Once introduced to the construction equipment, it can affect equipment performance and cause damage.
An alternative is to invest in properly designed lube skids mounted on trucks, or lube trailers, that can be used to quickly, safely and ergonomically dispense lubricants, such as oil and grease, as well as efficiently recover used oil. Some trailers can also safely dispense fuel.
Although standard skids and trailers exist in the market, some manufacturers offer custom options designed to satisfy every field requirement. Such customization helps rental companies more efficiently maximize uptime and performance for the customer as well as service life and resale value for themselves.
"We request just the features we require in our truck-mounted, custom lube skids," said Erb. "Each of our service trucks is equipped with the essential oils, grease and waste oil tanks needed."
With the custom skids, rental companies can select just what they need in terms of tank number and size for clean or waste oil, grease, anti-freeze, water or washer fluid. By choosing options for pump, reel, hose, meter and dispenser as well as layout, cabinet, drip pan and containment, they can further optimize their field service. "Outfitting our service trucks with custom lube skids has increased our profitability because we've increased the number of field service calls we can perform per day, while enabling our technicians to be safer and more efficient," said Erb. "That translates into greater customer satisfaction, which is our number one priority."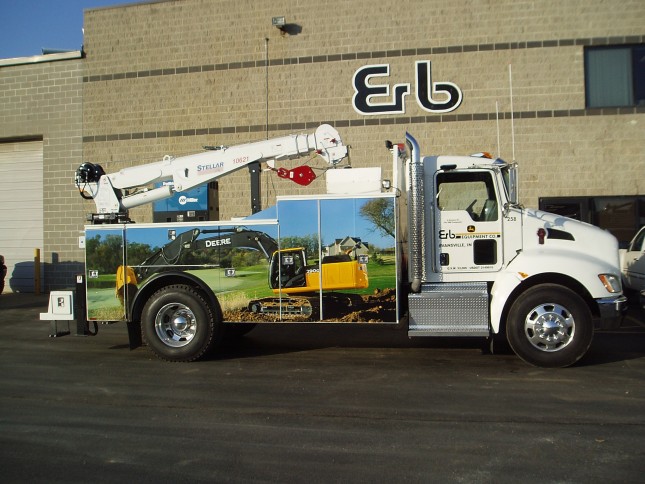 Protecting Equipment Uptime "When our customer has equipment on monthly rental, we'll go to our customers' jobsites and provide onsite service to change the oils and filters [for] every 500 hours of use," said Erb. "We schedule service after hours to maximize their production uptime. All of our service trucks are equipped with vehicle tracking so we can immediately dispatch one of our closest field service trucks to take care of our customers' needs."
If the customer's rental equipment breaks down in the field, Erb's company has most of what is necessary on a truck and lube skid to get it working again. "It's all about protecting uptime, keeping our customers up and running to earn their business."
"Exceptional onsite field service of our rental equipment with the trucks and custom lube skids translates into better equipment performance and lower daily operating costs for our customers," said Erb. "For us, it translates into repeat customers, longer equipment service life and higher resale value." Erb incorporated a number of features in the truck-mounted, custom lube skids to help his mobile technicians be as efficient as possible.
With such custom skids and trailers, rental companies can specify the location of the tanks, retractable reels and equipment so workers can safely and efficiently dispense oil and fluids while standing on the ground. "The use of ergonomically positioned retractable reels eliminates the slip-fall hazards related to climbing on or off a truck or moving heavy barrels to retrieve product," said Erb.
Among the features that Erb expects on his lube skids are digital metering, which tells the technician exactly how much is dispensed, as well as sight gauges that show the remaining fluid levels to ensure the technician does not accidently get caught short.
According to Erb, another lube service area that can be prohibitively time consuming and labor intensive is recovering used oil, as the process must not contaminate the jobsite and is monitored by the EPA. While typical used oil evacuation can be slow and messy, his skids all have "no spill" quick couplers for fast oil evacuation directly from the oil pan. 
In addition to lube skids, open or enclosed lubrication trailers are also available, as well as trailers designed to deliver diesel fuel. These trailers can also be configured to meet just about any requirements.
For rental companies looking to provide customers with the custom lube or fuel service required, fast response and delivery can be vital to meet construction project deadlines. While typical manufacturers may take several months to deliver a custom lube skid or trailer because they are not geared up to do so, some that focus on such work have the capacity to deliver it in less than a month.
As field service continues to grow, Erb Equipment plans to continue investing in its fleet of mobile equipment. "We have been adding several new field service trucks to our fleet each year," said Erb.  "As we rotate the older units out, we are able to increase the resale value of our rental equipment and service trucks with the help of lube skids."