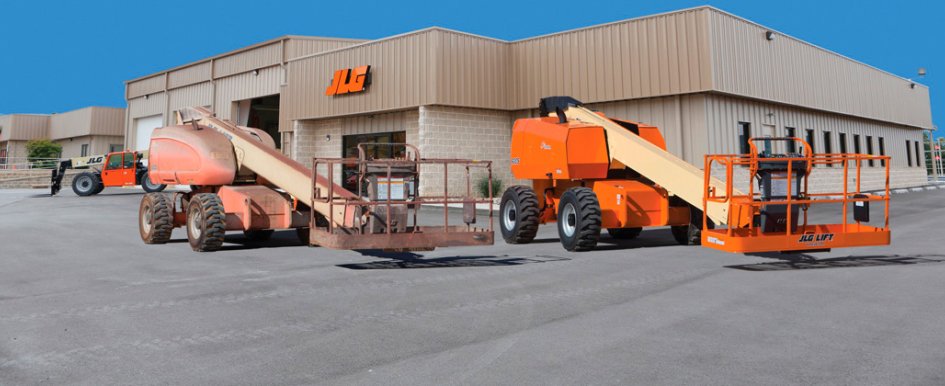 How to determine the best direction for purchasing used equipment
When it's time to grow your fleet of access equipment, it doesn't always make sense to purchase new equipment. The used equipment market is a viable alternative to buying new, giving companies the opportunity to minimize investments and stretch budget dollars further. It also provides buyers with options. Would you prefer purchasing equipment through an auction, buying from a distributor or dealer network or buying from an original equipment manufacturer (OEM)? Do you want to participate in a bidding process or pay a fixed price?
Auction Variety
Each avenue to the used equipment market brings with it advantages and disadvantages. Most auctions are well advertised and feature a broad array of equipment, which is typically obtained through a variety of sources, including dealers, distributors, OEMs, rental companies and end users. It facilitates one-stop shopping, which can benefit those in the market for a variety of equipment. And, unless it is an online auction, this particular venue allows buyers to see the equipment firsthand and better judge its condition. This is important, because the equipment available for auction is often older, well-used equipment that might be difficult to sell in a fixed-price environment.
However, auctions operate on a defined timetable, forcing buyers to make decisions quickly, often without allowing them time to comparison shop. Additionally, the equipment available through an auction is often sold as is, which means it probably hasn't been repaired or upgraded—nor is it likely to come with a warranty. Consequently, the price paid at auction does not always represent the best deal. The buyer must consider the total cost of ownership, which includes out-of-pocket expenses associated with future repairs, such as lost time from the fleet, availability and cost of parts, annual inspection and the labor required to make the repairs.
Auctions also require fees for which both the buyer and the seller may be responsible. The buyer may also face expenses associated with transporting purchased equipment from the auction site to the jobsite or rental facility. On the other hand, buyers can often find dealers, distributors and rental companies that sell used equipment within their local market, making it easier and less costly to move equipment to its new home. Additionally, these sources of used equipment may be able to provide service and parts when needed, which may make the purchase price more attractive.
OEM Sales
OEM purchases of used equipment also provide access to aftermarket service and parts, which may or may not be necessary, depending on the warranty coverage. Like auction houses, OEMs will occasionally sell equipment as is, especially older, well-used equipment received on trade-ins.
However, some manufacturers offer buyers additional options. For example, JLG begins with a limited, 1-year powertrain warranty. If the company corrects deficiencies in the equipment and certifies it, the asset is sold with a 2-year parts and labor warranty. The third option is equipment that has been reconditioned and carries a 3-year parts and labor warranty.
However, it is important to note that the scope of work associated with the reconditioning process can vary from one service provider to another. For some, reconditioning is simply putting new paint and tires on a machine. On the other end of the spectrum, factory reconditioning programs follow strict OEM guidelines, restoring machines to "like new" condition.
Shopping OEMs Online
Some OEMs offer four price points—as is, 1-year, 2-year and 3-year warranties—online, allowing buyers to shop from home at a time that suits their busy schedules. These sites provide photos and descriptions of the equipment that is for sale, as well as its location, giving buyers the option to see the machines in person and make purchase decisions under less pressure. Unlike auctions, online shopping gives buyers access to OEM equipment experts, via online chat or a designated toll-free number, to ask questions about the equipment they are considering purchasing.
Among the most important questions a buyer should ask are those related to the age of the equipment and the number of hours it has been in operation. The relevance of these questions depends on the way the machine will be used.
For example, if the machine will be used a limited number of times, then the number of hours it has been used is not as important as it is to a buyer who intends to add the machine to a rental fleet and regularly put it in the field.
As an aside, if a machine is old, but its hours of operation are low, consider the possibility that the hour meter on the machine broke at some point and was replaced by a newer meter. In some cases, an analyzer can be hooked up to the machine to provide the actual engine hours and either erase or support any suspicions regarding the veracity of the meter reading.
Machine History
It is also a good idea to ask to see the maintenance records of a particular piece of equipment. This can provide information regarding fluid changes and the regularity of other preventive maintenance work that was performed, repairs that were made and the seriousness of these repairs. Other questions to ask include:
How is the tire wear? Tires can be a costly replacement item, so it's a good idea to know how the tires are rated.
Does the machine meet all applicable industry and regulatory specifications for operation, safety and the environment, including ANSI, OSHA and Tier 4 emissions standards?
Does the machine carry a warranty, and, if so, what does the warranty cover?
Does the seller provide after-sales support?
What work was performed on the machine to prepare it for sale?
If the machine was reconditioned, what was the scope of the work, and was it performed by an OEM?
Can you test drive the machine?
The decision to purchase used equipment often makes good economic sense for buyers, depending on budgets, the way machines will be used and the required life expectancy of the equipment. Asking sellers the right questions and understanding the advantages and disadvantages of each sales venue—auctions, dealer and distributer networks, OEM site and online options—will go a long way to ensuring a satisfied buying experience.