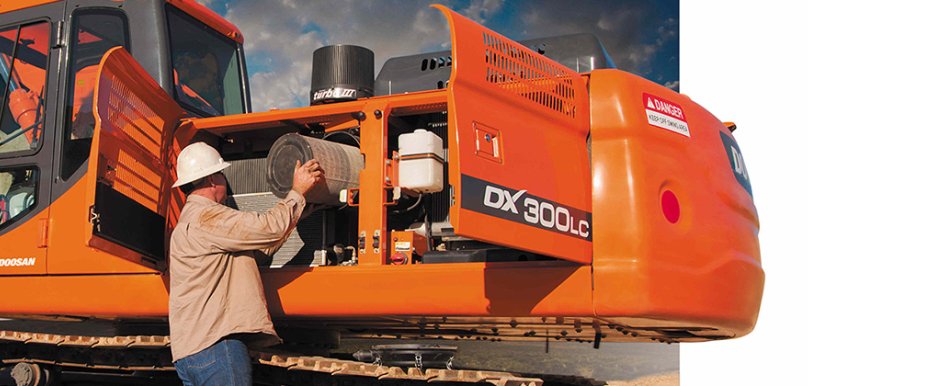 4 ways to avoid machine downtime and gain a competitve edge
It is easy to think you have a handle on heavy equipment cost of ownership, only to find your profits fall short due to partial calculations on planned maintenance. If this is happening to your business, it might be time to seek help from your dealership.
Unplanned maintenance work for excavators, wheel loaders or articulated dump trucks can place added and unnecessary expense on your company that directly impacts your profit potential. In addition to inflating your cost of ownership, when planned maintenance is not properly calculated, it can also reduce your ability to competitively price your products and services. The best way to avoid surprises is to calculate a maintenance plan that fully supports the projected hours of machine usage. By accounting for factors such as timeframes, internal costs and parts pricing, you can be more competitive and less vulnerable to excessive maintenance costs.
Working with a dealership that is equipped to offer a customized approach to planned maintenance can be extremely valuable. Some manufacturers offer tools that assist dealers with calculating planned maintenance costs, creating unique packages that address their customers' specific needs, while also accounting for labor rates, inflation, margin and time estimates. The ability to customize a planned maintenance program is increasingly important as Tier 4 compliance adds complexity to engine technology and machine electronics.
Not only does a planned maintenance contract meet the demands of the changing landscape of the heavy equipment industry, but it also makes sense from a budgeting and tracking standpoint to control the cost of ownership. A combination of planned maintenance and an extended warranty can help reduce operating costs while increasing the return on your investment.
Simply put, planned maintenance takes the guesswork out of the cost of maintenance, helping achieve a lower overall cost of ownership and higher resale value for your machines. The better your equipment is taken care of, the more time it can be used on the jobsite, ultimately benefitting your bottom line. Here are four ways planned maintenance helps you control the cost of ownership so you can focus on the most important part of your business—the job itself.
1. Predictable expenses
Planned maintenance can help you budget for ongoing maintenance—including parts, labor, travel, supplies and lubricants—and provide totals per month and total length of contract. Knowing the fixed costs of planned maintenance can also help minimize the impact of any unexpected business expenses and protect against ongoing nickel-and-dime repairs that can deplete your maintenance budget. These small repairs can add up over time. You may not think they are hurting your budget, but imagine the damage five or six small repairs can do. Planned maintenance also eliminates the expense associated with stocking filters, oil, tires, tracks and other common replacement parts.
By working with your equipment dealer, you can get an exact estimate for a defined package of service procedures, replacement parts and maintenance intervals to fit your specific needs, eliminating the potential for surprises at the end of the fiscal year. Estimates on the cost of planned maintenance have been as low as $3 per operating hour. That's a small price to pay over an extended period of time compared to the cost of replacing a $5,000 pump that missed a hydraulic filter change.
Do the math:
Planned maintenance at $3/hour x 40 hours/week x 40 weeks/year = $4,800
One missed filter change + $5,000 pump failure = $5,000
2. Increased uptime
A planned maintenance program helps control the cost of ownership by guarding against unexpected downtime and sudden, costly repairs. The ability to minimize downtime depends entirely on how proactive you are about taking care of your machine. Proactive planned maintenance by trained service technicians addresses minor fixes before they become major repairs. Identifying these repair issues during regular, planned maintenance helps avoid future breakdowns and unscheduled downtime.
Reliable maintenance intervals also make it possible to efficiently schedule your machine service at a time and location that doesn't disrupt your productivity. Some manufacturers provide road service technicians and trucks that travel to your jobsite to complete routine maintenance and diagnostics should a machine experience problems.
Not only does this get your equipment back up and running more quickly, but it also eliminates the cost and time necessary to haul heavy equipment to a maintenance facility and wait for the repairs to be made. Working with a dealer on a planned maintenance contract can replace the element of surprise with a general peace of mind.
3. Longer machine life
The life cycle of your equipment is impacted by a number of variables, but regular planned maintenance has been proven to extend machine life. Operating a highly-productive machine for an extended period of time offers the greatest return on your investment, and in turn, the lowest possible cost of ownership. Because some machines may require more frequent maintenance intervals, like those working in a dusty environment, a good planned maintenance calculator will allow a dealer to make adjustments that account for preventative techniques like more frequent engine oil and filter change intervals.
4. Higher residual value
The condition of your machine not only affects your ability to complete projects on time, but also plays heavily into the resale price of equipment. While you have no control over market supply and demand, you can influence the resale value of your machines through your approach to planned maintenance. Consistent and comprehensive maintenance is the best method for increasing the resale value of your machines. A planned maintenance contract offers the additional benefit of a well-documented history of all care and service done on your machine. The more potential buyers know about the comprehensive maintenance record of the machine, the more willing they may be to invest a significant amount of capital to purchase it.
Being proactive ultimately benefits you and your business long term. Planned maintenance contracts provide the highly skilled, proactive service necessary to ensure that all aspects of your machine's operations add value to your business—minimizing downtime, reducing costs, increasing productivity, protecting your investment and improving your bottom line overall.