Understand how these machines perform to make the right choice.
With the legislative and economic uncertainties influencing the construction industry, it's no secret that construction business owners have struggled to keep their companies profitable. Versatility and job diversification have become the goal of many contractors.
According to Jamie Wright, product manager of Terex Construction Americas, contractors' go-to tools during these times are the ones that help them perform their jobs more efficiently.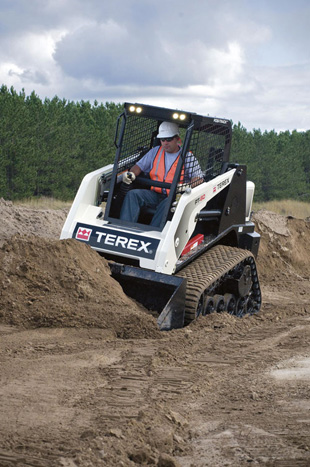 Because of this, many have come to rely on the smaller equipment in their fleets, particularly skid steer loaders and compact track loaders, as these machines are designed for versatility and ease of use.
Increasing Versatility
Skid steer loaders and compact track loaders are valuable tools for contractors because of their ability to maneuver in tight places and to use a variety of attachments. Wright says, "A skid steer loader or compact track loader coupled with a variety of attachments can totally revolutionize a construction business, enabling them to bid on more projects and to work in all weather and ground conditions. Because skid steer loaders and compact track loaders can utilize the same attachments—buckets, dozer blades, mulchers, augers, trenchers, levelers, box rakes, snow blowers, etc.—and perform in many of the same applications—construction, landscaping, rental, forestry and agricultural—the type of surface you will be working on significantly impacts the productivity and cycle times of the loader."
Savvy owners and operators have learned to determine when it makes sense to use a compact track loader or a skid steer loader. Experience has taught them that to improve profitability, it is important to match the right task to the loader. Applications in certain ground conditions, such as hard surfaces like concrete or rock, can be done at a reduced cost when using a skid steer loader. Putting compact track loaders into applications like demolition and road building can cost a customer up to 25-percent more per hour than a skid steer loader because of excessive track wear in these operating environments.
"It is generally acknowledged that skid steer loaders perform best on firmer ground conditions, such as rock, asphalt and concrete as well as in developed areas," says Wright. "Skid steer loaders are designed to travel quickly and to complete tight spin turns in space-restricted areas."
Compact track loaders are built to handle slopes and wet, soft, snowy, sensitive and muddy ground conditions, such as those found in undeveloped areas. These loaders distribute the machine's weight evenly over the length and width of the tracks, allowing them to traverse uneven terrain more efficiently.
Increasing Productivity
Contractors have many utilization opportunities with these smaller loaders. Main applications for skid steer and compact track loaders continue to be tasks related to loading, picking and carrying, back dragging and material-removal jobs.
Wright says, "Compact loaders are also hard to beat for grading work, as well as for working on and around existing landscapes, because of their low ground pressure. These loaders are also extremely stable on slopes or uneven ground and have excellent traction in many types of ground conditions." Because these types of loaders are built to work in extreme temperatures, they enable owners and operators to remain productive year-round.
Increasing Capabilities
According to Wright, the trend for skid steers and compact track loaders in the last decade has been the increasing popularity of larger units with more capacity, faster speeds and longer, wider wheelbases. Owners and operators demand production, higher bucket capacities and improved lifting capabilities because these capabilities are directly related to how much they can get done in a day.
A loader's abilities to lift higher and reach farther are some of the key changes in the past five to seven years, adds Wright. To compensate for additional reach and lift capacities, wheelbases on loaders have also increased. A longer wheelbase helps to give the operator a more stable platform when lifting weight to full height.
Increasing Asset Utilization
Whether a construction business is using a skid steer loader, a compact track loader or both, equipment management is the key to success. The basics are always important for getting the most out of any piece of equipment. "Proper maintenance, as outlined by the manufacturer's recommended guidelines," Wright says, "will significantly extend the life and increase the productivity of skid steer loaders and compact track loaders. As contractors opt to do more with their compact equipment fleets, performing routine maintenance can save them a lot of money."