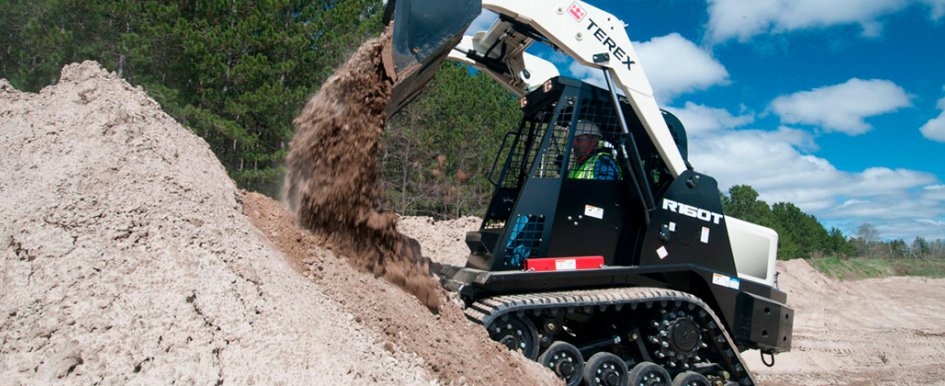 Contractors rely on smaller machines designed for substantial versatility & utilization
Wednesday, October 26, 2016
With all the legislative and economic uncertainties influencing the industry right now, it is no surprise that construction business owners are looking for methods to keep their companies productive and lucrative.
Versatility and job diversification have become the main goals of many contractors looking to keep their businesses profitable. Many continue to evaluate their current strategies to develop new ways to grow while saving money.
Contractors' go-to tools are the ones that will help them do their jobs more efficiently—speed and ease can translate into greater profitability. Because of this, many rely heavily on the smaller equipment in their fleets, including skid steer loaders and compact track loaders, as these machines are designed for versatility, ease of use and the ability to do more with what they already have in their fleet. Whether it's for light construction, infrastructure work, road work or demolition, compact loaders are an option for contractors looking to make improvements on the jobsite, or to the company's bottom line.
"Contractors are savvy when it comes to using this type of smaller equipment," said Gregg Warfel, compact division sales manager of Terex Construction Americas. "Contractors have limitless utilization opportunities with compact loaders because their main applications and utilization are tasks related to loading, picking and carrying, back dragging or material-removal jobs."
Warfel said compact loaders are difficult to beat for grading work and for working on and around existing landscapes, because of their low ground pressure.
"These loaders are also extremely stable on slopes or uneven ground and have excellent traction in many types of ground conditions. The narrow profile of the machines also helps operators to gain access to tight, space-restricted jobsites," Warfel said.
That said, Warfel said that the trend in the last decade has been the increasing popularity of larger units with more capacity, faster speeds and longer, wider wheelbases.
Owner/operators demand production, higher bucket capacities and improved lifting capabilities, because these specifications are directly related to how much they can get done in a day.
SpecCing Compact Loaders for Big Productivity
A compact loader's ability to lift higher and reach further are a few of the key changes in the last decade. The capability to lift higher gives the operator the ability to do more tasks, as well as in a shorter amount of time. Additional reach capabilities enable operators to better center-load a truck, as well as to place pallets on scaffoldings.
To compensate for both additional reach and lift capacities, wheelbases on these loaders have also increased. The wheelbase is the distance between the center of the rear axle to the center of the front axle. A longer wheelbase helps to give the operator a more stable platform when lifting weight to full height.
Joystick controls are another change in the past 10 years, said Warfel. They have become popular in larger class compact loader units. The joystick control option requires less force input, while still enabling precise control.
"We polled a variety of different customers and found that many of these attributes are important during the buying decision process because they contribute to higher productivity and a lower cost of ownership," said Warfel. "We continually research, design, develop and test products to maximize two key factors: the machine's productivity and the ownership experience."
Other attributes that manufacturers have specifically incorporated into smaller loader lines to help maximize customers' productivity and these machines' durability are higher ground clearance, for pushing through rugged underfoot conditions; high tractive effort to push harder and make the unit more productive; and load-sensing hydraulics to ensure that fuel and energy are not wasted on surplus hydraulic power.
From Compact to Heavy
Speccing a loader for maximum jobsite productivity is not as simple as choosing the loader the biggest model available.
"Size does matter when choosing a loader," said Warfel. "In space-restricted areas, operators will need to choose a smaller machine. If the operating area is open, a larger wheeled or track loader is an option."
Horsepower and the operating capacity of the loader are two other important factors. Higher horsepower offers more dynamic force for pushing and production, but also translates to a heavier machine. If there are weight restrictions on the jobsite, the contractor should opt for a smaller horsepower unit. And, speccing a loader with higher travel speeds can increase productivity. The more miles per hour it can travel, the quicker the cycle times an operator can achieve. Boom speeds also influence cycle times.
"Contractors need to know the loader's operating capacity, including tipping load and lift capacities, when speccing the unit for a job," said Warfel. "They need to make sure the loader can handle the materials being moved. The weight of the material and how quickly it needs to be moved will also influence the size of the bucket needed. To get the quickest cycle times and the best productivity, contractors need to match the loader to the job.
"The first question they need to answer when choosing a loader is: What type of work will it be doing?" said Warfel. "To get outfitted with the right loader, the contractor will need to analyze the specifications of the project: What type of material is being moved? What is the density of that material? How much material needs to be moved? Are there any space restrictions on the jobsite?"
The answers to these questions will help determine the size of loader a contractor will need. Selecting the right loader is based on the amount of material (measured in cubic yards) that needs to be moved per hour, the weight of the material and the area in which the loader will operate. It is important to know how the loader will get the material, how quickly the material needs to be moved and where the material needs to go.
"It's time to graduate up to midi- or full-size loaders when there is a need for higher payload and larger bucket capacity," said Warfel. "The size of loader is based on application and utilization."