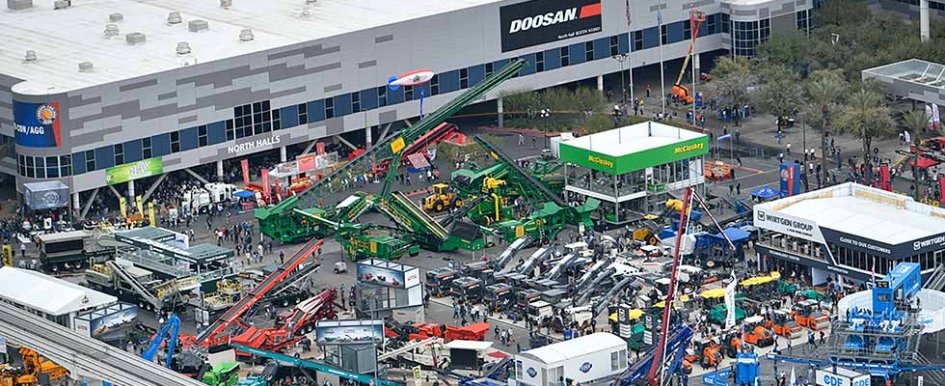 Preparing for the largest construction trade show in North America
Attending a trade show may be one of the best experiences you can have, especially if you are in the construction industry. Not only can you see the latest heavy equipment, such as excavators, wheel loaders, articulated dump trucks and dozers, but there are plenty of networking and educational opportunities available.
Before you leave home, you need to be prepared. CONEXPO-CON/AGG, taking place March 14-18, 2023, in Las Vegas, Nevada, covers more than 2 million square feet of exhibitor space and features over a thousand exhibitors and approximately 150 educational sessions. You'll need a game plan prior to attending the show.
Follow these seven tips on how to prepare yourself for the largest construction show in North America.
1. Identify Your Goals
Attending a trade show can be a big decision: It takes money, time and energy. So, to make it worthwhile, you need to clearly define your business goals before you go. Identify what it is that you want to achieve by going to the show.
Do you want to build contacts or add a new piece of equipment or attachment to your fleet? Or maybe you're interested in learning about the latest technologies for hybrid and electric-powered equipment or new developments in telematics to identify efficiencies.
Setting clear goals also assists you in measuring your success after the trade show is over to see if you have achieved your goals and whether it is worth attending the event again.
2. Register Early
It's a good practice to register for trade shows in advance since many have limited availability and different pricing structures based on when you register. You can generally save money by preregistering rather than registering at the door. Most shows, including CONEXPO-CON/AGG, have easy online registration procedures.
Preregistration also gives you an earlier opportunity to select the seminars that may interest you during the trade show. These do fill up quickly, so the sooner you register, the better.
3. Plan Ahead
Identify the exhibitors you want to see, and map your route to get to their booth locations. Make sure to allow enough time to ask representatives about their equipment. At CONEXPO-CON/AGG, you'll have the opportunity to see and touch equipment in outdoor exhibits and jobsite settings on the Festival Grounds. During live equipment demonstrations, manufacturers will showcase new technologies and autonomous construction equipment, such as dozers and excavators.
4. Dress Professionally
Following the correct dress code is recommended at trade shows. Remember, you are going as a business professional, so make sure to dress appropriately for your role. This could mean wearing business professional attire or business casual paired with comfortable shoes. Dressing professionally can leave a lasting impression on those you meet.
5. Network With Others
Be prepared to have fun and be sociable. Networking at the show and organized social events is a great way to connect
and build relationships with others in your industry.
You may also benefit from networking if you're looking for career advice or want to stay updated on the latest industry trends. Take plenty of business cards — handing out business cards will help you look professional and prepared when networking.
6. Take Advantage of Learning Opportunities
At CONEXPO-CON/AGG, you'll be able to learn about new trends and products, the construction industry and new ways to use your equipment from industry-leading experts. The trade show offers hundreds of expert-led sessions and a healthy range of classes that can help expand your knowledge and provide you with skills and solutions to help improve your business.
7. Regroup & Follow Up After the Show
Once you're back from the trade show, evaluate your participation and think about what you learned or what you could do differently next time. If you didn't get to visit as many booths as you wanted, make a note for your next show.
Be sure to record the contacts you made and send an email or a phone call to thank those who took time to talk with you and those for whom you may have follow-up questions.
During CONEXPO-CON/AGG, you'll have opportunities to learn about different equipment technologies, network with others and hear from industry-leading experts to improve your business. Follow these tips to make your participation a success.
Attend The Show
Ready to attend CONEXPO-CON/AGG this month? Plan ahead for a productive visit to the industry's largest trade show in North America. There will be many heavy construction equipment manufacturers displaying next-generation technology. Register today at conexpoconagg.com.