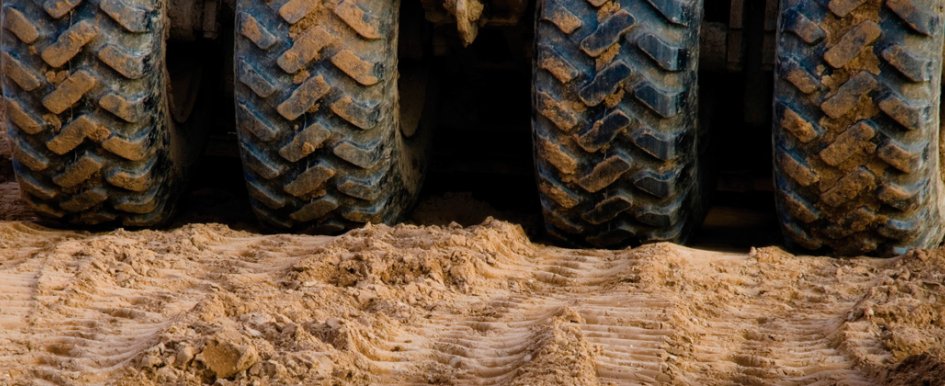 Improve fleet performance with these selection, maintenance & usage tips
Proper tire care contributes enormously to the overall safety of a construction fleet, and managers should pay attention to what does (and what doesn't) constitute good tire safety practices within their fleet.
By eliminating possible tire-safety concerns at the onset, owners can keep their jobsites productive and profitable and eliminate unnecessary risks to both operators and equipment. A focus on tire safety is something that should be present on any jobsite.
Don't Under-Ply
When selecting a new set of bias tires, managers should match the ply rating to both the equipment and the application. The ply rating measures the strength and the load-carrying capacity of bias tires. The higher the ply number, the higher the maximum allowable air pressure and load-carrying capacity.
If the chosen tire isn't rated to carry the load, this could cause failure, leading to potential safety hazards. A general rule is to choose a tire that carries the load with the lowest inflation pressure. After choosing a tire, it is crucial that operators don't overload the equipment. Not only is this important to maintain tire safety, but it prevents damage to the equipment and possible unstable working conditions.
Do Match Tread Pattern to Ground Conditions
Not matching the appropriate tread 
pattern to the application can compromise machine stability and operation. Tire overheating, puncturing and tread separation could occur as the result of an ill-chosen tread pattern. Owners should take careful note of the numbers that correspond to tread depth on a tire, and what those numbers mean for specific applications:
1 – Denotes rib tread with standard depth for use in earthmoving 
applications, primarily on roads.
2 – Denotes traction tread with 1-to-1 lug-to-void ratio and a standard tread depth for use on soft surfaces.
3 – Denotes rock tread with 2-to-1 
lug-to-void ratio and a standard 
tread depth for use on average 
hard-surface conditions.
4 – Denotes rock tread with a 2-to-1 
lug-to-void ratio and tread that is appropriate for harsh, rocky conditions.
4S – Denotes smooth tread pattern with no lugs and a tread 1.5-times deeper than standard for hard surfaces, where traction is not a concern.
5 – Denotes rock tread with a 2-to-1 lug-to-void ratio and tread that is 2.5 times deeper than standard for use in L applications in the most severe 
working conditions.
5S – Denotes smooth tread pattern with no lugs and a tread that is 2.5 times deeper than standard for use in severe working conditions that require wear resistance over traction.
7 – Denotes rib pattern with a shallow tread that is 60 percent as deep as standard, for use in settings where 
flotation and minimal ground 
disturbance is required.
Don't Ignore the Wheels
A set of tires is only as good as the wheel assembly on which it is safely mounted, and owners should never mix and match components. Without the proper wheel and components, not only are the wheels and tires at risk, but so is the operator's safety.
For all safety checks and mounting and dismounting procedures, owners should adhere to the tire data book provided by the specific tire manufacturer. This will clearly outline the manufacturer's safety procedures for mounting and dismounting the tires and how to service the tire and wheel correctly. General guidelines include wearing proper safety gear, replacing any components that appear worn and never leaving a tire or wheel assembly unsecured.
Do Properly Inflate Tires
Proper inflation pressure makes the biggest impact on tire and machine performance. One of the biggest misconceptions regarding tire inflation pressure is treating all radial or bias tires equally, regardless of the tire manufacturer.
For example, some tires are designed with nylon casing, which requires a higher inflation pressure than a comparable tire with a steel carcass. Owners may mistakenly inflate all tires to the same pressure, which can cause operability issues and safety concerns.
Owners should also keep in mind that inflation pressure will vary throughout the day, so checking inflation pressure in the morning, before starting the machine, will yield the most accurate measurement. While a daily inflation check is ideal, owners should check inflation pressure at least once a week, especially if the equipment is being used on different jobsites or if ground conditions have changed.
Don't Ignore Your Operator
A number of different operator tendencies can negatively affect tire longevity, so owners should record everything from average haul distances, peak speeds and cycle times to number of shifts, days worked, cycles completed and the type of materials being moved for each piece of equipment. This can help forecast expected lifespan under ideal conditions 
and identify problems.
Regardless of the tire or the equipment, there are several bad operator behaviors, such as rapid stops and starts and sharp turns, that can put unnecessary stress on the casing, leading to premature wear. Excessive speed generates heat, which can degrade the tire. Also, remember that the heavier the load, the more drastic the impact on the tires will be with all three of these 
operator tendencies.
For larger equipment fleets, calculating the operators' ton-mile-per-hour (TMPH) rating is critical. This rating utilizes a formula to calculate the heat that a tire will generate based on the way the tire is being used 
or operated.
TMPH is calculated as the average weight of the vehicle multiplied by the average speed of the vehicle. Exceeding the TMPH rating will cause damage to the tire and ultimately pose a safety risk.
Do Implement a Tire Maintenance Program
Adhering to a daily tire maintenance and routine rotation program helps protect the entire machine, throughout its life span, and prevents safety issues before they happen. Ultimately, successful implementation of a tire management program takes buy-in from both the fleet manager and the operators. It's important for the fleet manager to train the operators to use the equipment within its limits and to report any changes in inflation pressure or jobsite conditions that could lead to potential problems.
Owners should work closely with tire dealers to solidify long-term success of any maintenance program. As an operation expands, haul distances, speeds, loads, site conditions, cycle times and equipment configurations change.
Each of these factors necessitates a change to the tire management program. The fleet manager should work closely with his or her tire dealer for recommendations whenever major changes occur.
Owners who adhere to the sound tire safety practices above can help ensure that the jobsite stays productive and free of failure or injury, while also maintaining the integrity of their equipment.