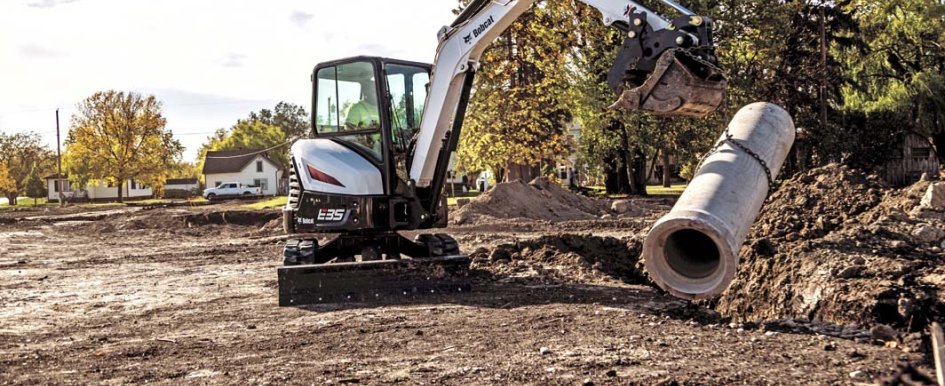 How to get the biggest bang for your buck
Depending on your business needs, pre-owned equipment can be an affordable option, allowing you to keep an eye on the latest equipment trends while being mindful of your budget. Purchasing pre-owned equipment can expand your fleet size at a lower cost than purchasing new, and can create new business opportunities with more work.
Of course, when considering any equipment purchase, it is important to be thorough. The following are three best practices to help you think through the steps before adding pre-owned equipment to your fleet.
1. Define Your Needs
First, and most importantly, get started by defining your requirements and determining why you would like to purchase a machine. Working ahead to anticipate your future business needs can help you be prepared before your busy season starts, and it can also help you decide what types of equipment to consider.
Identifying whether you need a specialized machine or simply an addition to your existing fleet will help you narrow down exactly what you are looking for. Remember to be aware of project needs, including:
Project applications for this machine
Jobsite conditions
Specific tasks the machine will perform
Types of attachments required
You can do additional research through equipment manufacturer websites to get an idea of what machine specifications fit the job you are trying to accomplish. This can help pinpoint which product would be the best fit for your business needs.
After you have answered these essential questions, you can then get into the specifics. Consider these smaller, yet significant, features you may want or need in a pre-owned machine.
Technology—What types of technology do you consider important? What types are desirable, but not imperative? For example, newer machines feature updated instrumentation that keeps track of fuel consumption, total machine usage, etc., but these features may come at a higher price point.
Comfort—What features are important to provide to your operators? Specifications like an enclosed or open cab, interior space for leg room, and updated heating and cooling options are all features you may want to consider.
Warranty—What are your damage cost coverage needs? Are you looking for a pre-owned machine that still has a manufacturer's warranty in place, or are you comfortable absorbing some amount of financial risk by purchasing a machine that is no longer covered by warranty?
2. Find Purchase Options
After you have determined your exact pre-owned equipment wants and needs, you are ready to begin the process of finding a seller. You may want to start your process by checking multiple places, such as internet searches, auction websites and newspaper or trade publication classified sections. It is important to research a pre-owned equipment seller just as thoroughly as you research equipment options before making a purchase. Consider casting a wider net by looking at your local compact equipment dealership as well, where you will likely be purchasing from a more reputable and trustworthy seller, with access to proper documentation on machine history, maintenance logs, etc. If you have already developed a solid relationship with a dealership, you might be able acquire expert insights and advice from them on purchasing pre-owned equipment. Additionally, while you are conducting research about dealerships, you can uncover information about deals or offers available at different times of the year. Research when local dealers have offered sales in the past, and ask when they will be offering them again in the future.
Rental companies can be another source for purchasing pre-owned equipment. With a recent boom in the rental industry, the pressure has been on rental companies to keep new equipment stocked. When that equipment is no longer considered new, but remains just as usable for customers, rental companies will often resell them.
3. Inspect the Final Details
After you have defined your equipment needs and found a few options for sellers, it may feel like you are ready to seal the deal. However, there are still some final details to tend to before signing on the dotted line.
Full machine inspection—Make sure to do a thorough walk-around of the machine before you make any agreements with the seller. If possible, request a demo of the machine, which allows you to check for obvious signs of mechanical or operational issues. Also, check for smaller details like cracks, welds, rust and paint chips. Look at every component of the machine, such as the engine, transmission, air filter quality, fluid levels, pins, bushings and so on. This may help you anticipate short and long-term maintenance needs for the machine.
Equipment and attachments—Ask the seller if the machine will be sold with any attachments. Be sure to inquire whether the machine has been modified in any way from its original design that may affect operation and operator safety.
Documents and machine history—Check with the seller about the machine's total operating hours, record of maintenance history, manufacturer's operation and maintenance manual and any other documentation that may be available. If the seller is missing documents, such as guides and manuals, you may be able to find them online.
Buying pre-owned equipment can make an enormous impact for owners who are budget-conscious and in need of additional equipment. Using these steps to guide you through your purchasing process, you can ensure that you have conducted an exhaustive search to find the ideal piece of equipment for you and your business.