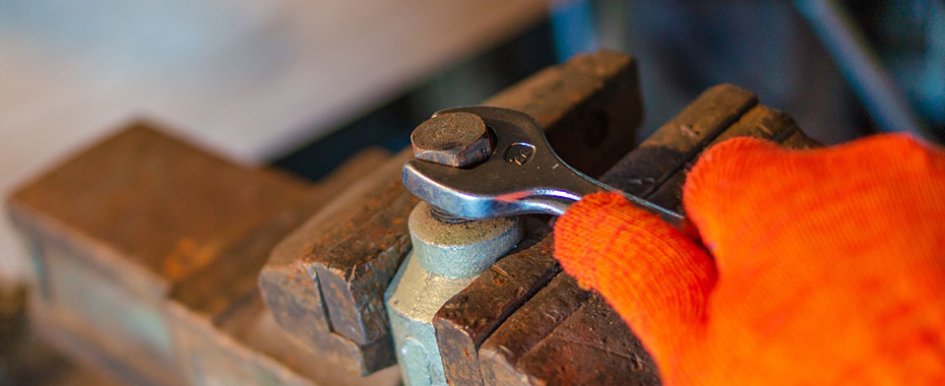 What makes it work & how it can work for you
You've seen it before. You can find at least one can of WD-40 Multi-Use Product somewhere on every construction jobsite. The WD-40 brand offers more than 20 options in product lines designed specifically to help professionals across several industries and skilled trades. But have you ever wondered, "What makes it work?" 
To find out, I spoke with Chris Aiello, a research and development scientist at WD-40 Company. Aiello's focus at WD-40 Company is new product development by identifying and researching new technology, formulating and testing in the WD-40 Company laboratory, and working with external partners. With 6 years of experience working at WD-40 Company, Aiello was able to share more about the science behind some of the products we all recognize, but might not know enough about. 
 
Aiello: WD-40 Multi-Use Product was designed with versatility for many applications—there are more than 2,000 uses provided by end-users. The genesis behind the WD-40 Specialist brand was the idea that professionals in the trades need specialized products that are optimized for certain applications. For example, the WD-40 Specialist Penetrant with Flexible Straw formula is optimized for its penetrating ability on frozen and stuck mechanisms.
CBO: How does the product development process work?
Aiello: WD-40 Company has an innovation team that goes out in the market and identifies pain points in various industries. We evaluate those pain points and develop a business plan that fits within our strategic drivers. If the business case is strong, the research and development team works closely with the innovation team to develop the technology using our innovation development process.
CBO: Let's talk about chemical components. What's in WD-40 Specialist Penetrant that makes it different from WD-40 Multi-Use Product's classic formula?
Aiello: WD-40 Specialist Penetrant with Flexible Straw predominantly consists of low surface-tension solvents. Lower surface tension enables more fluid mobility, helping the product creep into tight spaces. It also contains the trade secret WD-40 Multi-Use Product concentrate and a metalworking additive, which helps prevent corrosion and lubricates stuck mechanisms. The solvents work as a carrier to bring the lubricating part of the product deep into to the tight space, where it helps release the stuck part.
CBO: Where should WD-40 Specialist Penetrant with Flexible Straw be used and who should use it?
Aiello: WD-40 Specialist Penetrant with Flexible Straw solves problems by loosening stuck mechanisms such as rusted bolts, old equipment, or over-tightened fasteners. It can be used on any mechanism that is designed to move but may be frozen due to various circumstances. It's ideal for those working in construction, repair, maintenance, HVAC, automotive and any industry or job that deals with manual labor. 
CBO: What's the science behind this product—how does it work to meet users' needs?
Aiello: Fast-acting rust release for nuts, bolts, threads and locks. The low-viscosity and low surface tension of the formula allows for quick and immediate spreading into tight spaces. It penetrates rust to free up stuck, frozen, or seized equipment and parts. The formula consists of lubricating oils and additives which create a boundary between interacting surfaces. The result is a reduction in the amount of torque required to loosen frozen mechanisms. It's safe to use on metal, and around rubber and plastic parts, and has been tested on the most common types of metal, rubber, and plastic for deleterious effects. 
CBO: What's the story behind the flexible straw on this particular product? How is it different from a standard straw?
Aiello: The flexible straw is a patented technology that consists of two metal coils that are shaped to form a flexible metal tube. WD-40 Smart Straw is great at helping our customers apply WD-40 Multi-Use Formula or WD-40 Specialist formulas in hard-to-reach places. Our flexible straw takes things to the next level; you still have the spray or stream functionality and now you can bend the 8-inch straw into any shape to help reach even more difficult spots.
CBO: What's next in WD-40 Company's pipeline of product development?
Aiello: The innovation team at WD-40 Company is diligently working to investigate new technology involving lubricants, degreasers and cleaners, sustainable packaging and new delivery systems.