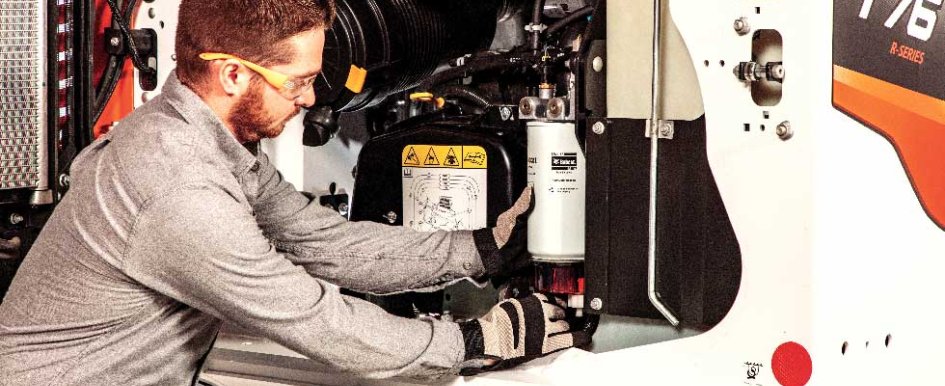 Why your parts department is essential
Your business depends on the reliability of your equipment to increase profit and maintain a robust project pipeline. It's no surprise, then, that when your equipment has a reputation for service and dependability, increased market share and brand reputation will follow. One of the most impactful ways to ensure both your business and its machines are running in top condition is to effectively manage your parts department. Consider the following three ways you can use a parts and components strategy to positively contribute to your bottom line and your growing business.
1. Focus on Uptime
When you are on the job, that means your machines are doing what they do best: working. One of the best ways to keep that equipment up and running is having a strong parts and components inventory. This ensures you can service your equipment quickly, from routine maintenance to the unexpected, without losing valuable time hunting down a part — which could take weeks in today's environment.
That said, effective management of a robust parts and components inventory simply can't be done well with just pen and paper. By managing your parts and components inventory needs in such an unstructured way, you are leaving a lot to chance — and leaving a lot of potential money on the table. You run the risk of overspending or underutilizing, and facing many other potential issues in between.
Instead, consider investing in a smart, user-friendly digital system that shows you and your team exactly what you have on-hand, along with an easy way to search your inventory.
If you haven't already, review your current parts management system and ask yourself:
Is my current system meeting
my needs?
What's missing from my current system that could be better?
How comfortable is my team with my current system, and are there training opportunities I need to address?
If you determine your current system isn't working as well as it could be, use this opportunity to explore other options that would create more value and, in turn, long-term profit for your business.
2. Build Your Team's Experience
It's one thing to have all the parts and components your business needs to satisfy project demands. It's another to have a team of dedicated, experienced technicians to service equipment efficiently and effectively.
That skill-building goes beyond simple machine knowledge (not to understate the importance of that, however). Encourage your maintenance technicians to be problem-solvers in all aspects of their role. Help your newer techs understand that they will likely have to address multiple problems a day, and that they aren't just responsible for identifying the issue. Teach them that they will also have to diagnose the cause, develop a solution and implement the solution — typically within a short timeframe.
This solution-oriented mindset is key as the industry continues to innovate. Your business should be embracing tech advancements as assets, and not viewing them as liabilities.
Many solutions are designed to provide valuable insights on equipment usage, upcoming maintenance needs and operator usability data. Use all that information to your advantage to keep your technicians and parts department engaged with your equipment on a deeper level (not to mention making sure your machines operate at optimal health and uptime).
Provide opportunities to your more seasoned technicians to share their leadership and technical expertise. Empowering your whole team and playing to their strengths will set you apart from competitors, who don't provide the same care and attention you do.
3. Find New Ways to Increase Your Parts Revenue
If you've been running your business for many years, chances are you have a solid idea of your variable and fixed overhead costs. But if you are just starting out, or if you are branching out into a new market, there are a lot of unknowns that you must quickly work to account for. For example, identifying ways to generate and maintain a profit against your expenses. One of the easiest and most impactful ways to do this is to turn your parts center into a revenue-generating center.
Consider new strategies for increasing parts sales such as gathering more detailed insights to better plan inventory, setting metrics for customer service and simply asking your customers about their parts needs.
In this effort, it's important to also help your team see the difference between making a recommendation and upselling to make sure your customers walk away with exactly what they need, which increases the value they get from your business.
The biggest takeaway for your parts and components strategy is to select a starting point and move forward, being careful to not bite off more than you can chew at once. For example, it will be difficult to turn your parts department into a revenue generator if you don't have a good sense of your inventory.
Think of the above three pieces of advice as building blocks for your parts business and, ultimately, the overall success of your organization.