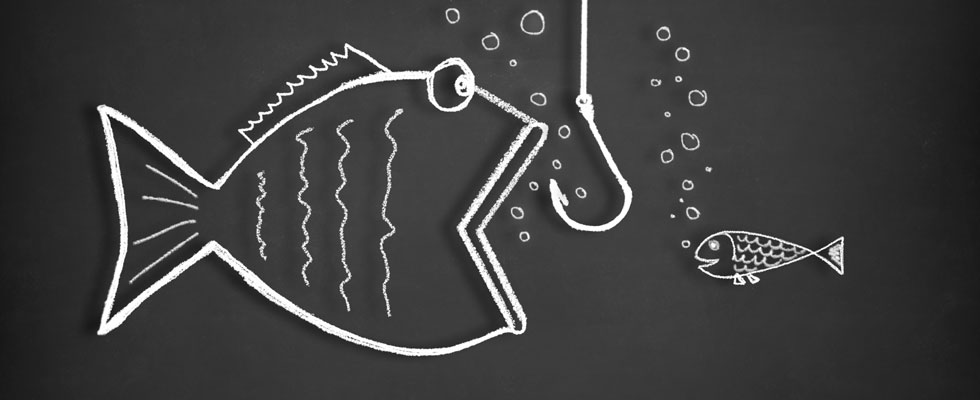 The must-win mentality you need to find higher-margin work
Many contractors still have problems with low margins, cheap competition, the tight economy or customers who won't pay reasonable prices. These construction companies operate with poor business plans and repeat the same behavior while hoping for better results. However, achieving better results requires fighting for improvement, making change and taking new risks.
Try a New Fishing Strategy
Typical contractors are not proactively seeking new customers, new markets or new project types to bid. They continue to bid the same customers and project types against the same competitors hoping for better results. Hope can't be your only strategy to win high-margin work, when you're stuck in a low-bid mentality.
The low-bid method awards contracts or subcontracts based on the lowest-price option. This strategy often does not generate enough high-margin work to keep a contractor profitable. By relying on customers to offer you opportunities to open-bid jobs, your future is controlled by others who decide when and if you have a chance to win work.
The problem with this strategy is that the good jobs (with the highest-margin potential) generally don't go out to bid on the open market. The best jobs are negotiated with or awarded to a short list of specialty contractors who focus on a specific expertise, niche and project type. Any contractor can build simple plans-and-specifications projects, which require little technical knowledge, expertise or experience. These, as I call them, "commodity" jobs go out for most contractors — anyone who has a license and can put together a price — to bid. Commodity jobs have open bid lists, too many bidders and are typically awarded with low margins.
To set yourself apart from that list of low-bid contractors, you must launch a proactive marketing program and dedicate some company budget toward developing or seeking new higher-margin customers.
Cast a High-Margin Net
Catching lots of fish takes preparation, planning, time, money and strategy. It's a good idea to know what kind of bait works best to land the fish you're looking to catch, and where the biggest fish are located. Similarly, to win the best contracts and most profitable jobs in construction, you need to attract and gain the interest of the right customers in the right markets. Think of your bids or proposals as bait that should tempt your potential customers to bite. And think of your target markets as fishing holes with lots of big fish that are all after what your company has to offer.
Just like in fishing, when you decide to bid on certain projects or customer types, your goal is to catch either one big fish or lots of smaller fish. To succeed, you have to spend time researching and looking for the right markets where the best customers bite often. You must also seek profitable projects to go after — opportunities that give you the best chance to make the most money, and jobs where the competition is low because the barrier to entry is high.
Remember, the wrong bait in the wrong fishing holes will keep you bidding on the wrong projects against too many competitors with too low prices. Offering the right bait in the right spots, your fishing techniques will generate better results and you'll get more bites more often. And when you finally catch a customer, reel them in and decide if you want to keep them.
If the Fish Don't Bite
When you don't catch enough fish, you try different fishing techniques, change your bait, or move to other fishing holes with better opportunities. Take a look at what needs to change in your fishing strategy — can you look for new markets, customers, or tactics to land more high margin contracts? How can you become an expert in a specific area that has potential to deliver a high return? Study your market and look for potential high-margin customers and project types.
For instance, building clean rooms, working in hospitals, doing food manufacturing projects or wiring high tech equipment all have much higher-margin potential than doing retail tenant improvements, building a city road or working on a new school that was bid out to 10 other competitors. Providing extra services like engineering design, structural shoring or specialty finishes reduces your competition as you become the preferred source provider versus pouring concrete or installing drywall per plans and specs.
Like fishing, you must adjust your estimating and bidding strategies to get bites from the big ones. You must use the right tackle, techniques and bait to get fish to find you more interesting than your competition. Plus, you must continually keep looking for better fishing holes to win more work at higher margins.
Change Your Bait
What else you can include in your proposal or bid to entice customer to bite more often? Standard proposals with standard exclusions and inclusions do not sell or convince customers to buy. Offering a lower price is only one aspect of winning proposals. What does your customer value as much or more than price? Before bidding on projects, ask your customer what they want — things like guarantees, warranties, cleanliness, track record, safety, manpower, night and weekend work, technology, communication, value-engineering, attention to detail and many other attributes can differentiate your company from the others.
With the First Bite
The primary goal of your bid is to land a meeting with the decision-maker for a project. Here, you can discuss the project in depth, review goals, highlight why you're the best choice, talk over pricing options, etc. It's difficult to accomplish this goal with a standard proposal. In a meeting like this, it's easier to promote the aspects and options that can positively influence a customer's final decision. As you present and discuss the project requirements and demands, carefully watch the customer's expressions, body language and reactions to the pricing and ideas you present. Look for clues and suggestions about how you can offer more than what they want and be the chosen winner. When you meet in person, you can look your customer in the eye, sell confidence, negotiate the price and scope and shake hands on a contract agreement.