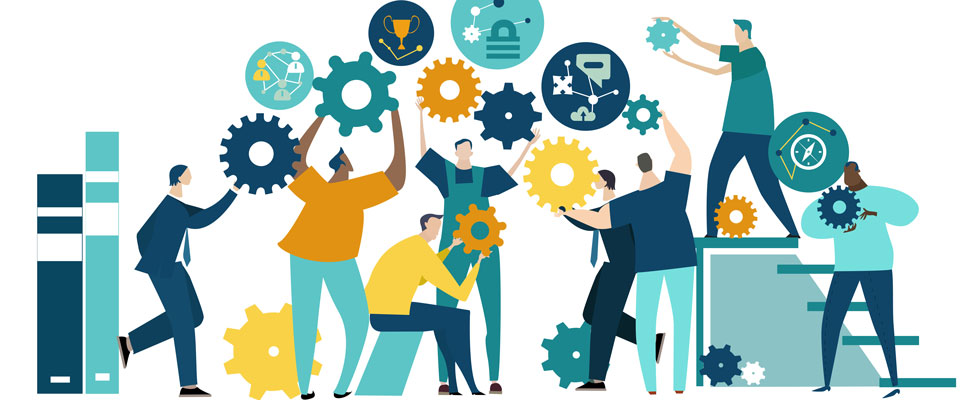 How to use processes to increase profits
Every contractor's "impossible dream" is to build each project as perfectly as planned. In order to accomplish this impossible dream, every action would have to take place as perfectly as planned. But you know this isn't a reality in the ever-changing world of construction.
So, how can you improve your project performance, eliminate potential issues, and control the number of variables involved? Successful contractors enforce standard systems and controls to lower risk factors, reduce the chances for things to go wrong, and improve their odds to achieve results.
A Process for Project Success
1. Preconstruction Planning System
Contract

Read, understand and follow the executed contract.
Develop contract requirement and notice chart.

Preconstruction hand-off meeting

Attendees: general manager (GM), sales, estimator, project manager (PM), general superintendent (GS), superintendent and foreman.
PM, superintendent and foreman visit jobsite and review plans, draft preliminary schedule and estimate crew hour budget.
Review scope, inclusions, exclusions and contract terms.
Set project goals.
Establish project schedule.
Review proposed subcontractors and suppliers.
Draft project mobilization and staging and phasing plans.
Create project timecard, cost codes and change-order rates.

Customer preconstruction meeting

Review contract terms, payment procedures, approvals, deadlines, milestones and change order rates.
2. Project Management System
Procurement

Award and execute all subcontracts within 2 to 3 weeks of start date.
Order materials and commit within 2 to 3 weeks of start date.
Confirm all deliveries 4 weeks and 2 weeks prior to required.
Deliver all materials a minimum of 1 week prior to required.

Schedule

Develop, track and communicate schedule to customers, subcontractors and suppliers.

Project management

Communicate with the superintendent and foreman daily, and with the customer weekly.
PM visits job weekly to perform detailed job walk with superintendent and foreman.

Submittals and shop drawings

Create list of required submittals within first week of start date.
Include requirements in all subcontracts and purchase orders.
Obtain and review all approvals within 3 to 4 weeks of job start.

Project paperwork

Maintain and document weekly all approvals, change orders, request for information, notices, claims, approved plans and specifications.

Change-order management

Get change-order rates approved at preconstruction meeting.
Document and manage all extra work, change orders and approvals.
Do not perform extra work without prior written approval.
Manage current change orders—price and submit within 7 days.
Maintain proposed and executed change-order logs.
Document all project issues and changes within 2 days.

Progress payments

Prepare and submit project payment requests on time.

Timecards and invoices

Approve all timecards daily and invoices weekly.
Review for accuracy with superintendent and foreman.

Job-cost updates

Prepare updated job-cost reports and calculate accurate estimated cost to complete monthly.
Prepare completed job-cost report.

Project meetings

Hold customer pre-job meeting on-site within 2 weeks of start.
Hold weekly customer meetings on-site.
Hold or attend all subcontractor job startup meetings on-site.
Hold or attend weekly jobsite meeting with subcontractors required on job within next 30 days.
3. Field & Crew Production Performance System
Premobilization jobsite review

Prior to mobilization, GS, PM or superintendent meet with customer to review site access, staging area, storage area, security, workspace requirements, trash, safety, temporary power, etc.
GS, PM or superintendent visit jobsite 2 to 4 days prior to all move-ins to verify job is ready.

Regular project tasks:

Daily job reports with photos.
Approve and submit all crew timecards coded to accurate cost codes and work quantities.
Submit weekly company equipment and rental equipment sheets.
Prepare 2- to 4-week look-ahead schedule.
Conduct weekly quality, cleanup, safety and punch-list inspection reports.
Notify customer, subcontractors and suppliers 3 weeks before they're needed on-site.
Hold job-walk prior to moving off project and get agreement on any outstanding items.
Prepare final punch list 2 weeks prior to completion.
Enforce company standards, policies, rules, attire and safety with crew and subcontractors.

Look-ahead schedule

Superintendent or foreman prepare 2- to 4-week look-ahead schedule weekly and submit to PM Friday.
PM, GS, superintendent and foreman meet weekly on-site to review look-ahead schedule.

Overtime

No overtime allowed without prior authorized approval and within estimated budget allotted.

Change order and extra work

No change order, extra work or free work allowed without prior authorized approval.

Punch list

Superintendent or foreman prepare weekly project punch list, cleanup and safety inspection report.
4. Job-Cost Scorecard & Crew Production Tracking System
Accounting should produce weekly updated project crew production scorecards with actual crew hours versus budgeted hours.
PM reviews job-cost labor and equipment production scorecards weekly with GS, superintendent and foreman to develop plan to complete projects on budget.
Hold weekly meeting to review all production performance results and areas for improvement.
5. Closeout & Completion System
Superintendent or foreman hold job walkaround with customer prior to leaving jobsite at each phase.
Estimator and PM review final job cost versus estimate.