CFMA's 2014 Annual Conference and Exhibition offers networking and valuable insight for financial professionals.
In 1982, nearly 100 construction financial professionals gathered at Caesar's Palace in Atlantic City, N.J., for the first ever Construction Financial Management Association (CFMA) annual conference, just one year after the organization was born.
More than 30 years later, about 1,100 individuals from 47 states, four Canadian provinces and a handful of UK representatives met at Caesar's Palace in Las Vegas June 7-11 for CFMA's 2014 Annual Conference and Exhibition.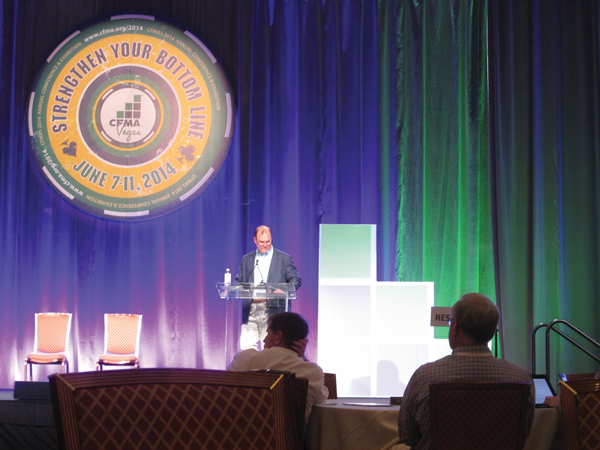 This continued growth throughout the years is consistent with CFMA's focus on strength in numbers. Vice President of Operations Erica O'Grady, CAE, says that each year the conference averages about 200 first-time attendees, with this year having 385. And, according to President and CEO Stuart Binstock, the association's leadership anticipates that by the end of the calendar year, CFMA membership will reach 7,000.
Each year, the conference draws a 
diverse group of CFOs, controllers, CPAs, risk professionals, attorneys and other construction industry specialists who gather to network, stay up to speed with an ever-changing industry and share best practices for strengthening their firms' bottom lines.
This year, the conference offered four motivational, industry-specific general sessions, seven full- and half-day mini conferences, seven moderator-led peer group roundtable sessions and 35 breakout sessions divided into relevant tracks for focused learning. These tracks included accounting and finance, benefits and human resources, heavy/
highway, sub specialty, leadership and management, risk management and surety, and technology.
The exhibition portion of the conference—which featured 80 software, finance, risk management and other company vendors—has also expanded, with this year's show having 15 more exhibitor booths than in 2013. "That's a significant jump for one year, and there seemed to be a real vibrancy in the exhibit hall," Binstock said.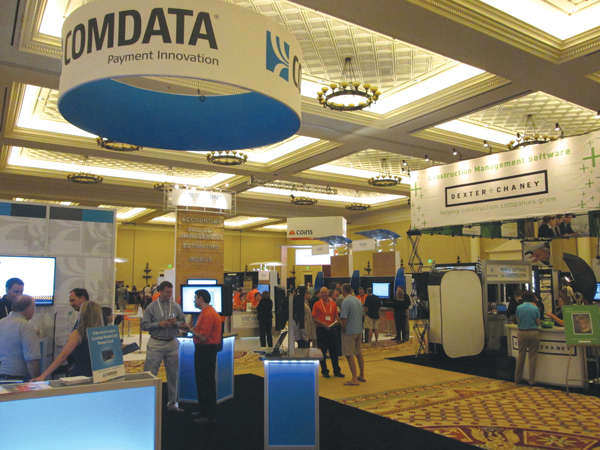 Some of the most well-attended sessions were the small-, medium- and large-firm roundtables, which provided a forum for discussion about a variety of topics, including issues surrounding the recruitment and development of leaders and transitioning to paperless workflows. These sessions, O'Grady says, attracted more than 350 attendees at 7 a.m. "I think it speaks volumes that we're competing with Vegas and late nights and we're still pulling people in," she said. "It speaks to the quality of the content."
Other popular sessions included "The Family-Owned Business of the 21st Century," "How Successful Contractors Manage the People Process" and "Construction Technology Forecast 2014."
Returning this year to provide the energetic and insightful economic outlook general session was Anirban Basu, chairman and CEO of Sage Policy Group Inc. and CFMA's economic adviser. Basu, who Binstock refers to as "the rock star of economists," offered an in-depth analysis of the nation's economic condition and provided a forecast for the upcoming year. Despite the gap between the "breathtaking" performance of the stock market and the "stumbling" economy, Basu says, "In general, there is a feeling of improvement—broadening improvement—especially in the construction industry." Basu predicts that we will continue to see a consumer-led economic recovery and a forecasted GDP expansion of 2.4 percent, with regions defined by population growth, significant import/export activity, industrial output and energy production leading the way.
Educating members and being the go-to resource for industry financial professionals is a top priority for CFMA, Binstock says. For this reason, the CFMA staff pooled their resources to quickly plan and provide conference attendees with an overview of the new, long-awaited Financial Accounting Standards Board (FASB) revenue recognition standard, issued less than two weeks before the conference commenced.
"Finally, when [the standard] came out, we had a full-out assault to try to educate our members," Binstock said. "We're in the education business, so we assembled the staff and started to look for a strategy." This strategy includes an entire section on the CFMA website dedicated to revenue recognition, a series of articles in the association's publication Building Profits and an upcoming webinar.
CFMA is also in the business of giving back to the community and to the industry. Throughout the conference, several of the association's 89 chapters were recognized during the general sessions for their service to others both within and outside the construction realm.
In addition, the organization raised $6,000 through the conference's charitable event, the Amazing Las Vegas Chase, a digital scavenger hunt held June 8 on the Las Vegas Strip. Half of the proceeds will be donated to Habitat for Humanity on behalf of the event's principal sponsor, the COINS Foundation (coinsfoundation.org), and the other half will be donated to Three Square (three square.org), a local food bank.
Michael K. Michelsen, conference attendee and controller at Stahl Construction in St. Louis Park, Minn., has been a CFMA member for 17 years. He says he joined the association out of a desire to understand the factors affecting construction firms and how 
other companies are responding to the continual changes that shape the industry.
"I wanted to network with people so I could see a bigger picture and how that would affect my organization and my job," Michelsen said. "CFMA gives you not only a local perspective but a national perspective."
Michelsen had not been to a CFMA conference in 10 years, so when his company's financial situation enabled him to make the trek to Vegas, he did.
"I've been isolated in my own little world for too long. I needed to see what's going on in the rest of the world," he said. "CFMA gives you that opportunity to get involved. It's incumbent on me to do it and to encourage my people to do it as well."
As CFMA expands its reach, Binstock says the organization will continue to focus its efforts on providing resources for its local chapters and offering valuable educational programs and networking opportunities for its members. This industry-specific financial acumen, Binstock says, is essential to success.
"You can be great at building a project, but if you don't understand the financial elements of putting a construction project together, you're not going to survive for very long," he said. "The reality is, 
regardless of the size of your company, our members are essential to the success of construction companies—firms don't 
exist without them."