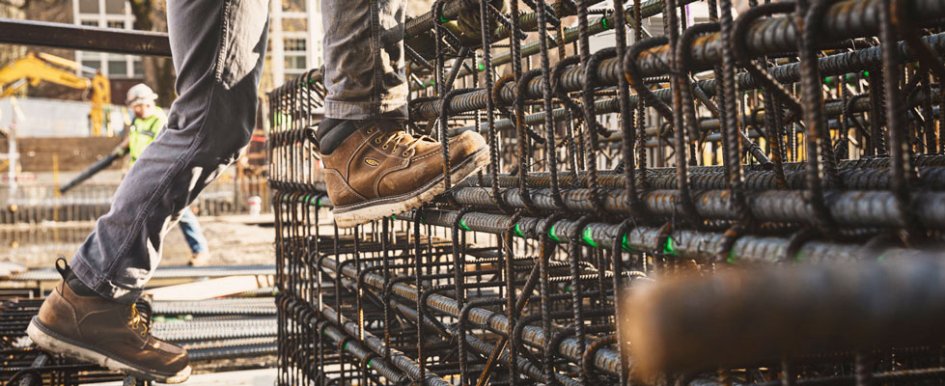 Providing proper footwear is crucial to worker safety—no matter the season
Wednesday, January 6th, 2021
Safety on the jobsite is of the utmost importance for men and women working in the trades. Having footwear with the appropriate fit and technology features aid in avoiding major site risks. Safety footwear should ultimately contain the appropriate features for the particular job, fit properly and be comfortable. According to the Occupational Safety and Health Administration (OSHA), in 2018, of the 4,779 worker fatalities in private industry, 1,008 (21.1%) were in construction—meaning one in five worker deaths in 2018 were in the construction industry.
OSHA reported the "Fatal Four" causes of death for construction workers, categorizing them as: "falls, struck by object, electrocutions and caught-in/between." Site managers and supervisors can help tradesmen and women keep themselves safe by identifying the particular jobsite needs and hazards. Workers in the trades can utilize this information to choose safety footwear that best fits them and the job, resulting in safer working conditions.
Selecting Safety Footwear
With a large variety of safety footwear options on the market, it can be difficult to choose a shoe that perfectly fits the specific worker and job. Different jobsites present different hazards and it is important for workers and supervisors to choose safety shoes that will best protect and suit them on-site.
Wearing the correct safety footwear can help minimize the occurrence of Fatal Four accidents on jobsites. Many trade jobs require workers to wear footwear with a safety toe, to protect against falling objects, heavy materials and other potential hazards on the jobsite. Choosing a safety toe cap that best fits the trade is important and knowing the function of different safety toe materials is essential.
While many work boots still feature traditional steel or aluminum safety toes, one of the newer safety toe materials introduced to the market is carbon-fiber. Carbon-fiber safety toes are 15% lighter than steel toes, without sacrificing any of the safety features. Metal-free, a carbon-fiber or composite toe cap can also be worn in professions where workers pass through a metal detector on the jobsite.
Many safety footwear manufacturers have evolved their safety toe caps to be more anatomically correct and asymmetrically designed to still satisfy American Society for Testing Materials and Standards (ASTM) safety standards for crush and impact, while also creating a more unobtrusive, roomier fit to keep feet more comfortable and safer. Along with a variety of toe cap options, today's modern safety shoe offers an array of versatile options for materials, with the industry constantly evolving to fit workers' needs. Barnyard-resistant leathers can be utilized in heavy-duty construction, protecting against the damaging effects of oleic acid, urea, sodium chloride and ammonium hydroxide.
Materials like reflective webbing are used to keep workers safe at night and in low lighting conditions when an active light source, like a headlight, hits it. Siped and slip-resistant outsoles disperse liquid quickly to protect workers from slips and falls. Shoes containing puncture resistant soles are used to keep feet safe from being punctured by sharp objects. And heat resistant outsoles are essential for tradespeople working in environments with extreme heat, like welders.
Safety Footwear for Women
Women continue to be a growing segment within the trades, and require personal protective equipment built for their body structures, sizes and shapes. In the past, a majority of safety equipment was built for men, and women in the trades were forced to wear men's equipment and size down accordingly to get the closest fit. This results in ill-fitting safety gear, compromising comfort, fit and increasing the potential for accidents on-site.
Today, much of women's safety footwear is constructed on a women's-specific last (the shoe form shaped like a human foot) and is designed to fit the anatomical structure of a woman's foot. When women wear safety footwear designed specifically for their feet, it increases the comfort level and enhances the fit of the shoe. When personal protective footwear fits properly, there is less risk of accidents because the foot is more supported and stable.
Safety Footwear Longevity
Safety footwear is constantly going through changing weather and terrain, so it's important to take precautionary measures regarding boot care. Taking the proper steps to care for safety footwear will ensure the longevity of the shoe, and keep workers more comfortable, supported and safer through the workday. Store work boots in a cool, dry place and never leave them outdoors. Humidity can have different negative effects on leather.
In high-humid environments, leather can become too moist and cause rot, while low humidity can dry out the leather and cause the boots to harden, shrink, crack and even pull away from the seams. When footwear no longer fits properly, there is an increased change of accidents. Cleaning and conditioning boots according to the specific materials used, will ensure a longer life for the boot and keep the safety footwear in top condition.
Seasons & Terrain
In the construction industry, working outdoors is inevitable, and whether workers are in the scorching summer months or freezing winter conditions, having appropriate footwear for the weather is imperative. When working on jobsites in warm climates or during the summer months, workers should choose a lightweight shoe with optimal airflow for ventilation. Many boots are constructed with a waterproof lining, made to keep water and moisture out, and make the shoe breathable and feet comfortable.
Keeping feet cool and dry on hot days is imperative to ensure safety and comfort. Hot feet lead to sweating and moisture in the shoe, which can cause slippery and unstable footing for workers. The heavy presence of snow and ice throughout the winter makes it increasingly difficult to maintain stability in uneven environments.
One of the most important aspects of maintaining stability in these conditions is proper safety footwear. Work boots that have been designed for harsh conditions are extremely important and play a crucial role in staying stable in slick and uneven environments. Personal protective footwear manufacturers understand the importance of maintaining safety on winter jobsites and are constantly innovating and improving winter work boots by creating new technology to make a safer boot.
Keeping your feet warm and dry is also an important aspect of winter work-boot safety. A common misconception regarding work-boot toe caps is that steel and aluminum safety toes conduct temperatures differently than a composite toe. Many people believe that metal safety toes are poor heat conductors and lead to colder feet. In reality, the ambient airflow within the work boot is what matters for heat conduction.
Safety footwear should contain enough room to have warm air circulating throughout the shoe. If the shoe is too tight, the worker will experience cold feet, regardless of a metal or composite safety toe. Wearing shoes that fit properly is essential to keeping feet warm, so when purchasing boots, it is important to think about what socks will be worn on the job and size the safety shoe accordingly.
For workers, site managers and supervisors, keeping crews safe on the jobsite is one of the most important aspects of the job. Knowing and communicating the specific hazards and potential dangers workers will face on-site, will help them choose safety footwear that will work best in the environment, and ultimately reduce the risk of accidents and injuries.