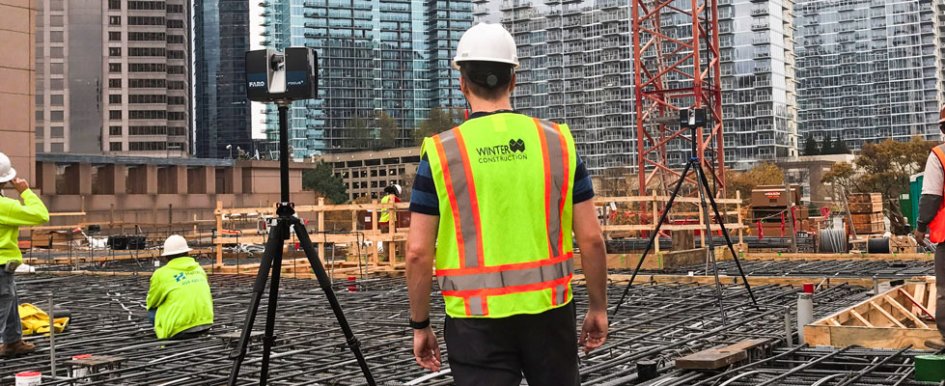 The role helping companies like Winter Construction gain the competitive edge
Monday, December 2nd, 2019
First, it was building information modeling (BIM), then virtual design and construction (VDC), then drones, then virtual reality and augmented reality (VR/AR) and artificial intelligence—not to mention all of the software solutions along the way. Now, all of these pieces of tech are part of the larger experience broadly termed "construction technology," which can be complicated for even the techiest tech enthusiast out there.
This is why identifying and implementing technology on a larger scale—say, for operating a cutting-edge construction business or increasing productivity on the jobsite—requires a certain level of commitment. That's where the construction technologist (CT) comes in. For companies with clear intentions of moving forward with technology initiatives as part of an overall business strategy, the CT plays an integral part in overseeing the implementation and success of those technologies.
Of course, different business owners have different goals, and different specialties have specific needs, creating disparate use of a conglomerate of tech pieces across many different areas of business. At a minimum, some of those differences might include company size, number of employees, number of locations, plans for expansion, technology budget and, most importantly, an understanding of the company's current technology pain points.
A CT could be the problem-solver you need to streamline your tech strategy, but before you post that job opening, you should first consider an in-house review of your technology setup as it stands today. Start by forming a technology committee, comprised of company leadership and its most innovative, tech-savvy individuals, who serve as the assessors of the company's current state of technology, future wants and needs, and plans for growth. Start by asking them:
What are our tech priorities? 
How do we see ourselves operating in the next 3 to 5 years?
How many apps and systems are we currently using, and how often do we use them? 
How does each app or system save us time or money (i.e., Are they worth the cost to maintain)?
Which person or team does each piece benefit most, and how?
Who on our staff is capable of resolving tech pain points?
Who on our team can be accountable for the oversight and integration of tech systems? 
What better or more suitable solutions are available to us?
Who on our team is qualified to lead the research and trial of new solutions?
What technologies are we avoiding because they seem too daunting a task to take on?
After the meeting, you and your committee may come to the conclusion that the handful of simple technology solutions you're currently using fit the bill for now, and hiring a full-time CT may be too large a leap. In which case, you might consider bringing on a third-party technology consultant just to help step up your processes.
On the other hand, if your committee's answers to these questions point to a deeper need for technology management, you may consider the expertise of a professional who has the background and insight to ensure that your teams can experience seamless transitions to new technologies and gain a clear understanding of the data and value they deliver. That's the role of the CT.
What Is a CT?
By one description, a CT is responsible for closing the gap between construction and technology, and for finding, implementing and fine-tuning the solutions with which to make that possible. By another description, CTs serve as specialized tech agents who have an interest in the trades.
According to Procore writer Jeff Wing, "The CT is a construction company's technology insider; a sort of family tech guru who is intimately acquainted with an outfit's construction processes. The CT is able to clearly see, in the landscape of options, the best technology fit for the company—considering price point and plausible return on investment (ROI)." 
Construction technologist David Epps serves as director of construction technology at Winter Construction, a privately owned and operated Atlanta, Georgia-based general contracting company. For most of his career, Epps has focused on BIM, while leveraging technology to enhance the art and science of construction.
David Epps, Director of Construction Technology, Winter Construction
In addition to BIM and VDC, Epps also leverages drones, laser scanning, VR/AR, 4D scheduling, construction simulation and digital field integration. He contributes to project pursuits and marketing, project assessment and setup, project standardization and consistency, BIM execution planning, company and industry training and recruitment. 
"At the end of the day, we don't build buildings—we are a support department; we support the teams who build the buildings," said Epps. "We are problem-solvers with a digital toolbox, ready to deliver the right solution for any particular problem." In collaboration with leadership, Epps is responsible for shaping Winter's long-term vision for tech and driving innovation in all aspects of the company.
In 2016, wanting to bring more emphasis to the role of technology throughout the entire construction process, across all departments and functions, Winter execs knew they needed to find someone to build a technology department and make a long-term commitment for the future of their projects. Rather than conduct technology research on their own, they sought out a CT. 
"You can't do your day job and build a BIM department on the side in your spare time—it just doesn't work," said Epps. Many companies experience a similar problem when engineers are tasked with project management priorities on the jobsite—their primary role as engineer precedes the need to complete any project management work, leaving incomplete projects and lots to be desired.
How Do I Find a CT?
According to Wing, incoming generations of "techsperts" with experience from a range of academic and vocational disciplines are immersed in technology almost from birth, giving them opportunities that previous generations wouldn't have even considered possible. Whether tech trends give rise to generations of future technologists remains to be seen, but there's no doubt that for many contractors, as construction continues to adopt and adapt, the need for technologists will continue to arise.
According to Epps, most major firms have already established vice-president- or director-level technology roles. And while some companies focus on using one technology to be good at one thing, Winter is focusing on many technologies to be good at a lot of things. "We're out there sifting through all of the new technologies, filtering out the junk and asking, 'How can this add value to our work?'"
When it comes to construction technology, value is the name of the game. "I'm constantly pushing back, starting and continuing conversations, and presenting and selling the value [of tech]," he said. "Most owners just want the hamburger—they don't always care how it's made or who's making it. They want the baby, not the labor pains," which makes Epps's role that much more valuable to Winter's leadership and is just one pixel from the bigger picture: an industry in need of tech assistance.
"As an industry, we still have some of the same challenges we had years ago," said Epps, but he's encouraged by the direction in which construction seems to be headed. "Construction is largely a 2D world, and we're trying to feed a 3D platform into that 2D world, so there will always be kinks to work out," he said. 
For this reason, many companies choose to work with a CT who already has some level of construction experience. "If you don't understand how a building goes together," said Epps, "you can't understand the problems and challenges of building it (scheduling and site logistics, for instance)." It's this information that a CT then translates into technology tools. 
For companies looking to staff the role with the right person, the road could be long. There isn't exactly an undergraduate BIM degree. And, while more BIM courses are being developed, the right candidate also has to be able to juggle different types of technology.
At Winter, Epps interviewed with about six people from the team before he was hired. Each person represented different corners of the company and/or different project interests, and, Epps says, "they were all focused on their own needs, and that's the job—being able to satisfy everyone's technology needs differently. Testing them in different ways and proving that a CT can deliver." 
What Can a CT Do For Me?
Most of the solutions Epps and his team have developed are in response to direct project needs. As many contractors continue to evolve and become more sophisticated in their technology choices, the role of CT will be more in demand, and business owners will be looking for a competitive edge that sets them apart.
For every existing construction specialty and business structure out there, there are equal, if not more, combinations of desired tasks and efficiencies that could land in hands of an in-house CT. In short, the role is whatever you choose to make of it. Some CT tasks might include:
Monitoring and understanding the company's technology budget, use and impact
Asking the right questions of company stakeholders to properly assess business needs and technology pain points
Interfacing with teams to identify the technology needs of different types of employees: field crews versus office teams
Identifying opportunities for automation
Creating a new set of technology requirements to help build and develop internal or external solutions
Putting in place the necessary technology to drive more accurate and efficient results 
Connecting and maintaining the functions of internal and external applications, and harnessing the right data to measure effects, develop insights and continuously educate employees
Serving as key stakeholder and conductor of research and proposals for potential technology solutions
Experimenting with new technologies most suitable for your company's specialty, project size or client
Studying ROI and metrics supporting the value behind new apps and processes
To hear Epps describe his office is like peeking into the cockpit of the Starship Enterprise. He operates from two different computers—one desktop with four screens (mostly used for laser scanning and crunching data), and a laptop with a dock and three other screens. That's eight screens in all, displaying construction models, pictures, drone footage and renderings to clients and passersby. "It might seem excessive, but so often we're multitasking between so many processes and software, it's necessary," said Epps, "Our work is never done. New challenges arise on jobs every day, and we touch every single job." 
With that many plates spinning at one time, there are bound to be frustrations. "Our challenge is to find ways to build technology that is billable to jobs, which is hard to do when people still see BIM as a 'nice to have' on a project rather than a 'need to have,'" said Epps. "We are constantly trying to justify the cost of our jobs [as construction technologists]." 
For instance, Epps and his team use BIM models to digitally study clash detection in electrical or plumbing work to predict problems ahead of installation, fixing issues proactively. "It's a frustrating scenario, though," says Epps. "These problems don't really exist yet, because we solve them before a job begins, making it incredibly difficult to show someone who holds the purse strings these nonproblems and that the work we're doing is worth it. It's part of an ROI conversation that's been happening throughout the industry for decades," said Epps.
It can be difficult to assign an absolute dollar value to each clash, but if Epps and his team discover hundreds of issues ahead of time and only 10% of those issues end up being legitimate, the company avoids far more cost to the project than it costs to run the coordination in the first place. 
Did Somebody Call IT?
The role of construction technologist (CT) should not be confused with the role of information technologist (IT). CTs should not serve as your company's in-house support for computer system troubleshooting or maintenance—just because a person is technologically inclined does not mean they are also experts in computer repair.
IT is a role designed to manage computer performance, communications and networking. CT is a role designed to drive efficiencies and implement and manage the launch and use of new systems. The same way a director of business development might spend their time networking with new clients to explore new contract opportunities, the director of technology operations might spend their time meeting with and assessing software and technology providers to explore new technology opportunities. 
In recruiting or hiring, job titles may vary. The CT role might also be called "manager of construction technology and innovation," "director of technology integration," "technology integration specialist," "director of construction technology," or "director of technology operations."