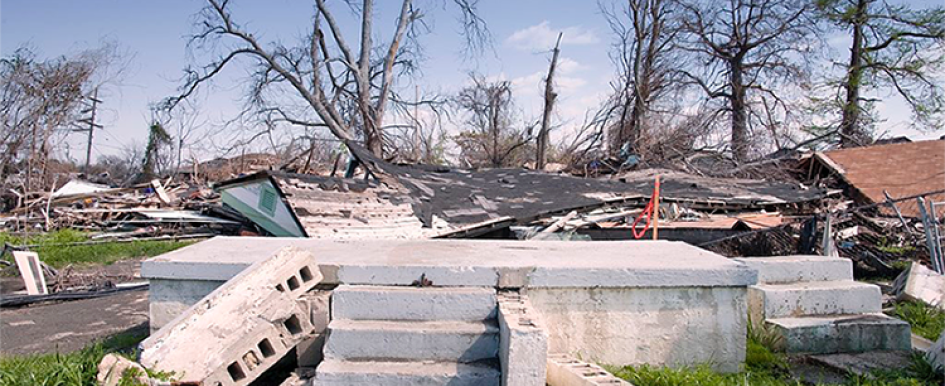 How to use telematics to protect your crew
Construction work can be dangerous in normal situations, but a jobsite in a disaster zone, whether natural or manmade, has its own inherent risks for crew and equipment. Specific procedures are often required, and the crew likely has specialized training. There are also regulations to follow for the operations and handling of hazardous materials. Vehicle and equipment telematics add another layer of safety to your disaster-located jobsite and provides real-time actionable intelligence for on-site crews.
Unstable Ground
There seems to be another disaster every day in the news. There are manmade problems, such as the I-85 fire and bridge collapse in Atlanta, Georgia, and natural events, including hurricanes and flooding. Even the iconic Highway 1 in California was not immune, with a recent landslide burying a section "under a 40-foot layer of rock and dirt," according to CBS News.
Yet work crews are sure to be dispatched at some point. This site and other zones have unique hazards ranging from chemicals, utilities, shifting ground and shaky structures. In general, a 2015 Bureau of Labor Statistics (BLS) report showed almost 200,000 construction-related cases of nonfatal occupational injuries. And OSHA's "fatal four" in construction were caused by falls, being struck by an object, electrocutions and being caught-in/between. The BLS 2015 Census of Fatal Occupational Injuries (CFOI) report also showed that there was an increase of fatalities for operating engineers and construction equipment operators.
Your equipment is also at risk. The clearing and restoration projects are under tight deadlines. Extra stress on assets often results from round-the-clock work.  And the hectic atmosphere provides a greater risk of theft than at a regular site.
Safety Information from Technology
With advances in technology, there is a wealth of information that the project manager can tap into for troubleshooting and prevention decisions. Data streams from drone video footage, in cab cameras and asset telematics provide valuable, real-time insight and for post-event analysis. The following reviews in more detail how jobsite technology can help make projects in disaster areas safer.
Drones—These devices offer aerial and thermal views, allowing you to evaluate the safety of the site on a daily basis. You may use the information to deem an area off limits until stabilized.
In-cab cameras—A real-time feed delivers current conditions and a way to review any incidents. The video provides a 360-degree view during pre-programmed risky events, such as hard braking, that can then be paired with the telematics data for a better understanding of the situation.
Telematics—Data from your assets offers valuable insight into real-time location and various conditions, such as:


Location—Knowing the location of your crew is critical when conditions can change in an instant. You may have a team working on both sides of a site separated by mudslide debris or working around a curve. The availability of a location map helps raise the visibility of your fleet. This tool allows you to better coordinate assets across the site for internal traffic control, too.
Area alerts—Tied closely to location above, trigger alerts will be sent for arrivals and departures within work areas that you define. For general jobsite needs, a set of geofences by server is usually enough to monitor equipment movement. These warnings let you evaluate whether the event is a theft in progress or someone dropping off a generator. For high-risk areas, such as the ground below the Oroville Dam, a geozone by device provides more immediate notifications so you are able to head off a potential disaster.
Maintenance and alerts—Equipment that breaks down at the wrong time can cause an unsafe situation, plus it will decrease crew and equipment productivity. An unexpected lurching stop may cause a machine to become unbalanced enough to tip or roll over. Access to key information, such as direct engine hour or meter readings, fuel levels, service interval indicators, hydraulics, oil pressure and a variety of other data is captured through a CAN bus serial wire connection. This data is transmitted to compatible software so you are able to monitor the health of your assets. Alerts are typically proactive, warning an operator that an engine is overheating or machine being used on an unsafe incline or decline. Ignition alerts assist with preventing unauthorized use or thwart a possible theft. You define when you want to be notified, such as after hours. An excessive use alert is sent when your maximum threshold of estimated hours of use is reached. This information will help you troubleshoot by swapping out equipment or scheduling maintenance before a major issue arises.
Operator behavior—You may have new crew members with limited experience in disaster zones, or the crew may rush to complete the recovery and restoration project. Whatever the reason, bad equipment operation habits creep in and put a strain on your equipment causing more resources to be used. Performance alerts and reports on hard breaking, excessive idling or speeding may be used in safety or additional equipment training, as well as the development of safe operation incentive programs.
Cameras, drones, telematics and other technologies are good to have in your toolbox to keep everyone safe on a tenuous jobsite. They will help you better manage liability, compliance and safety. It is encouraging to see the construction industry embrace new advancements in technology in order to reduce injuries and fatalities, even under the most challenging of situations.