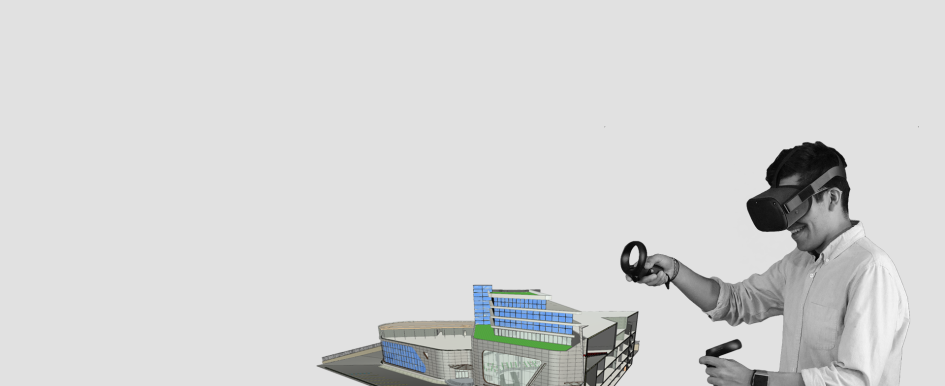 Inside the ROI of implementing tech to help your jobsite team connect & collaborate
Friday, September 11, 2020
This year has upended many of the methods contractors have relied on to complete work for decades. Suddenly, business owners and project management teams are having to think about every single person who comes on and off the jobsite on any given day. Leadership teams are rewriting safety strategies to include social distancing practices and adequate supplies and stations for hand-washing and sanitizing equipment. Company owners now have contingency plans in place in case a large portion of a project team tests positive for COVID-19 and has to be quarantined. 
It's been a year full of ups and downs. And while resiliency has been the name of the game for most of 2020—some of the solutions to pandemic problems have staying power for years to come. Many construction companies who were hesitant to adopt certain technologies available to the construction market are now looking at those solutions with a different mindset. 
Virtual reality (VR) has been around for a bit. But the coronavirus pandemic brought about a whole new need for technology that allowed workers and management teams to continue business operations as smoothly and with as few interruptions as possible. Employing VR on the jobsite—through a comprehensive BIM plan—has changed the way many contractors meet, make changes to project plans, and communicate those back to all of the teams involved. 
And let's face it, meetings in VR are a great solution for teams that need to distance themselves for the time being. But the use of VR on the construction site is one that will reap rewards long after a safe and reliable vaccine is widely available and this pandemic (here's hoping) is something of the past. Imagine the cost and time savings of a project manager being able to jump from jobsite to jobsite in the matter of minutes, rather than hours, without the need to travel to physical sites. Imagine project data that is communicated to all the teams involved (from the project owner down to each trade partner) in a matter of minutes following a VR meeting.
The possibilities abound, and the solution is worth exploring—no matter your company's size or how it's currently navigating COVID-19 on the jobsite. Below, hear from Angel Say, the chief executive officer and co-founder of InsiteVR, on VR in the COVID-19 era and how it can translate to real benefits—as well as cost and time savings—for your company after the pandemic is over. 
About Angel Say
Before starting the company, Say studied mechanical engineering at Columbia University and wrote computer vision software for a semiconductor robotics company. The InsiteVR team recently launched Resolve, their flagship product that allows construction project teams, as well as all other disciplines and owners across the project life cycle, to review and mark up building information modeling (BIM) files in a collaborative virtual reality environment. Powered by cutting-edge computer graphics technology the software is making immersive technology more accessible and more affordable to the construction industry to spot issues before it's too late.
Why should contractors consider implementing a VR tool on jobsites, especially in recent months when large, in-person meetings have been rendered impossible?
When you review your building model in VR, you're able to quickly pick up on issues that might slip through visual inspection on a 2D monitor. This hasn't changed, but we have experienced an accelerating demand from teams who want to meet together in a virtual environment with the ability to fully interact with the model.
Our latest product, Resolve, allows teams to virtually meet in their 3D building models. You can put on a VR headset and see your colleagues as avatars. And these meetings aren't happening in some generic conference environment—they're in the building model they're actually working on. Virtual reality meetings have helped our AEC customers' business continuity as they have transitioned to remote work. With virtual reality, teams don't have to sacrifice co-location and efficient coordination because they're working remotely.
Traditionally, BIM/VDC staff are able to assist site teams by doing regular visits and pulling up a Navisworks model on their personal computer to review with everyone. Those interactions are more limited these days. Virtual reality can connect site teams with individuals working from home and they can virtually walk through a model together.
When they're in VR, they feel like they're standing right next to each other when discussing an issue and the conversation is more fluid than trying to email each other screenshots back and forth. Equally as important is communication between jobsite teams and the owner.
The owner feedback loop is critical to ensuring successful project delivery. We're seeing a lot of owner O&M teams use VR meetings as a way to provide design feedback as early as possible and also chime in during the coordination process. This ensures you don't end up with last minute changes or major operating inefficiencies.
What are the barriers to implementation that remain for most contractors?
For starters, you need a mature BIM workflow. Virtual reality amplifies the value of your investment in BIM, so you want to make sure what you're looking at is the most up to date and correct information. This is why we focus on integrations with existing workflows like Autodesk's Construction Cloud. If you have reliable data on the cloud then going into a VR meeting with the project team feels like a very natural extension of your workflow.
If you have to start cleaning up models just to use VR then you start to face higher barriers to adoption. I think misconceptions about VR can also prevent companies from adopting the technology. A lot of the early uptake of VR was for marketing visualizations of buildings. A lot of companies don't branch out beyond using VR a few times a year for major pursuits.
Design staff, field staff, and others who engage with the project post-pursuit don't end up interacting with the technology because they think it's value has been fully tapped after they win the job. The reality is there is a lot more value to be extracted from it after that! The other common misconception is that VR is very complex technology that only technical teams can use. That was maybe the case 2 years ago but the industry has rapidly evolved.
You can now pick up a headset for less than $500 and everything you need comes in the box. You don't need a complicated gaming computer and sensors all around you to get started, and no wire tethers confining you to a small space . I've seen some superintendents who were averse to iPads learn to use today's VR headsets in less than 30 minutes. It's become very easy for a site team or someone working from home to get up and running with VR.
Do you have examples of measurable optimization contractors have seen from the regular use of VR?
The most reported benefit is the increased rate of issue detection that teams experience when they're in VR. There are issues that can go unnoticed for weeks or months when doing page turns or reviewing the model on a screen. When teams are in VR they're spotting issues right away and they're able to communicate with each other more efficiently because they're standing right in front of the issue.
For instance, a structural beam that is too low or a valve that's too hard to access is noticed in seconds when you're in VR. We've published case studies with firms like Stantec, which show teams catching upwards of 13 issues per hour when they're in VR. These issues can range from minor design changes to items that would cause significant delays, change orders, or RFIs.
Before working from home, one Stantec team was able to cut a 6-hour round trip from their schedules because they could just meet in VR. Not only does reduced travel save the team time and money it's also very good for the planet. Our customers are preventing an average of 3 requests for information during their VR meetings, which is about $3,000 in savings based on published average costs of an RFI. And for owners there's the added benefit of reducing operations & maintenance costs. If you can spot issues that would lead to increased maintenance costs you are tapping into savings over the entire course of the building life cycle not just during construction. Let's discuss integration with other construction tech.
Can you describe the improvements you've seen in recent years regarding the integration of VR?
Integrating with widely adopted construction tech is key to our development because we want VR to feel like a natural part of people's workflow. We want teams to be able to seamlessly enter a VR meeting instead of having to spend hours preparing content and pulling in data from multiple sources. Our integration with the Autodesk's Construction Cloud (ACC) allows teams to seamlessly bring model data into VR and sync issues. Resolve can be used to review Revit, Navisworks, and 70 other file formats supported by ACC.
Since they're already used to publishing models to the Autodesk Construction Cloud we don't have to teach them a new workflow. They just learn to press a new button that then brings their data into a virtual environment. It also means when they collaborate in VR they're always viewing data that's coming from a single source of truth so they can trust their conversations are focusing on up to date, relevant information.
We believe that as construction data is digitized we also need to make sure the data is accessible. Putting the data on the cloud is half the battle and making sure people can make use of the data is the challenge we now face. What excites me about our technology is that we hear a lot of companies tell us the virtual meetings are the first time they feel like they're getting value of BIM for more than producing drawings.
If you can increase engagement with BIM you can more efficiently leverage the expertise of the people you're working with to prevent issues before it's too late. People don't need to be experts in 3D software to put on a VR headset and spot potential issues—their brains are naturally wired to interpret the 3D world around them with their eyes.
What's next for construction tech? What challenges would you like to see solved with a new tool or better use of existing ones?
I think there's a lot of opportunity to continue pushing the boundaries of remote work in AEC. A lot of the traditional office roles have been able to adapt to the transition, but a lot of conversations and work still happens on site because of the physical nature of the work. As we see more innovation in the fields of reality capture, robotics and prefabrication, I think we'll start to move the industry forward even more.
Digitizing the construction process with tools like BIM and reality capture is important for reaping the benefits of iterative workflows. The time scale at which construction evolves is a bit slower than other industries because projects can take a really long time to complete and for companies to extract lessons learned.
For example, I've heard of projects that were designed in a pre-Uber/Lyft era but were constructed and delivered just as those services took off. Adapting once construction starts isn't easy or cheap so they had to be remodeled a few years later. We need our buildings to keep up with our technical innovation!
Anything else?
I always like to remind people in AEC that if the last time they tried VR was over 3 years ago they're overdue to try it again. The technology has been improving at an incredible pace from improved resolution to hand tracking there have been a lot of advancements recently. And, remember, this isn't the lonely, one person immersive experience of yesterday. This is an immersive group meeting during which you can 'see' and communicate with others face to face, remotely of course.
The most important thing that has happened is that you can now have a collaborative VR experience from your home office without the need for a full gaming PC rig. The technology has matured to the point where teams can entrust their staff to set up VR without someone from IT needing to do it for them. The ease of use and accessibility is key for teams to focus on solving problems with the tech rather than the tech itself.
Want to learn more about how Stantec and other firms are embracing VR on their jobsites to increase collaboration among all stakeholders throughout the project life cycle? Managing Editor Elizabeth Manning will join Stantec, InsightVR and several other industry players in a webinar on September 28 at 12 p.m. EST.
The event—titled "Collaborative VR, Today's Efficiency, Tomorrow's Resiliency"—will examine how teams on real construction projects are using the tech to meet, make changes, and push projects forward, all while staying safe and keeping processes in place. If you haven't had the chance to experience VR for yourself, the webinar will also include a project walk-through explaining how VR is used to collaborate, mark up a BIM plan, and more. 
Learn more and register for the live event here.