Some driving behaviors are more devastating than you think.
Regardless of what your employees drive—a car, truck or a fleet vehicle—the most common bad driving habit is cellphone use. The National Safety Council states that nearly 25 percent of all accidents in 2010 occurred because of cellphone use, accounting for nearly 1.1 million crashes that year.
Cellphone use is the cause of many critical distracted driving occurrences, including the following:
January 2004, 4 p.m., Grand Rapids, Mich. – A 20-year-old woman ran a red light while talking on her cellphone. She smashed into a vehicle crossing the green light in front of her. The vehicle she struck was the third or fourth car that had gone through the green light; it was not the first. The investigation proved the driver never even touched her brakes and was traveling at almost 50 mph at impact. The accident resulted in the tragic death of a 12-year-old boy.
Witnesses stated during the investigation that the driver was not dialing or texting; she was looking forward, straight out the windshield.
The above is a definitive case of "inattention blindness" resulting from the distraction of a cellphone conversation. Drivers talking on their cellphones process less than 50 percent of crucial driving conditions.
Our eyes are the most imperative part of driving. Yet, as drivers talk on a cellphone (even with a hands-free device), they have a propensity to look—but not see—what is in front of them.
The driver who caused the crash was on the phone with someone from her church, where she volunteered to help children the same age of the boy who lost his life. She pled guilty to negligent homicide.
To prevent distracted driving within your company, encourage your employees to follow these guidelines: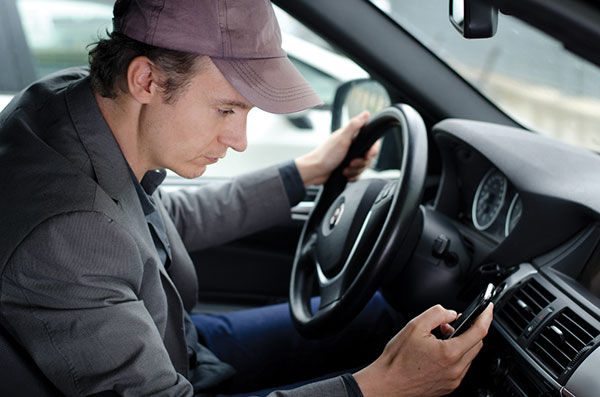 Tell family, friends and business contacts that you do not answer, talk or text on the phone while driving.
When you start the car, turn your cellphone off.
When your cellphone rings, if you must answer, carefully pull over.
If you must make a call, park in a safe place. Then make the call.
Does your company or fleet have a cellphone policy? Visit shop.nsc.org, the National Safety Council online store, for a free downloadable kit for employers ( kit # 90903000 ). It provides sample policies, turnkey communications and ready-to-use materials to build leadership support for a cellphone policy and to communicate to employees the risks of driving while using a cellphone.
Drivers of company vehicles also have responsibility for valuable business assets and for everyday expenses such as fuel and labor costs. Using a vehicle tracking system to prevent bad driving habits and promote good ones can have an impact on the bottom line and help improve a company's public image. Knowing where vehicles are and what they are doing provides insight into how drivers behave in the field, even when fleet managers and dispatchers can't be there to look over their shoulders.
Below are five bad driver habits to break and how they can be solved with GPS tracking:
Speeding: Driving too fast is unsafe and can give any company a bad reputation, especially when branded vehicles are involved. Set up email or text alerts to monitor when drivers exceed a certain speed limit.
Idling: Excessive engine idling wastes fuel. Run idling reports to see which drivers need to be reminded to shut the ignition off while parked.
Seat belt use: Monitor seat belt use to track who is following company policy and who is not.
Personal use of vehicle: Company vehicles should be used only for business, both to protect companies from liability and to cut expenses. Features such as route comparison and geofences can let managers know when drivers stray from planned routes.
Hard braking and acceleration: Aggressive driving can negatively affect a company's reputation and is potentially dangerous. Create alerts or run reports to see which drivers tend to speed up too quickly or brake at the last minute.
Preventing these bad habits will protect your employees and help lengthen the life of fleet vehicles.