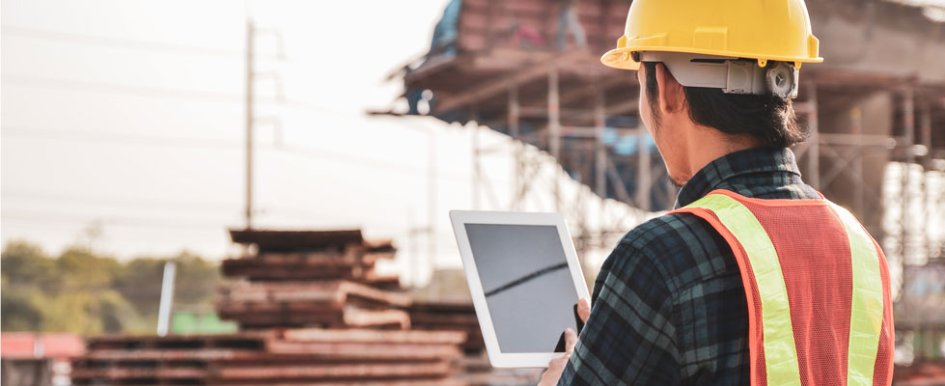 Send the right message to your workforce with the tools you are using
It's a call no business owner wants to receive—notification that there has been an accident and a paving crew employee has been injured or killed. Sadly, an average of 20,000 injuries or deaths of this type occur in the industry every year. But what can be done to prevent some of these incidents? Increasingly, experts are calling on business leaders to cultivate a strong safety culture at their companies. And some companies are starting to incorporate technological innovations to help support those efforts.
Ralph Waldo Emerson wrote, "What you do speaks so loudly that I cannot hear what you say." According to Judy Agnew, Ph.D., vice president, safety solutions, at Aubrey Daniels International, it's what construction leaders do consistently that sends a clear message regarding the importance they place on safety at their respective companies. Agnew says a key component of creating a great safety culture is to manage safety proactively, rather than reactively, which requires strong leading indicators.
Facilitating the gathering of these leading indicators is key for safety leaders. Agnew said, "The only way to get better is to truly know what is going on when people are doing the work."
That means finding ways to encourage the reporting of near misses, work-zone hazards, at-risk behavior and incidents. "Technology is one important part of this," Agnew said.
Reporting in Real Time
One such technological innovation used by Lakeside Industries of Issaquah, Washington, was nationally recognized in 2018 by the National Asphalt Pavement Association (NAPA) with an Asphalt Operations Safety Innovation Award.
Lakeside customized an existing mobile application, HSEQ Safety App, with additional tools above and beyond what the provider, Mellora, offered. Since March 2018, Lakeside has utilized eight functions on the app: Safety 24/7 Operations for reporting at-risk behaviors; Near Hit (Lakeside refers to near misses as near hits); Report of Incident; Mechanic's Damage Report; Jobsite Inspection; Safety Time Out; Silica Competent Person Inspection; and Report of Employee Injury.
The goal of using the app is to reduce the burden of documentation. Instead of having to fill out paperwork, employees can create a report in real time, quickly and easily on their phones. Mike O'Neil, safety and casualty claims director at Lakeside, said, "The reports are easier to communicate out and reply to. Whenever things are done electronically, it can happen in almost real time, and because of that, more staff is complying with inspection and reporting requirements."
Agnew agrees that this kind of app can be very helpful. "Years ago, we would ask employees to report near misses, but it was such a hassle to report, people didn't want to do it. Anything we can do to make the process faster and easier will encourage increased reporting," she said. Agnew adds that reports on near misses and incidents all help companies learn where improvements can be made. Aubrey Daniels is partnering with ProcessMAP, an environmental health and safety quality process and data intelligence platform, to promote a similar safety app.
Agnew says it is important to emphasize that these discussions on how to improve should go hand in hand with removing blame from the environment. "Companies need to create a culture where people are not fearful—where they understand they need to tell us about at-risk behavior, near misses and incidents because it is going to be used to improve, not to blame or reprimand someone," she said.
That is why one important feature of Lakeside's app is the Safety 24/7 Operations function, which is used by paving crew foremen, safety supervisors and committee members and superintendents to report not only at-risk behaviors, but also safe behaviors. "Traditionally, the construction world hasn't been great at patting people on the back, and the attitude is often 'That's what you get paid for,'" said O'Neil. "But at Lakeside, we recognize that as we ask more from our leaders beyond paving, we need to remember to recognize and thank them for their effort, and point out the positives that people are doing, and not just giving feedback when something goes wrong."
Agnew believes that the ability to report positive behavior is essential in a safety app. "Too often, organizations are set up to have leaders and the frontline employees focus only on at-risk behavior," she said. "Everyone should be on the same page and working to improve safety. If you set people up to report at-risk behavior only, you create a blame culture and build resentment. The bottom line is most people work safely most of the time, and we have to acknowledge that with positive reinforcement."
O'Neil echoes these sentiments. "The reports are there to make improvements in a caring culture; they are to prevent your near hit from becoming somebody else's incident," he said.
Lakeside is an organization with multiple divisions spread across two states. "Rarely do we have an issue at one place that isn't a problem at others," O'Neil said. Lakeside sends near-hit reports from individual divisions to their other divisions to make operational improvements. "This opens communication and allows field solutions to be actionable and moved out to other field people," O'Neil said.
Robust reporting features in the app allow companies to create usage reports over specific periods of time by divisions and can be filtered by separate reports. "We can work with divisions and say, 'Here is where we are seeing repeated issues—why is that? Do you need more support?'" O'Neil said. "Any time you can make things more user friendly, you are going to get more data, and you can do more things with that data."
Teaching the Right Lessons
Training is a key aspect in keeping employees safe. "We can't expect people to do things safely unless we teach them to do it right," Agnew said.
NAPA partnered with the American Road & Transportation Builders Association (ARTBA) to create asphalt- and job-specific online, work-zone safety training modules called CrewSafety. ARTBA had developed their own Safety Certification for Transportation Project Professionals (SCTPP), which addresses safety issues specific to transportation project sites—not generic work environments.
"The goal of the SCTPP program is to significantly boost the hazard awareness and risk management skills of all transportation project professionals who are in positions of influence through day-to-day oversight—from project inception through completion—to cause a decline in safety incidents," said Brad Sant, senior vice president, safety and education at ARTBA.
The asphalt industry preferred to have asphalt-specific training, so NAPA worked with ARTBA to develop a program that meets the needs of the asphalt industry. There is a Fundamentals module, which teaches the basics of internal work-zone safety; three job-specific modules—Laborers, Drivers and Equipment Operators—and a Supervisors module, which is a compilation of all the modules. All modules are web-based and online.
"These intuitive and easy-to-use training modules empower road construction crews to recognize and mitigate work-zone hazards," said Dr. Howard Marks, NAPA vice president of environment health and safety. "Employee training using CrewSafety helps to reinforce a company's safety culture and its commitment to ensure the safety of its employees."
According to Agnew, the best safety training teaches concepts in shorter chunks. Each CrewSafety module is 20 to 30 minutes long—perfect for maintaining the attention of trainees. "The ideal way to develop safe habits is to give people a little training, send them out to work and reinforce the information on the jobsite. Training should include active responding and a check for real understanding," Agnew said.
NAPA's CrewSafety training includes quizzes to ensure comprehension and individual certificates if the training is purchased for individual users, rather than for use in group training. Safety supervisors can also use portions of the online training to reinforce learning during toolbox talks or in a safety huddle.
Technological innovations provide companies with more options to effectively train their employees and obtain the data needed to create a strong safety culture. "Employing these innovations sends a message to employees that leadership cares about their safety," Agnew said.