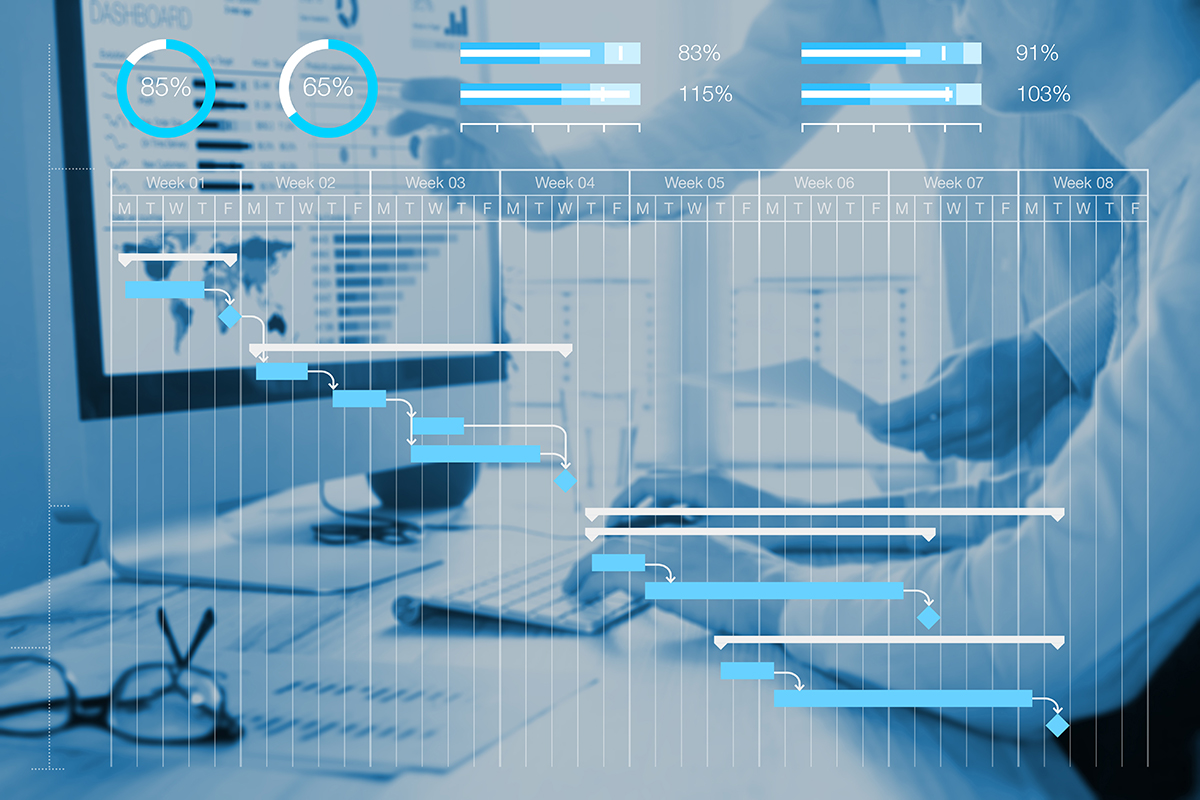 Inside a new report from Dodge Data & Analytics on the relationship contractors have with data, what data they're collecting & more
Wednesday, August 28, 2019
As projects get increasingly complex, schedules tighten and labor shortages stretch everyone's resources, it is more important than ever to get current, accurate and complete data from field operations into the hands of decision-makers at construction firms. And it's equally important to get analysis turned around and back out to leadership in the field so they can be more productive, reduce inefficiencies and achieve key performance goals.   
A new, free research report on current data collection and use methods in the construction industry was created by Dodge Data & Analytics and sponsored by Viewpoint, a leading global provider of integrated software solutions for the construction industry. This report examines:
How contractors are gathering, storing and managing five key types of data from the field
What types of analysis they are conducting on the data
Which parties are involved in preparing and receiving the analysis
How contractors are benefitting from improving their data management and analysis workflow
Their perspective on some emerging data-related technologies that are poised to be very important in the future
The full report, which is available for free download at (download here) also includes:
Case studies from innovative contractors
A thought leader interview with an experienced data scientist who is now a senior executive with a large contractor
Several feature articles providing deeper information on specific topics
Recommendations for contractors to advance their capabilities in this important area of business practice
Some highlights of the report findings are shared below.    
Gathering Field Data
Contractors rated the relative importance of five types of field data as critical for management. That ranking comes out as: 1. Project performance; 2. Payroll/manhours; 3. Productivity; 4. Safety; 5. Equipment tracking.
To establish how contactors are collecting data from the field, they compared their past, present and future usage of paper forms, spreadsheets and software for those five data types. Findings show that:
The days of the paper form are rapidly fading. Where an average of 24% of contractors reported primarily using paper for all the data types studied just 3 years ago, only 5% see themselves doing so 3 years from now.
Spreadsheets were the top tool for 36% of contractors 3 years ago, but they are also predicted to drop precipitously to just 12% 3 years out.     
Rising quickly in popularity are custom-designed and commercial software products, with more than 80% forecasting reliance on them as the primary tool 3 years from now. 
Users of each kind of data gathering method were asked about their relative satisfaction level with it on four metrics: timeliness; accuracy; ability to analyze across projects; and level of detail. Their ratings align closely with their projected usage trends: 
Only 28% of paper form users express satisfaction, with accuracy being the greatest virtue (36%) and cross-project analysis being least satisfactory (17%)
Spreadsheets fare better, with an average of 47% of users citing satisfaction, and 58% praising their accuracy
Software shines as the star in this analysis, though, with overall satisfaction averages of 72% for custom and 76% for commercial, and no individual metric rating less than 68% for either
Lastly in this part of the study, contractors identified which devices they most frequently use to gather data in the field.
80% report using apps on mobile devices and 68% utilize digital cameras
Far fewer are engaging with drones (28%), sensors (9%) or wearables (4%), although it is reasonable to expect the use of these emerging devices will grow significantly in coming years 
More detail on the trends for each of the five types of data studied is available in the report.
Storing & Managing Data
The IT director is responsible for managing data at 95% of large contractors but that drops off with midsize (74%) and small firms (54%). The gap at those companies is sometimes filled by another individual (average 12%), but more frequently, there is no single person responsible (average 24%), potentially creating more risk.  
Less than a quarter of companies have a single enterprise platform for handling data. Among the remainder about half have a few databases that store multiple types of data, and the others have multiple databases for every different type of data, especially the large companies (43%).
Where contractors store these databases varies by company size:
Well over half are housing them in on-premise servers, especially at small companies (77%), and among trade contractors (85%) versus general contractors (GCs) (59%)
The next most frequent solution is a third-party cloud (e.g. Amazon) especially for large firms (54%) and with GCs (44%)
Least frequent is having data hosted by the software provider, again more popular with large contractors (38%) and GCs (30%)     
Those using a cloud-hosted solution cite several strong benefits, including the ability to:
Access data from the field while working in the office (71%)
Access data from the office while on the jobsite (70%)
Enable disparate locations to input and access data (61%)
The top three reasons provided by those not yet engaged in using the cloud include security concerns, previous investments in other methods, and the cost. Since data security is a widespread concern, contractors were asked about their approaches. Top responses include:
Anti-malware software (86%)
Enterprise-grade firewall (78%)
Mobile device management policies (56%)
Security standards, such as ISD certification, single-sign, two-factor authentication (52%)
In general, larger firms report greater adoption of all types of data security studied. For instance:
Three-quarters (77%) of large companies conduct employee compliance training compared to only one third (33%) of small firms
One third (32%) of large contractors report having cybersecurity insurance, compared to only 15% of small ones
Analyzing Field Data
Data-integrated decision-making requires robust reporting and thoughtful distribution of the information. The order of importance contractors assigned to various types of reports came out to be:
Project financials 
Project logs 
Safety reports
Equipment management (maintenance and costs)
Contractors reported that:
About two-thirds of analysis and reporting is done by senior leadership and project leadership in the office, versus project leadership in the field or superintendents
While the same two groups are also the most frequent to receive analysis reports, the field groups receive them at over 70% of the large companies, but only about half of the midsize and small ones. This practice can be easily improved at those companies   
Benefits
Most companies (64%) report that they have improved their data gathering and analysis abilities over the past 3 years, reinforcing its importance to the industry. These companies report significant project-related benefits, including:
Better ability to complete projects at/under budget
Greater productivity
Greater profitability
Better ability to complete projects at/under schedule
Increased safety on projects 
It has also generated business-related benefits, including improved ability to win work, better client relationships, improved industry reputation and ability to attract and retain employees.
When asked to identify what it is specifically about improving their data gathering and analysis abilities that generates these benefits, those contractors cited their enhanced ability to:
Gather accurate data from the field
Gather prompt data from the field
Gather data that is comparable across projects
Create custom reports
Conduct analysis across different types of data
While the ability to do trend analysis across projects currently scores low, it shoots up to second place on the list of future capabilities contractors most need to increase the level of benefits they receive. So, expect to see more of that capability coming from software providers.   
Emerging Technologies
Predictive analytics, artificial intelligence and machine learning each have the potential to greatly impact the construction industry. According to this study:
While 79% of contractors say they have heard about Predictive analytics, and 60% say they know what it means, only 21% have implemented some form of it
Artificial intelligence and machine learning are even earlier in their emergence with about a third claiming not to know anything about them and only 7% implementing any form of them
Dodge will continue to track the growth of these potentially transformative technologies and include the findings in future reports.     
Recommendations
The report features guidance for contractors interested in growing their data gathering, analysis and reporting capabilities. In summary, the recommendations are to:
Maintain a tight focus on what matters for your company
Embrace the shift to the cloud and advanced approaches to data collection and security
Acknowledge that data expertise is a core competency
Please download the full report at (download here) and commit to expanding your company's capabilities in this key aspect of your business.