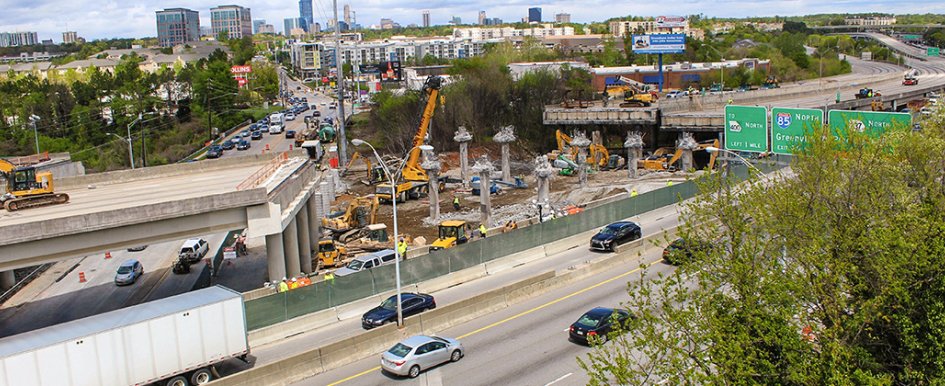 Improving efficiency on a tight schedule
It's not every day that the public thanks a construction crew for completing a project, or that a contractor shaves 4 weeks off of an aggressive, 10-week schedule. C.W. Matthews Contracting Co. Inc.pulled off both feats while rebuilding a fire-damaged stretch of I-85 in northeast Atlanta, Georgia.
The blaze, which broke out during rush-hour traffic on March 30, collapsed a 100-foot length of the northbound lanes and damaged the southbound lanes. According to Marc Mastronardi, Georgia Department of Transportation's (GDOT) director of construction, a combination of several factors made the repair an especially daunting challenge: the need to completely reroute traffic on a heavily traveled interstate highway, the urban setting and the extensive damage. In total, 700 feet of 12-lane, elevated roadway needed to be demolished and rebuilt. Based on the bridge design, regulatory requirements and procedural logistics, GDOT initially estimated reconstruction would take at least several months. In a city that ranks eighth in the nation for traffic congestion, the question on everyone's mind was, "How long will this part of the highway be closed?"
Pulling Out All the Stops
Less than 30 minutes after the northbound lanes collapsed, GDOT and C.W. Matthews were in communication. A few hours later, the Marietta, Georgia-based contractor was on the job and collaborating with GDOT engineers on how to complete the rebuild as safely and quickly as possible.
On April 4, GDOT Commissioner Russell R. McMurry announced that the bridge would reopen by June 15, reducing the estimated timeline from several months to 10 weeks. In just 3 days, GDOT engineers revised plans for the bridge using accelerated concrete mixes and a beam type that could be fabricated in much less time than the original kind required. "With the Department of Transportation's redesign done so quickly, we were able to immediately order supplies and line up our resources," said C.W. Matthews' president, Dan Garcia.
D.H. Griffin Wrecking was one such resource. The Greensboro, North Carolina-based company wasted no time mobilizing equipment and crews. In less than a week, some 6.5 million pounds of concrete and steel were demolished. Other critical aspects of the project were coming together as well. C.W. Matthews got firm commitments from its suppliers to meet accelerated schedules, and the GDOT lifted time restrictions to allow transportation of the oversized beams during daylight hours, allowing them to be delivered just as they were needed. Just 8 days after the devastating fire, reconstruction was underway.
24/7 Construction & Remote Monitoring
Except for a brief period of downtime during a storm, work never stopped. C. W. Matthews had crews of 40 to 45 workers taking 12-hour shifts, 7 days a week, and multiple DOT inspectors were always present. Two construction cameras were also on-site—one that streamed live, high-definition video, and a second that continuously captured high-resolution, still images.
C.W. Matthews had access to construction cameras on previous projects and valued the ability to return to a visual record to verify specific details of the project's progress. On the I-85 rebuild, the cameras came into play with more immediacy. "The cameras were a great advantage for me," said Garcia. "We had other projects going on and still needed to be bidding to get other work, so I couldn't be on the jobsite all the time. It was great to be able to monitor progress and our crews' performance from the office."
C.W. Matthews' management accessed the construction cameras from their computers and mobile devices, or, in the case of general manager Brad Nelson, from his home. "Knee surgery kept me off the site for 2 weeks, but I was able to keep on top of progress and schedules," said Nelson. "I watched the cameras constantly, and when people called with questions, I had answers immediately because I could see everything that was happening."
The advantages of real-time, remote monitoring are echoed throughout the organization. Superintendent Steve Aponik and Project Manager Mark Dolan used the cameras to get up to speed before their shifts so they could arrive at the jobsite with a plan for each day.
Vice President of Structures Adam Grist headed up the project and relied on the cameras to avoid delays. "If we were expecting a delivery by 8 p.m., I could verify that it happened," said Grist, who was on-site during the day. "If it didn't, I could start making calls to find out why and figure out what to do next so we didn't lose any time."
On a job where every second counted, Garcia said the cameras made a difference. "They helped get the project done quickly because you didn't miss anything when you were off-site. Everyone was able to see what was going on all of the time."
Public Outreach & Unexpected Support
The construction cameras also gave the public a front-row seat at the jobsite via the web. Cameras are often used on high-profile road and bridge projects to keep travelers informed of both progress and the unavoidable inconveniences that come with road work.
C.W. Matthews appreciates the need for public transparency. Dolan acknowledges that "a lot of taxpayer dollars [were] being spent, and we wanted to make sure we [were] making people happy." Feedback has been positive. "I saw a lot of social media comments about how impressed people were that we worked 24 hours a day … even in the rain," said Grist. "And the local support was unbelievable—from businesses feeding the crews to people just thanking us for working so hard to get life back to normal. Contractors and crews don't always get that kind of reception."
In turn, Dolan believes the show of public support was appreciated by the crews. "Our guys worked tirelessly, putting their hearts and souls into the work 24 hours a day, 7 days a week. It helped them to know that people care."
A Historic Success
On May 13—one month ahead of schedule—the I-85 corridor reopened to the quarter-million vehicles that use it each day. Completing such a massive, complex project in the originally estimated 10 weeks would have been extraordinary. Getting it done in just 6 weeks makes the I-85 rebuild one for the history books. The GDOT Director of Communications Scott Higley said, "I believe the project will be critiqued and reviewed for years to come due to the quick and efficient process of replacing the bridge." Higley also expects that the photo documentation from the construction cameras will prove invaluable in gaining critical insights. Combining quick response time, continuous communication and innovative technology, this monumental achievement by the partnership of C.W. Matthews Contracting and the GDOT sets a standard by which other projects will be measured in the future.
Answering the Call
Garcia remembers receiving a call from the Georgia Department of Transportation (DOT) when the section of the I-85 Bridge in Atlanta caught fire and collapsed.
"It is in one of the most critical interstate sections near downtown Atlanta, with traffic counts exceeding 240,000 vehicles per day," said Garcia.
Initially, it was thought that only the collapsed span required replacement, but the post-incident inspection unveiled six damaged spans—three each northbound and southbound. Garcia reports that the biggest obstacle was getting the concrete beams for the spans. "We needed 61 beams, and they had to be cast," he said. "The supplier started casting the week after the collapse and delivered them on time. Additionally, we used special concrete additives to help expedite the strengthening process for the columns, caps and bridge deck."
"I am so proud of our team and excited about the outcome," said Garcia. "To complete this project in 45 days is remarkable."
The Atlanta I-85 project has been submitted for HCSS's I Build America 2017 Construction Impact Awards. I Build America is a movement to generate respect and recruit young people into the construction industry. The Impact awards recognize construction projects that drive progress and make the United States safer and more efficient.