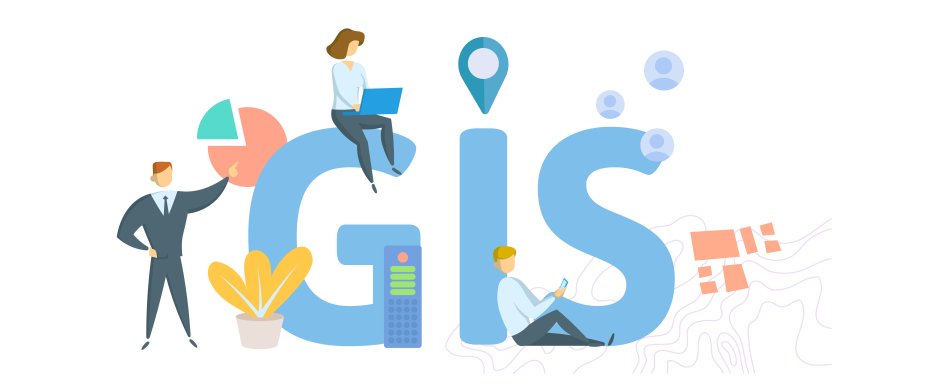 Report shows untapped potential for geospatial information in construction
Contractors have a growing set of digital tools, but few have the far-reaching potential to impact their projects and businesses like that of geospatial information (or GIS). To better understand its impact, Dodge Data & Analytics, in partnership with Esri and Autodesk, recently conducted a study published in the Business Value of GIS for Design and Construction SmartMarket Report.
The report shows that general contractors, while leveraging GIS in a variety of ways and seeing multiple benefits from that use, are also just tapping the surface of the full potential of the datasets associated with it.
Use of GIS
GIS use by general contractors is relatively common, with over 78% of the general contractors surveyed reporting that they had experience with using the tool in construction processes like field data collection, materials logistics, status monitoring or even reality capture visualization. This level of use is consistent with that of designers, but twice as high as that reported by specialty trade contractors (39%).
These contractors also report wide use of specific GIS activities, with over 80% reporting that they use it on at least some projects for seven different activities (Figure 1). However, while use of each of these activities is widespread across contractors, fewer than 50% use any of them on more than half of their projects.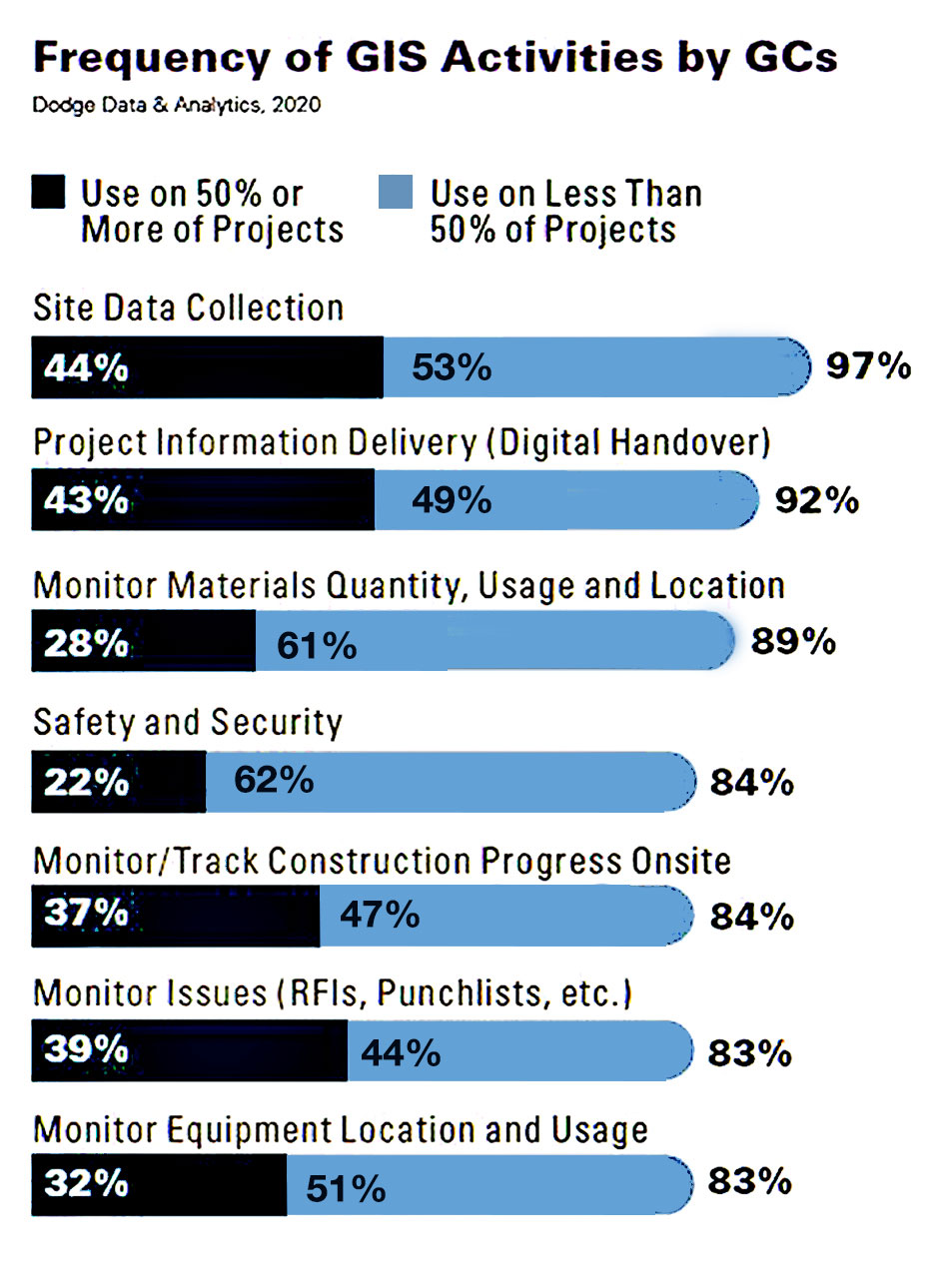 They use it most intensively for site data collection, digital handover of project information, tracking construction progress on-site and monitoring issues. It is used least intensively for safety and security, and monitoring materials quantity, usage and location.
This level of use contrasts with the rest of the industry. Architects, civil/structural engineers and trade contractors all have specific GIS activities that more than 50% use on more than half of their projects. This suggests that general contractors have the potential to engage far more with these tools than they currently are, despite having some experience with them.
One surprising finding in the study is that, despite their less intensive use of GIS than the other construction players, general contractors are no more likely than other players to report that they experience a high degree of challenge in their use of these tools — due to data quality issues, access to the right tools and data and having qualified staff to use or maintain GIS. This may suggest that there are no major barriers preventing increased contractor use of these tools
on their projects.
Benefits of GIS
The study does suggest that wider use is likely in the future given the wide range of benefits that general contractors experience from their engagement with GIS. Over 90% reported that they have experienced improved processes and outcomes, risk reduction and both internal and market-oriented business benefits from their GIS capabilities.
Within each of these categories, general contractors selected the top three most important benefits they experienced, and for several categories, there was a strong consensus about the top ones they experience:
When it comes to risk reduction, the majority believe that their ability to reduce conflicts and field coordination problems during construction and their ability to manage project complexity are the most important benefits they experience.
For internally oriented business benefits, over half regard improved productivity as most important. Nearly half also select being able to establish consistent and repeatable project processes.
Market-oriented business benefits considered most important by more than half include improved client services and offering more services.
The findings for internal and market-oriented business benefits as well as risk reduction clearly demonstrate that general contractors see important, specific advantages to their use of GIS — playing out in myriad ways that have a major impact on their organizations.
It is only in the improved processes and outcomes where there is no consensus by a majority of general contractors that any single benefit they experience is most  important. The top benefits in this category are better multiparty communication and understanding and improved quality, but they are selected as most important by fewer than 50% of the respondents.
Since most general contractors (95%) reported that they experience improved processes and outcomes from GIS, the findings here likely demonstrate that many of the process and outcome benefits they experience are important, which keeps the majority from settling on one or two that boost their projects.
Importance of Team Use
One key finding of the study is that, like many technologies, the most effective use of GIS comes from use across the project team rather than just by one player. That point is most vividly made when general contractors were asked to select the single type of team engagement that adds the most value to the project.
They were given several options, including two involving the main contractor engagement, two involving owner engagement, one involving trade contractor engagement and one about the use of GIS by the design team in their design.
Even more general contractors in the study (30%) selected the use of GIS by the design team than those who felt the use of GIS by the main contractor (21%) or the main contractor taking advantage of GIS in the design drawings (25%) was most important.
This finding also makes clear that the earlier in the project life cycle that team members engage with GIS, the more it will be able to improve the projects. Thus, in addition to their own value from the use of GIS, general contractors also widely recognize that their projects as a whole benefit most when these tools are used during the design phase of the project life cycle.
Taken together, these findings suggest that general contractors are just beginning to see the value that GIS can provide to their projects, and as both design and construction teams embrace this technology, its use and the benefits it provides are likely to grow.
The Business Value of GIS for Design and Construction SmartMarket Report is available to download free at construction.com/toolkit/reports.