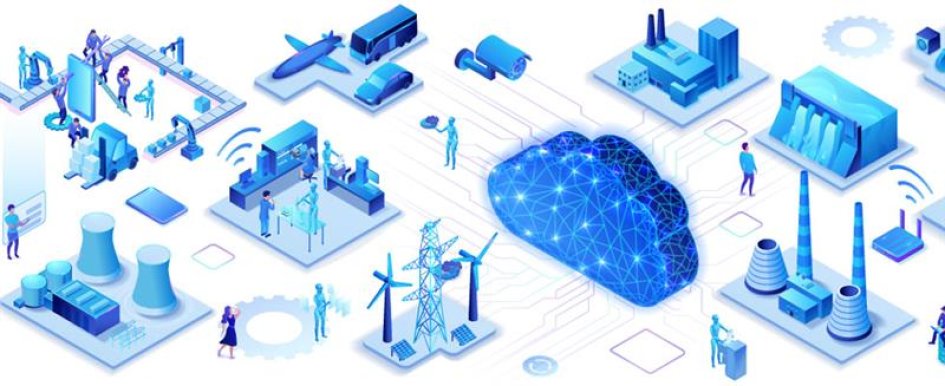 Realizing the benefits of IoT tech & welcoming construction's digital transformation
Since the Internet of Things (IoT) arrived in construction, many firms have taken advantage of it. For those who have worked on an IoT connected jobsite, the disruptive change is obvious: significant improvements in safety, productivity and efficiency.
Andrew McAfee, a Massachusetts Institute of Technology scientist and bestselling author who studies how modern digital technologies are reshaping our world, said in an interview with the American Enterprise Institute (AIE), "Incumbent organizations, over and over again, miss disruptive change. And they find their margins eroding, they find their customers going elsewhere. They kind of sit around and go 'what the heck happened here?'"
Worksite connectivity is here to stay and it's going to have an impact on the industry at large. There are four key areas where worksite connectivity can be game-changing: worker-to-worker, management-to-worker, worker-to-environment and worker-to-equipment.
 
Worker-to-Worker
A safe and healthy workforce is paramount, and, in fact, is the No. 1 focus of most contractors. By leveraging the IoT in construction, worker wearable devices can communicate with each other and improve safety by alerting workers of potential risks. The real-time alerts triggered by these devices can make a worker stop and think, encouraging behavioral changes as it relates to operating in a hazardous area or complying with physical distancing rules.
During the global pandemic, forward-thinking contractors relied on IoT wearables to mitigate the spread of COVID-19 through wearable sensors enabling worker-to-worker connectivity. Data passively collected from these devices record daily worker interactions that enable automated and accurate contact tracing in the event of a positive COVID-19 test. Since data from IoT devices can pinpoint any at-risk interactions among workers, firms can avoid the need to shut down an entire jobsite if there is a positive test, and just quarantine the affected workers.
Worker-to-Management
On jobsites, supervisors bear responsibility for ensuring worker safety as well as consistent productivity of their crews. IoT wearables are a valuable management tool in both of these areas. With access to a real-time view of their workforce, equipment and key areas of interest on the site, supervisors are able to make more informed decisions across the board.
For example, through worker-to-management communications, workers and supervisors can communicate safety hazards to each other in real time. Supervisors can reduce the risk of incidents and ensure safety and operational compliance by monitoring worker activity in designated no-go zones as well as their interactions with specialized equipment which may require specific training or certification. Workers can use their devices to communicate injury or other incidents, enabling supervisors to significantly improve response times and notify other workers about potentially dangerous events.
Since wearables provide immediate visibility into the manpower available on-site, supervisors can use data generated from connected workers to monitor and boost productivity on the fly and analyze productivity levels of entire teams. Certain devices will record headcount in real time and automate time-intensive tasks like access control and worker check-ins, allowing organizations to manage worker time and attendance in an efficient manner.
Worker-to-Environment
Safety hazards can be found at every turn on a construction site. According to Occupational Safety and Health Administration (OSHA), one in five worker fatalities in 2019 happened in construction. Vigilance and awareness are keys to reducing the risk of injury or death. Fortunately, connected workers wear an additional layer of protection. Proactive, real-time alerts can signal to workers when they are approaching a hazardous or unauthorized area, with active feedback to remind them to put on protective equipment or inform them of access or operational restrictions.
Connected wearables also have the ability to collect and analyze job hazard data. How long has a worker been confined to a particular, potentially hazardous space or job? Are they due for a required break? Supervisors can use this information to increase the safety and welfare of all of the workers.
Worker-to-Equipment
In the last decade, the average new commercial building took up 19,000 square feet, or nearly half the size of a football field, according to the most recent Commercial Buildings Energy Consumption Survey. On many larger jobs, crews may be assigned to work far apart from one another — on separate floors or separate areas of a project.
Locating tools or equipment on a large jobsite can pose a significant productivity hurdle, and ultimately, any single piece of in-demand equipment can become the source of an efficiency bottleneck. Whether it's because of the difficulty of locating equipment on large sites, sharing resources or tracking down misplaced tools, not having proper tools or equipment on hand can slow the speed of any job. IoT-connected devices that attach to equipment can track location as well as usage, which in turn can improve operational excellence. While locating the right tools is half the battle, the bigger picture that data from IoT sensors offers can inform contractors on which equipment is most in demand, allowing them to bring in additional machinery when needed, and in turn, reduce bottlenecks.
The good news is that technology is here today to bring connectivity to the jobsite, as long as contractors are ready to embrace this change. In that same AIE interview, McAfee noted "periods of deep and fast change are inherently scary to a lot of people; we are not wired for change."
But as more contractors move toward digital transformation, the realized benefits of an IoT-connected jobsite are becoming clearer, from worker safety and compliance to increased productivity, resource management and waste reduction, as well as streamlined processes that directly support lower costs and boost the bottom line.