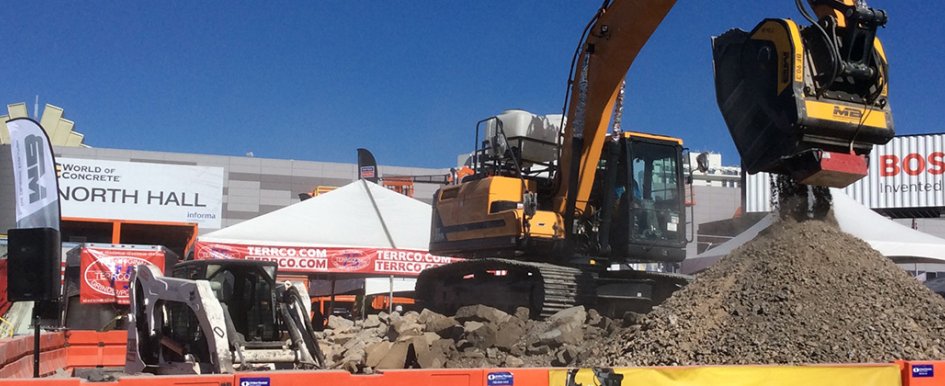 World of Concrete 2016 fosters growth with its largest trade show in 7 years
In its 41st year of showcasing innovative products, equipment and machinery and new technologies for the commercial concrete and masonry construction industries, World of Concrete 2016 held its largest show since 2009. This year's show spanned 743,889 net square feet of the Las Vegas Convention Center in Las Vegas, Nevada, Feb. 2-5, and welcomed 60,110 registered professionals.
"We are pleased with the results of the show, from the increase in the number of exhibitors (up almost 300 companies) to the attendees (up 8 percent) to the number of seminars (up 6 percent)," said Tom Cindric, vice president, Informa Exhibitions U.S., Construction & Real Estate.
"Attendance was impressive, and we saw constant traffic," said Andy Dickey, business development manager at Trimble, Structures Division. Trimble's booth was located in the Central Hall and housed busy demo stations showcasing its products. Trimble is known for its GPS technology, but also offers positioning technologies, including GPS, laser, optical and inertial technologies with software and services.
This year, the show offered over 150 educational seminars and certification courses, spanning a broad range of topics, including specialty and commercial concrete-specific training, effective leadership, jobsite safety, finance, communication and equipment training. "Whenever you can get over 60,000 people together to learn more about what's happening in our industry, that is a true mark of success," said attendee Craig Cottongim, a second-generation concrete finisher. "It was apparent that companies are bringing more of their crews to gain valuable knowledge with our education program and to experience the exhibit floor and outdoor exhibits," said Jackie James, director, World of Concrete.
Many manufacturers released new products and features throughout the week, giving attendees the opportunity to explore product quality and performance capabilities firsthand. Hyundai Construction Equipment Americas released two new excavators in late 2015 that they showcased this year. Corey Rogers, marketing manager at Hyundai, said changes and upgrades were very important to eager attendees. "Contractors climbed up into the machines to check out newer features," Rogers said.
Attendees took every opportunity to make their time count. Dickey, of Trimble, said his customers asked all the right questions. "They are constantly looking to innovate and push the market forward. They come to the booth having done their homework and they are prepared to provide feedback," said Dickey. Trimble uses customer input to develop its products and provide more value to its end-users, not unlike many of the manufacturers in the construction heavy equipment space.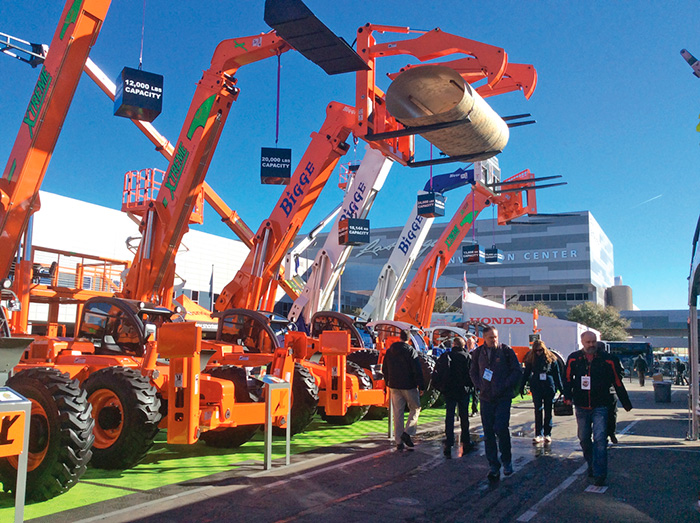 "At World of Concrete, we not only have the opportunity to showcase our products, but we also gain valuable feedback from companies that help us decide our direction for new products," said Alan Odgers, Vice President of Marketing, Vacuworx. Vacuworx engineers and manufactures heavy-duty lifting equipment for the oil, gas, water, sewer, utility and road construction industries. "This year, we showcased a new innovation, which started with an inquiry we received at World of Concrete 2015," said Odgers. Vacuworx plans to bring the new product to market in Q1 of 2016.
The majority of attendees shared optimism for expected growth in 2016-2017. "The World of Concrete show, many times, acts as a barometer predicting how the year may go. And if this is the case this year, we are hoping to be very busy the next few months," said exhibitor Randy Stevens, vice president of sales at E-Z Drill, a company that designs and manufactures automatic drills and dowel drilling equipment for construction and utility projects.
Cottongim is watching the market with respect to area growth. "With oil prices dropping and fuel costs decreasing, along with several areas around the country needing both new construction and infrastructure repairs, I'm optimistic about the next few years for our industry," said Cottongim, who saw an uptick in work in the southern U.S. region throughout 2015.
Looking ahead, industry indicators point toward a steady rebound for the construction industry. "We are cautiously optimistic for the future. Despite slowdowns in some industry indicators, rental continues to trend upward as contractors look for ways to benefit from the use of a broader range of equipment," said Rogers of Hyundai.
"We are pleased that the 5-year highway bill passed. This is a positive sign for highway and airport construction, and for all involved," Stevens said. E-Z Drill's Stevens is hopeful that the bill will deliver funding for the full 5 years, bringing a lot more work in concrete construction along with it.
World of Concrete 2017 will be held Jan. 17-20 at the Las Vegas Convention Center. Visit www.worldofconcrete.com for more information.