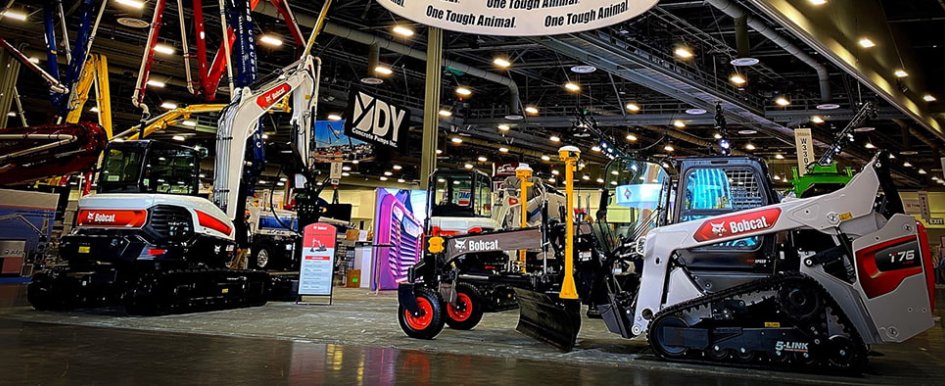 5 steps to make the most of your time at industry events
With summer 2022 in full swing and 2023 planning already on the horizon, you may be on the lookout for trade show opportunities to learn more about new products, companies, technologies and industry trends and insights that can benefit your business. But with the expansive offerings and experiences that trade shows have to offer, it's common to feel overwhelmed and unsure about how to make the most of your time.
As you prepare to embark on your next trade show experience, follow these five steps which are sure to deliver positive results for dealers, contractors, vendors and customers alike.
1. Set Goals
What are you trying to accomplish while you're here? Is your crew looking for equipment to be more productive? Are you seeking to invest in lower-emission fleets?
Maybe you're hoping to better understand the features and uses of specialized machines and attachments or try out the newest equipment with on-site demos. Record your goals for the trade show and leverage those goals to make decisions about where and how you spend your time.
Purposefully engage with peers and experts to ensure your trade show experience positively benefits your organization and its long-term goals.
2. Plan Ahead
Based on the goals you set, make a comprehensive list of the manufacturers and products you need to hear from and learn more about.
Determine their booth locations and offerings and how it compares to other booths you'd like to visit. This will help you identify an effective route through the trade show floor and how much time you can allocate in each location.
Are there questions you need answered regarding equipment and attachments? Write down specific questions for each booth you plan to visit to guarantee your pertinent questions are answered. Is the trade show utilizing cutting-edge technology?
Don't forget to download necessary applications or other technologies, so you can seamlessly request more information or connect with other professionals.
3. Find a Balance Between Education & Entertainment
Trade shows are designed for your education and your entertainment. Needless to say, new and flashy equipment is exciting and invigorating, but it can also be distracting and divert your attention from your established trade show goals. Strike a balance between informative sessions and conversations and the unveiling of breakthrough technologies and machinery.
Designate time to explore emerging markets, see new ways to use equipment and learn how to expand your business.
Visit with industry experts, attend seminars, and take opportunities to learn new skills, solutions and strategies that improve your business. Worried about how to effectively capture the excellent information all around you? Use a note-taking app on your phone or tablet — or carry a pad and pen — to jot down notes to reference at home or back at the office.
4. Socialize
When it's all said and done, your time at an industry trade show is just that — your time. Growing your network and making new connections is a critical part of your personal and professional success.
Hearing from speakers and industry experts is a great and easy way to identify new opportunities for growth, grab new ideas that you can immediately implement and open your eyes to ways you can evaluate and improve your products, offerings and services.
By networking at the event, you can also get career advice and support — helping you plan for your and your business's future. Reconnect with acquaintances from previous trade show events and make a concerted effort to meet new leaders and rising industry stars.
5. Go Beyond the Trade Show
Staying up to date on industry trends and insights can take place long after the trade show doors have closed.
Maintain relationships with your new contacts and harness the excitement and motivation of the trade show buzz to fuel your continued professional learning and growth. Were there specific seminars or announcements that should be shared with your other teammates and employees who were unable to attend?
Summarize your key takeaways and exciting materials and share with other members of your team. After all, knowledge is power.
Trade shows are an excellent source of education, lead generation and network expansion, which allow you to gain a competitive advantage in your specific marketplaces. When you set goals, plan ahead, balance education and entertainment, socialize, and go beyond the trade show, you're sowing the seeds for success that you can reap for months and years to come.
Don't just go to a trade show. Trade show like a pro.