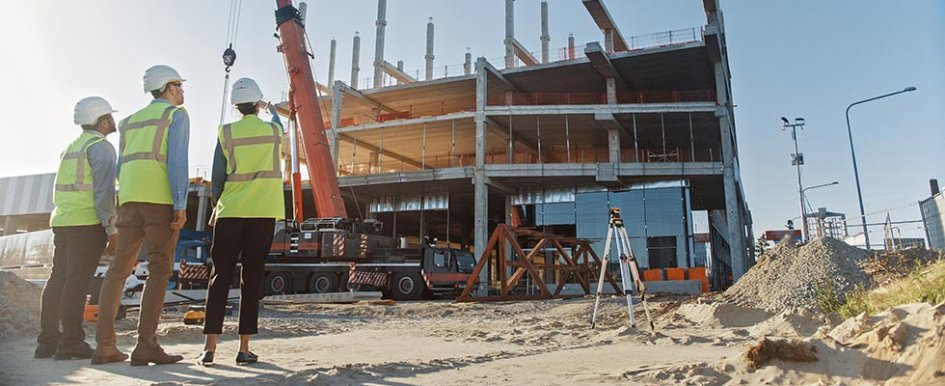 The biggest issues facing construction businesses & strategies to address them
Thursday, October 12, 2023
Each year my firm, Marcum LLP, surveys its construction industry clients to analyze the state of the industry and better understand the challenges and opportunities we anticipate over the next 12 months. Much like those we've conducted in the past, this year's survey benefited from a high response rate and highlighted clear trends in how our clients think about their businesses and how they fit into the broader industry landscape. 
A Glance at the Survey Results
Some of the struggles identified will be familiar to everyone in the industry — specifically, the impact of rising interest rates and the difficulty of finding and maintaining the staffing levels necessary for growth. On the other hand, the industry remains busy and optimistic overall. Even with broad economic uncertainty, the resilience of construction firms and contractors can be most clearly seen in backlogs, which are still very strong, and excitement involving a number of key growth areas — including health care, housing, manufacturing and industrial onshoring, and real estate repurposing. 
Making the most of these opportunities over the next several years will require familiarity with the incentives built into recent legislation, and to that end, understanding the relevant terms of programs like the Inflation Reduction Act should be top-of-mind for everyone in the industry. But more pressing might be those issues threatening to eat away at the bottom line. Let's use the 2023 survey as a jumping-off point to look at the core challenges of the moment and effective strategies for resolving these all-too-common headaches.
Concern 1: Labor Resources 
It's no secret that for most throughout the industry, there is too much work for a too-shallow labor pool. That's compounded by skilled laborers retiring without apprentices ready to step up and fill the knowledge gaps they're leaving behind. This issue has proven to have serious staying power, and with the way things are trending, it's a legitimate long-term concern for virtually everyone in construction. 
Of course, raising wages is one way to ensure you're not losing your best and most capable employees to competitors, but paying higher wages isn't as straightforward a solution as it sounds. To make the most of your hiring and retention efforts, you'll need a comprehensive compensation strategy. 
Address Labor Issues by Developing a Compensation Strategy
A thorough and well-conceived compensation strategy won't just help you attract new employees and keep those you already have; it'll also account for hidden pitfalls like wage compression. For those who aren't familiar with the term, wage compression can occur when new hires are brought on board at market rates that outstrip the compensation rate of their peers. When the pay disparity becomes common knowledge (and it's usually a matter of time before it does), it can cause the team to feel undervalued and seek new opportunities elsewhere. Preemptively accounting for wage compression is just one aspect of an effective compensation strategy. 
In addition, a compensation strategy will help you make the most of popular benefits and perks, ultimately helping you edge out other firms pursuing the same talent. To design an effective compensation strategy, rely on historical data and hiring trends, and enforce effective communications strategies so your employees can enjoy an open, honest environment that recognizes their value.
Concern 2: Financing
A universal knock-on effect of higher interest rates is a reduction in the liquidity available from banks. With institutions less eager to sign financing agreements, the construction industry, like virtually all others, is looking for alternative funding sources. There are a multitude of approaches for overcoming this challenge, and what works best for your business will depend largely on minute financial and operational details. One strategy we've seen achieve success for some clients — and which carries potential tax and labor benefits — is the employee stock ownership plan (ESOP). 
How an ESOP Can Help Overcome Liquidity Concerns (& Other Benefits)
An ESOP is a major undertaking with major potential benefits. It's fundamentally a transaction transferring the ownership of a business from existing owners to employees. Following our review of labor concerns, it's worth mentioning that, from an employee's perspective, owning a piece of the business can be a powerful incentive to stick around. However, ESOPs aren't just great for employees. This form of transaction can be just as rewarding for owners for a number of reasons:  
ESOPs are extremely flexible, allowing the owner to sell anywhere from a minority stake to 100% of the stock. 
Certain ESOPs can enable the seller of the business to collect interest on seller notes.
When carefully structured and optimized, ESOPs can enable tax benefits for the company and its employees alike — for example, tax-deductible contributions and federal and state income tax benefits.
Keep in mind that an ESOP is only as good as the advisors putting it together. These are complex, multifaceted transactions — certainly not DIY projects — so consult financial experts before deciding an ESOP is right for your business.
Concern 3: Inefficient Financial Operations
With storm clouds looming on the broader economic horizon, it's no surprise construction interests are looking to refine their internal operations for greater financial efficiency. It's easy to see why — healthy backlogs are a wonderful stopgap regardless of what comes next, making now a great time to maximize your financial functions.  
Using Job Costing to Better Manage Expenses & Hold on to Profits
Even construction firms that pay close attention to job costing may not fully realize the benefits, but with the right approach, job costing can improve cash flow, increase profitability and help your firm win bids. With so much on the line, why is job costing frequently underutilized? Usually, it requires nuanced and detailed implementation procedures that require specialized knowledge to put in place. Fortunately, there is expertise within the market that can help you get up to speed. Typically, the process of developing and refining job costing involves: 
Establishing and building out robust systems and processes that make job costing methodologies straightforward and easy to apply to all future projects.
Implementing a change management program to ensure that every aspect of your new job costing strategy is put into place at every level throughout your organization.
Training programs that make adapting easy for your project leads and administrative staff.
If you're facing the same challenges that our survey respondents identified as leading concerns, I hope this has given you food for thought in terms of addressing them. Finally, I invite anyone interested to download and read Marcum's 2023 construction industry survey report. It's completely free and available at marcumllp.com/industries/construction/marcum-construction-survey.