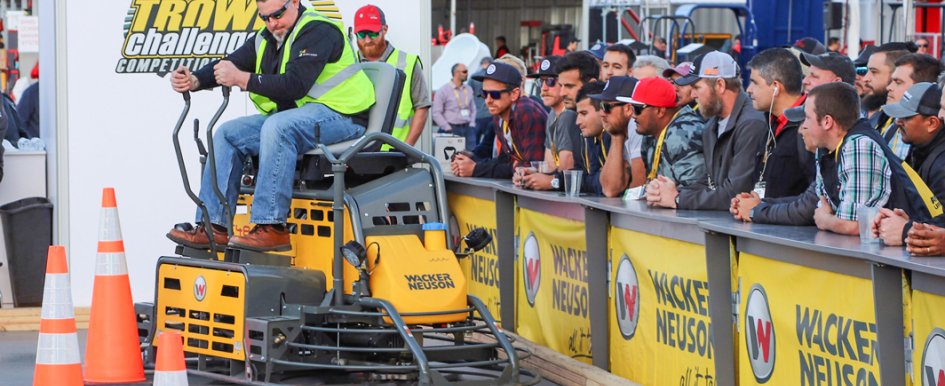 Creating concrete solutions for an industry facing change
Another year, another solid week at World of Concrete (WOC) in Las Vegas. This year's show was held at the Las Vegas Convention Center, January 22-25, 2018, boasted 58,222 attendees and featured more than 1,567 companies exhibiting across more than 747,411 square feet of space. Of those exhibitors, 302 were new to the event. The show was the largest WOC in 9 years—and doesn't show signs of slowing down.
"WOC 2018 was an enormous success. Our team, along with our service providers, produced a fantastic show," said Kevin Archibald, show manager, WOC. "We saw great attendee numbers, exceptional exhibits and a solid rebook rate of 566,000 net square feet of exhibit space, rebooking 76 percent of the total 2018 square footage on-site for next year's show."
New to the program lineup this year, WOC established the Bob Weatherton Award to honor his contributions to the concrete industry. Recipients of the award received a $2,500 scholarship and a $200 gift card, presented at the Concrete Industry Management (CIM) National Board Meeting, held at WOC.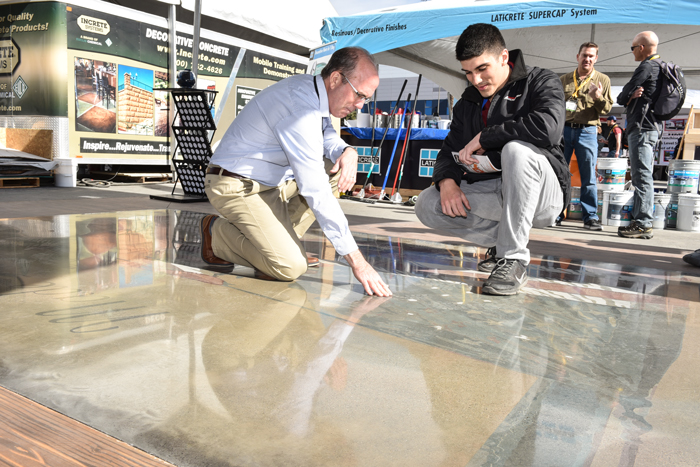 This year's honoree was Damien Bonis, who attends California State University, Chico. The CIM program gives students in the concrete industry an opportunity to gain experience prior to entering the workforce. The annual CIM silent and live auctions raised record revenues of $1.1 million. Proceeds fund the CIM program.
Among other events, the show's Bronze Lot featured the 2018 Spec Mix Bricklayer 500 World Championship competition. Twenty-eight teams from around the world came to Las Vegas to compete for a $125,000 prize package, including a Ford F-250 XLT Super Duty 4x4 truck and a John Deere Gator XUV835 UTV. The competition serves a dual purpose: to spark interest in the masonry trades and to showcase the skills and talents in the industry. Houston native David Chavez took home the top honor this year.
Attendees also kept busy with the many educational offerings available at WOC 2018, some of which included breakfast with the experts, hands-on demos and information-rich seminars. "In prior shows, budget cuts were often mentioned as a reason for not attending. It's great to see a higher attendance and engagement. Many also mentioned that they were taking advantage of some of the training during the week," said Mitch Fedie, marketing manager for Pettibone. The company released its X-Series telehandler models at the show, including the Traverse T944X, which has a traversing boom that can move loads horizontally.
The Tech Transition
There was a notable shift in attendees' focus toward tools that allow the entire team to access the latest details and communicate efficiently. Trimble's strategic communications director, Eric Harris, said the company noticed an even greater interest in leveraging technology to improve workflows among designers, detailers ready-mix suppliers and contractors. In addition to launching several new products, like Trimble Connect for HoloLens and the PCS900 Paving Control System, Trimble also announced a partnership with Avontus to provide contractors with a more streamlined method for estimating, planning and managing formwork operations.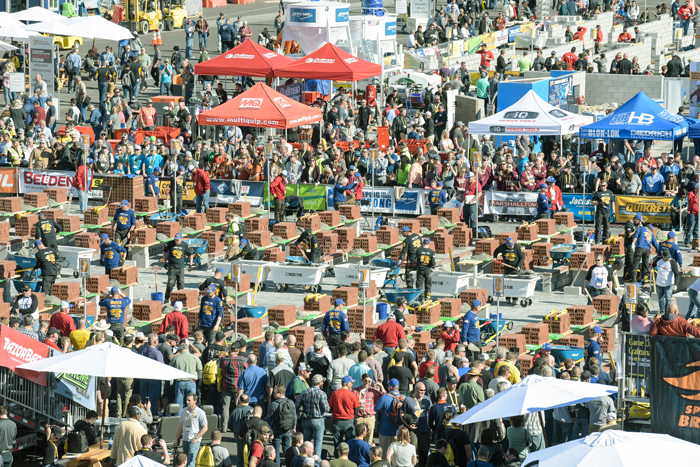 "The emphasis on process improvement and technological innovation is gaining traction and becoming more mainstream. At any given time, you are likely to see as many attendees in a tech booth as there are watching a jackhammer demonstration," said Harris.
The tech theme was one echoed by many exhibitors. Exhibiting at the show for the first time, InEight featured its Project Suite, an entirely integrated project management solution built to connect all project partners. "The construction pros who toured our booth were consistently looking for a solution that helped them to connect: connect their processes, connect their systems and, most importantly, connect with everyone involved in a project. They feel this type of connection is critical to improve communications, manage costs and people and to get a clear picture on the health of their projects," said David Swider, executive vice president, InEight.
"More and more, we see the physical and digital worlds come together. Customers are seeking solutions to help them to bid and build better," Trimble's Harris said. "In the context of a marketplace that is heating up and the commensurate workforce constraints, many of the winners will be the ones best able to confidently take on more work and perform predictably."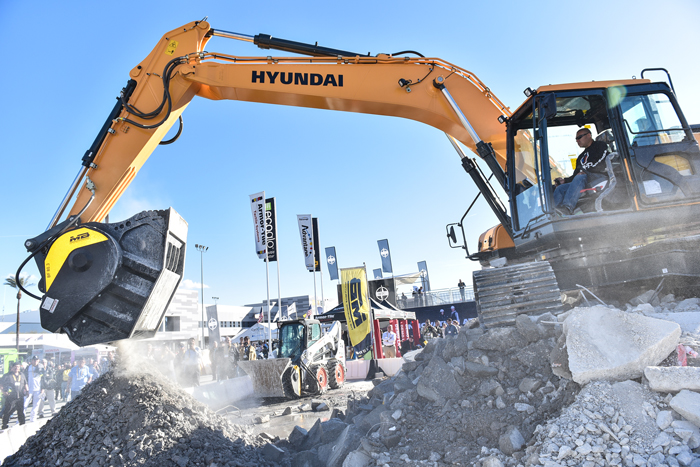 Silica Dust, Fuel & More
Jobsite connectivity solutions weren't the only technology attendees sought out at the show. With new OSHA regulations for silica dust in place, business owners continue to search for the best dust control solutions for their tools—and at the best price. Hilti North America Public Relations and Trade Media Manager Carla Biggs said these offerings will likely continue to be a major focus. "The OSHA Silica Dust regulation remains a prominent topic. The industry continues to proactively understand what this entails, and is currently going through the adoption process to meet compliance," said Biggs.
For most exhibitors at the show, the renewed interest and record number of attendees was a good sign for growth on the horizon. Vanguard's Jim Cross said the Vanguard/Briggs & Stratton team was energized by the enthusiasm of attendees and excited to introduce the brand's new engine offerings. "With the construction employment level at its highest since 2008, a positive growth forecast and pending infrastructure spending in the United States, contractors are gearing up for the next few years," said Cross. At the show, the team featured its new line of single-cylinder engines designed from scratch, with a plan for all models in the line to roll out during the next 2 years. "Alternative fuels continue to be a topic of discussion for this industry. During the past few years, we've seen a steady increase in conversations around propane, especially in the concrete finishing markets. We worked with Propane Power Systems to develop an offering of EPA-certified solutions," said Cross.
In the Central Hall and the Bronze Lot, attendees were able to check out Stihl's new TS440 Cutquik, which features a wheel brake system for quicker cutoff, said Stihl product manager Thomas Techow. Attendees were also able to demo some of the brand's recent releases, such as the TSA230 cordless electric cutoff machine. "I think we're seeing a renewed interest in premium products," Techow said. "With a positive industry outlook, attendees are more willing to spend money on products that can stand up to the harsh demands of the jobsite."
Next year's trade show will be held January 21-25, 2019, in Las Vegas.