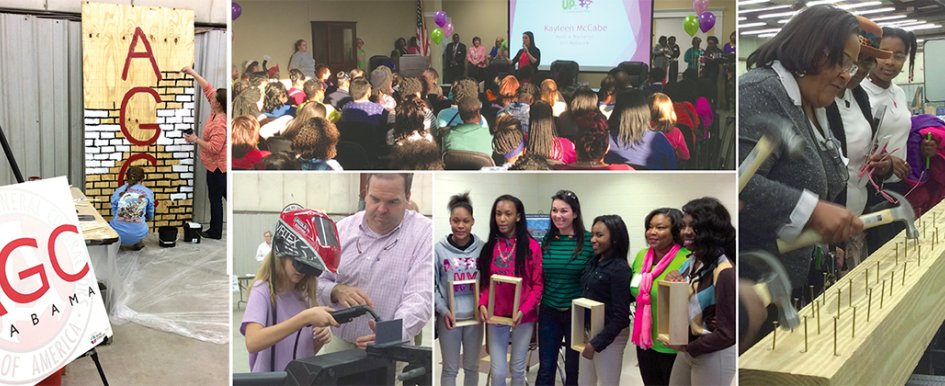 Alabama event for women in construction draws 450 attendees
A recent event for mothers and daughters in downtown Birmingham, Alabama, was the culmination of months of planning and several days of programs in schools throughout the state. Power Up: It's A Mother-Daughter Thing, aimed at instilling interest in the skilled trades for school-aged girls, was held March 22, 2016.
"It is my personal experience as a woman in construction that makes me want to encourage other women and young girls to get into the trades," said event founder Dr. Mittie Cannon. "This industry offers unlimited career pathways, high wages, travel and the opportunity to meet great people."
Cannon is the director of workforce development at construction and engineering company Robins & Morton. Cannon recruited and mentored the first woman in the history of the ABC National Craft Championships to take top honors in welding. Cannon is also on the board of directors for numerous industry-related organizations and has published several works, including co-authoring a book on women in the workforce.
Cannon worked with Kayleen McCabe, a DIY Network host and marketer, to facilitate the in-school events in the days surrounding the main event. McCabe, a construction business owner herself, was on-site at Fairfield High Preparatory School for an assembly and hands-on demonstration. McCabe spoke to students from the Fairfield City School system about exploring a career in construction, how she became interested in the industry and how a career in construction can be just as valuable as any other job opportunity.
Many Alabama Department of Education officials and event sponsor representatives were present at the event. Dr. Phillip Cleveland, deputy superintendent of the Alabama State Board of Education, said the state needs to take an increased interest in students with specific skill sets that may work well in the trades. "Construction is a skill set that is vastly underappreciated," Cleveland said. "Companies need to be charged with helping us [in education] define what we need to be teaching in the community." In response to that, the state has implemented 75 new programs aimed at teaching foundational skills. The programs were developed in tandem with experts in their respective industries. Many of the programs provide a simulated work environment for students involved.
"We are really in a state of emergency when it comes to providing parents and students with the skills needed to go into the trades," Cleveland said.
One person combatting this problem is McCabe. "I'm hoping to see a change in mindset in what it means to be in the trades. It's a powerful thing to be a female in the skilled trades," McCabe said. McCabe was eager to attend the mother-daughter event because too often, at construction events, she is the only woman at the table.
The evening event was presented by the Central Six Development Council, the Alabama Workforce Council Region 4, Girls Inc. of Central Alabama, Robins & Morton, Alabama Industrial Development Training (AIDT) and the Alabama Workforce Training Center (AWTC). The event was held at the AIDT/AWTC headquarters in Birmingham. Mothers and daughters were invited to attend sessions and talk with industry representatives to learn more about a career in construction.
The event opened with speakers McCabe, Shellie Layne, CEO and founder of At Home with Shellie, and others before breaking into groups to move through four sessions. Attendees spent 30 minutes in each of the sessions listed below.
Panel session—Three women in the industry shared their journeys, discussed the importance of mentorship and provided advice.
Hands-on activities—Job opportunities, information and industry-specific activities, such as welding and masonry were offered. ABC, AGC and OSHA were among the exhibitors.
Higher education—Community colleges and universities that offer certificates and degrees for careers, such as engineering, project management, project supervision, welding and electrical work.
Employers—Various firms and companies in the industry were present to discuss career opportunities and give advice to attendees.

The evening ended with closing remarks and door prizes from the Power Up team. Cannon said she has been overwhelmed with positive feedback since the event. She is already in the process of planning future events in the area. "I still have mothers calling and saying, 'Thank you so much; I didn't know you could do so much in construction,'" Cannon said. "We have also gotten requests to hold more events in the future, including a similar event for boys."

For business owners looking to get involved, McCabe suggests:

If you want to actively improve the quality of your workforce, physically go and speak to your local school board about how you can help.
Make your impact count as a company. Your company leaders need to be a part of Skills USA, ABC and other construction organizations.

"I wish I had someone tell me in the fifth grade that I could be successful in a career in construction," McCabe said.