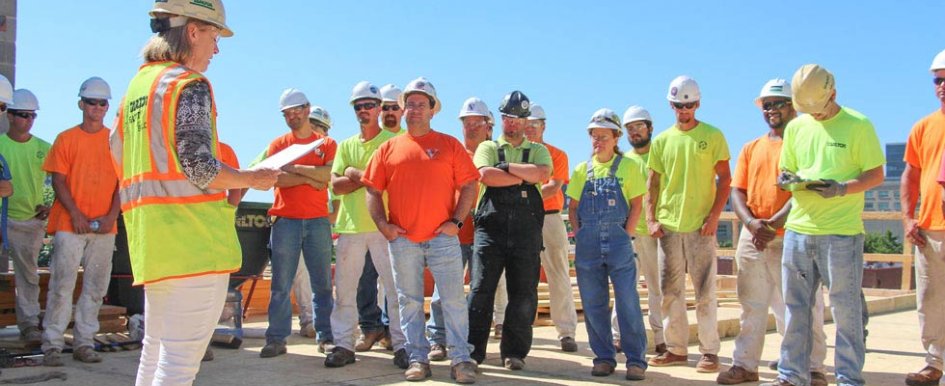 Tracy E. Hart, President, Tarlton Construction
Wednesday, February 2, 2022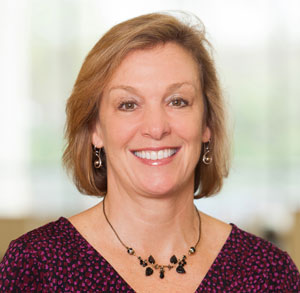 When Tracy E. Hart left her hometown of St. Louis, Missouri, to attend the University of Michigan some 30 years ago, she didn't necessarily plan to return to Missouri after college or go into construction, even though both her father and grandfather were builders. Rather, she majored in English and communications and decided to pursue a career in advertising and public relations. 
But fate has a way of intervening — just five years after Hart landed her first job in the marketing department of Pepper Construction Company in Chicago, Illinois, her husband received a job offer in St. Louis. When her father, Robert Elsperman, heard the news, he asked his daughter to consider joining the family business — Tarlton Corporation, a general contractor and construction management firm that has been around for more than 75 years.
"I loved what I was doing as a marketing coordinator [in Chicago], and I wasn't involved in my dad's business growing up," Hart said, "but sometimes you just have to walk through those doors when they open."
So, Hart came home and assumed a role as project engineer in the family business. "Even though I wasn't an engineer [by education], I asked a lot of questions and learned a lot," she said. Gradually, she worked her way up in the company alongside her brother, Dick Elsperman. 
When Hart's father decided to retire as president, Tarlton's board of advisers decided she was the best person to fill his shoes. "I was more externally focused and client-driven than my brother," Hart said. So, in 1999, she stepped up to lead the company founded by her grandfather. 
Working as an executive in an industry historically dominated by men, Hart didn't always have an easy time in the early years. "I was young, and I was a woman — I'm sure there were a lot of people who wondered what my dad was thinking," she said. 
Hart recalls attending industry conferences where she was one of five women in a room full of 5,000 men. "We even had some clients for whom it was a nonstarter if I walked in the door." 
Hart says most of the pushback came from clients themselves, not from the employees in the field or on jobsites. Hart forged ahead, confident in the advice of both her parents. "Mom always said, 'Do your best,' and Dad said, 'Be yourself.'" 
Along the way, Hart benefited from an array of mentors, and not just the obvious ones, like her father. The local owner of an electrical company took Hart under his wing, teaching her to focus on the value of what her company offered and how to navigate the complexities of the business. She also joined the local Young Presidents' Organization (now recognized as YPO), where she found executive peers facing challenges like her own. 
Hart says she learned a lot from women who were already trailblazers in the industry, too, including Pat Whitaker, former president of St. Louis-based Arcturis, and Renee Bell with Waterhout Construction (a wholly owned subsidiary of Tarlton, which Tarlton purchased in 2019, of which Hart is now president and CEO). "When I was young, there just weren't that many women in our industry you could look up to," Hart said. 
Over the years, however, Hart has done some trailblazing of her own. "A turning point for us as a company was when we landed work with Nordstrom," Hart said. In the early 2000s, when she learned the major retailer intended on opening a store in St. Louis, she immediately reached out. Tarlton Corporation ultimately landed the contract to build the American luxury department store's facility in St. Louis. 
"It was such a highly visible project," Hart said. After Nordstrom, high-profile institutional projects started rolling in and Tarlton began doing work for the Saint Louis Zoo and the Contemporary Art Museum St. Louis. "Our best work is difficult and has challenges," Hart said. "We are diverse in our market types by design because our industry has cycles."
Like most building contractors these days, Hart struggles with workforce shortages. In hopes of addressing the issue at its roots, Hart spearheaded an effort to get young people in St. Louis interested in the diverse career opportunities construction offers. When Tarlton Corporation began building the new Alvin J. Siteman Cancer Center at Barnes-Jewish Hospital and Washington University School of Medicine in 2019, the company opened a Career Resource Center at the jobsite to help the city's young people explore careers in both construction and health care. It's a feature Hart hopes to continue on future jobsites. 
Hart says one often-overlooked fact is that a person doesn't have to study a trade to work in construction. Like other businesses, there are many facets, including marketing and finance. And the best part about the building sector, in Hart's view, is, "watching somebody's dreams come true." She added, "I love the tactile and human side of the business. I just love visiting jobsites. Construction is a team sport, and it takes all of us."