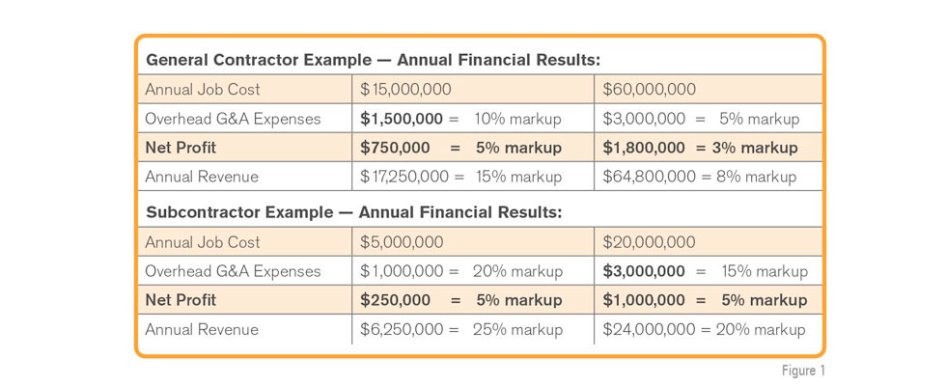 Understanding the rules of proactive change order management
It's nearly impossible to make any money when contracts allow just 10% and your subcontract only allows for 15% total overhead and profit markup on change orders, or time and material costs plus work. The typical commercial contractor's annual overhead and profit markup look much like those in Figure 1.
As shown, the maximum change order markup generally doesn't allow contractors to break even. Also note that when general contractors and subcontractors grow and increase their annual volume, their total overhead and profit markup generally decreases. When it gets low enough, they can make a little money on change order work, but not enough to compensate for the hassle and disruption.
Changes Cost Money
Change order work can create many challenges and costs for contractors, which are hard to calculate, document and be compensated for. Problems like delays, arguments, a loss of trust and bad relationships between general contractors, subcontractors, suppliers and project owners are common. Most change orders are not created or caused by the contractors, but are often the result of the project owner not being accountable for their responsibilities, which include:
Errors, conflicts, issues and omissions in the contract plans
Unforeseen jobsite conditions not discovered by the consultants
Legitimate construction delays
Project schedule acceleration not caused by the contractor
Make More on Change Orders
With just 10% to 15% maximum change order overhead and profit total markup allowed by contracts on most projects, how can you hope to make any money doing extra work? To make matters worse, many contracts don't allow contractors to charge any additional change order costs required to manage the work. Here's what you should consider:
Labor
To make more money on change order requests, start by determining your true costs to perform additional work. The true cost to perform any field work includes the time for labor and full compensation to perform the work.
Company Equipment & Tools
I often see change order requests without any time requested for the company crew truck, equipment or tools. If you are unsure of what rates to charge, check the rental rates charged at your local rental yard. Don't forget to charge for your company equipment and tools, including:
Pickup truck, crew truck, trailer, delivery truck, GPS and cellphones
Safety equipment, storage bins and containers, generators, lighting, portable mixers and compressors
General Conditions
Always request additional time and expenses for your extended general conditions costs, including temporary facilities, jobsite office, fencing, toilets, power, water, cleanup, trash bins, storage bins, temporary protection, lighting, security, barricades, additional move-ins and mobilization costs. Make sure to get your general conditions daily rate preapproved by your customer for delays and time extensions. Be sure you always charge an add-on rate for your general liability insurance and bonding charges.
Supervision & Project Management
Standard contracts typically only allow change order costs to include workers and personnel who are stationed at the jobsite to be included in the cost of the work. This may disqualify you to charge for additional time or costs for supervisors, project managers, estimators or administration on change order requests. While this may not seem fair, it may be stated on the contract you've already signed. Make sure your change order labor, equipment and tool rates are robust enough to cover all of your real project expenses, allowing you to make money. Remember, the overhead and profit markup allowed by contract is likely lower than your real cost of doing business. Ask for supervision and project management to see if they will allow you to charge for these real costs. If allowed, make rates a part of your contract-approved change order rates.
Clarify Procedures & Terms
There are many questions to resolve with your customer prior to starting any construction project. Meet with your customer before signing a contract or subcontract to agree on the following:
What are the change order terms, work items, rates and markups allowed?
When is work considered extra or in
need of a change order?
Who is authorized to approve and sign change orders?
Will you provide proof of funding for change orders?
When and how will they be paid?
How are delays, disputes and claims to be handled?
Know The Rules
Be aggressive. If you wait for approval until after you perform the work, you won't have leverage to get your full price. Document and manage all change order work, time extensions and approvals. Prior to job start, meet with customer to review and agree on change order terms, including:
Rates for labor, equipment, tools, foreman, supervision and project manager rates
Markup rates, liability insurance and bonding costs
Set clear project expectations with all parties involved. Explain how you plan on performing your contract work:
Field production — Crew size, number of crews, equipment, number of workdays and overtime
Schedule — Start and completion date, phases, number of move-ins and mobilizations, deliveries, anticipated weather and delays
General conditions — Supervision, project management, temporary facilities and utilities, power, water, security, storage, cleanup, parking and access
Project conditions — Warranty, callbacks, rework and punch lists
Site — Soils, compaction, underground and unknown conditions, shoring, backfill, conflicts and points of connection
Follow the contract. Don't enter into any verbal agreements.
Never give it away — No free work or trade-offs without pre-approval
in writing
Document all issues, changes, notices, claims, delays, or extensions within 1 to 2 days of occurrence
Submit price per contract within 3 to 7 days
Maintain an updated change order log, proposed and executed change order tracking log, make sure to keep a pending-issues log and maintain an uncharged free work performed log.
You can increase your profitability on change orders. Set clear project expectations with your customer before you agree to sign a contract.