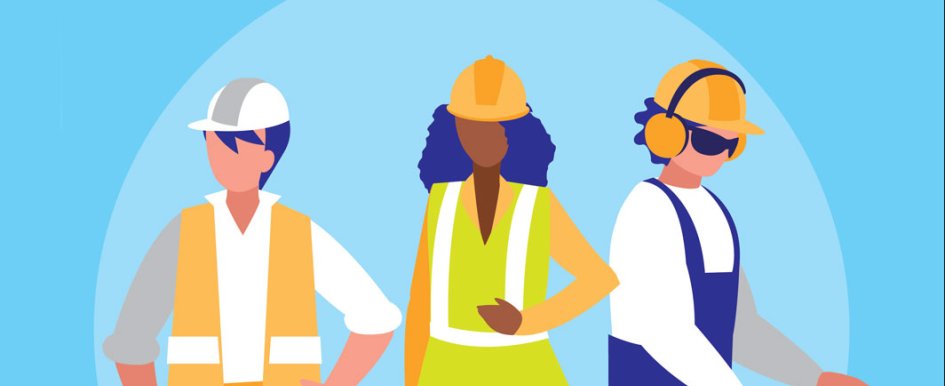 Inside filmmaker & tradeswoman advocate Lorien Barlow's Q&A with the company's president & CEO
As the filmmaker behind an upcoming documentary about women breaking down gender barriers in the construction trades, I am excited by efforts that support this line of thought. Recently, I sat down with Mike Choutka, president and chief executive officer (CEO) at Hensel Phelps, general contracting and construction management company, to talk about the practices that have earned the company the Associated Builders and Contractors (ABC) National Diversity Excellence Award 7 of the past 8 years. Read on for Choutka's comments.
Hensel Phelps 
LB: You were recently appointed CEO at Hensel Phelps. What are some of the positions you held along the way, and what would you say makes Hensel Phelps a special company? 
MC: My first role was field engineer, which is still where our new hires begin their careers today. Hensel Phelps has always developed people to be "builders" by starting them in the field and teaching them how to support the tradesmen and tradeswomen who build the projects.  
Commitment
LB: Diversity is often an idea that starts and ends with quotas and hiring goals, leaving minorities feeling isolated and marginalized. How have you approached this challenge?
MC: For inclusion to happen, we recognized the need to sponsor networking opportunities and provide a conduit to corporate leadership. So, we developed our personnel advisory team, a group made up of employees from a variety of ethnic and racial backgrounds, and fostered leadership networks, such as our Women's Network, which was created specifically to support our employees and maintain morale and community ties through mentoring, outreach and advancement-related efforts. 
Programs
LB: One of the biggest challenges in sustaining commitments to diversity and inclusion is that every project has so many rotating players and moving parts. Can you say more about your work with minority trade partners?
MC: You have to invest in building and maintaining partnerships based on those values. For example, our Technical Assistance Program is conducted annually by our supplier diversity, procurement and operations teams. This program provides training for our diverse trade partners on how to be successful on Hensel Phelps projects—or any project for that matter. It is a full-day commitment that covers core topics, such as business development, estimating, schedule and workforce analysis, safety planning, and quality control.
Hensel Phelps's Emerging Trade Partners Program is another program focused on engaging small and diverse trade partners that are opportunity-ready but have not worked with us. It is a 2-year commitment, and participants of the program receive one-on-one business development and project support to build relationships with estimators and project team members and to communicate
best practices.
Another capacity building program we have in place is our Head Start Bonding Program. We recognize that bonding remains a major barrier for small and diverse trade partners, precluding many from participating in a significant role on larger projects. To alleviate this barrier, Hensel Phelps entered into an exclusive agreement with The Barbour Group LLC, a surety agent and woman-owned business, and RLI Corporation, a surety company, to provide construction bonds to small and diverse trade partners.
We recently held a Trade Partner Forum to promote the continued success of our minority- and women-owned trade partners. The purpose of this 1-day forum was to gather feedback from both our operations team and our small, diverse trade partners about the benefits, challenges and growth opportunities of these programs.
Growth 
LB: Everything you've described is an investment of time, energy and resources. What's the motivation for companies?
MC: One word: growth. Hensel Phelps has experienced rapid growth in technology advancement, education and leadership training, and, of course, revenue. It's no secret that the more diverse ideas you have in a room, the more successful your decisions and solutions are going to be. It's a smart business decision, but at the end of the day, it is the right thing to do. 
Our industry is also growing. There are huge benefits for companies to invest in the women and minorities who have been traditionally underserved in our industry. Construction is rapidly changing due to technology and a changing view of how to treat your employees. I believe the firms that evolve with both will be the most successful over time. 
Women in High Places 
LB: As a tradeswoman advocate, I try to emphasize to companies the importance of having women in supervisory roles on the jobsite. Can you say more about why Hensel Phelps made this commitment and what that process has been like? 
MC: Though still low, the number of women in supervisory roles in construction has been on a steady rise for the past 10 years—currently over 9% of the industry workforce. Hensel Phelps is proud that 15.7% of our team members are women, and that percentage is growing every year. The project staff on one of our signature projects in Bethesda, Maryland, is 50% women, and more and more of our projects are following suit. 
It is really hard to change the culture of the industry without trailblazers. Making a push for more female superintendents is a natural progression of diversity and inclusion, but it doesn't happen without some amazing and talented women who are committed to leading the way. Ours has been a long process that began many years ago as a result of the Women's Network and our Women's Leadership Seminar (WLS). The seminar, held every other year with women from across the country, has grown from just a handful of employees to over 400 women strong this last year. In addition to these internal programs, we actively support and encourage participation in external organizations that support women in construction, such as National Association of Women in Construction (NAWIC) and Women in Construction Operations (WiOPS).
"Hard Hatted Woman"
LB: Hensel Phelps recently became a "Hard Hatted Woman" sponsor. How and why did you choose to support the film?
MC: Last year, at our WLS event, the women of Hensel Phelps organized a 5K race as a fundraiser, with 100% of the proceeds benefiting "Hard Hatted Woman." These proceeds came out of their own pockets, so I immediately wanted to understand what our employees were so passionate about. We sponsored "Hard Hatted Woman" because we have similar visions for the future of the industry. There is currently a 500,000-person void in the craft profession. We believe that by providing education and real, one-on-one experiences surrounding the trade professions, we will help young women identify these opportunities and feel excited to be part of the industry. 
Culture
LB: Has investing in people created a company culture where diversity and inclusion work can really succeed? 
MC: In 85 years of business, we have always invested in our No. 1 priority—our people. By doing so, we are ultimately investing in our company and securing its future. And as our people become more diverse, so will our leadership development, education and training programs. Our culture and what we invest in our employees' futures are what set us apart, and it's why people stay with us as long as they do