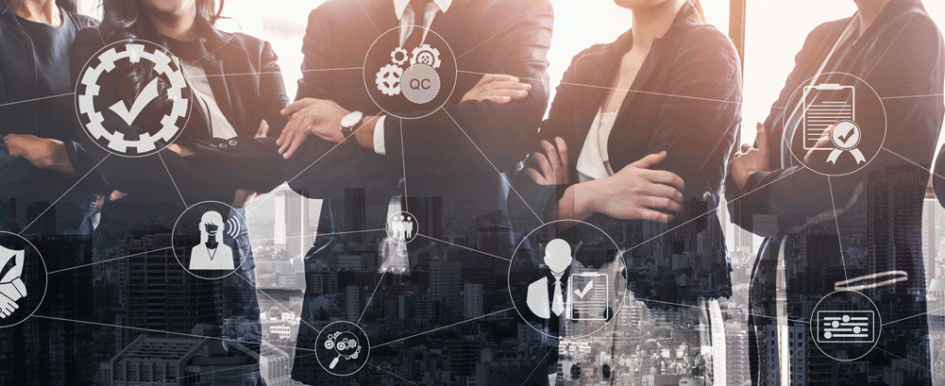 What to keep in mind when using tech to find & keep new customers
Thursday, November 21, 2019
From artificial intelligence providing data-driven clinical decision support, to physicians and hospital staff in the healthcare industry, to big data automation informing better investment decisions across financial service firms, digital transformation has completely revolutionized a wide range of industries. However, the AEC industry has been traditionally slow to adopt these advanced technologies, especially within business development.
It's time for the AEC industry to invest in a digital future. Through eliminating busywork, increasing sales, upping productivity and automating data, artificial intelligence (AI) and machine learning are transforming how construction firms are growing business and saving time and money. Tapping into these technologies might seem like a serious endeavor, so here are a few simple examples on how implementing tech in place of otherwise manual processes can ultimately transform how you identify, meet and keep new clients.
The Value of a Warm Introduction
In the age of social media and ever-changing digital marketing strategies, data shows that a personal referral still remains king when it comes to winning new business. In fact, 84% of buyers claim that a personal referral was what got their new firm through the door, and business development professionals report they're 4.2 times more likely to score a meeting if they have a personal connection to a lead.
However, not all recommendations are created equal. The best introduction remains a warm introduction: a referral from someone who is legitimately connected to you and your lead and can soften the way for your sales team to kick off the relationship. Warm introductions can help you build a more powerful network and earn more business, but it's not as simple as asking contacts for a few referrals. The art and science of a warm introduction requires evaluating your current network, crafting thoughtful requests, strengthening relationships with your partners and providing additional value to your network. Manually finding these connections can take a lot of time, further tempting companies to invest in AI-powered customer relationship management (CRM) tools.
Traditionally, relationship mapping meant building out a physical chart of all key stakeholders arranged by relationship type, relationship strength, internal alliances, influencers and conflicts. While this type of relationship mapping is a worthwhile tool and exercise, the sheer complexity and time needed makes it difficult to execute, causing companies to avoid mapping altogether. Today, technologies like relationship mapping software eliminate the need to create and manually update a physical key stakeholder map. These tools provide insights that are kept up to date automatically and delivered via email and mobile devices, and are what sales and business development people can depend on and reference for their new business efforts.
As your funnel starts to fill with quality leads, your marketing and sales teams need to work together to define a channel-based, lead-generation strategy, which identifies critical milestones and lead hand off parameters for when marketing should hand off a lead to sales.
Wow Prospective Clients
So you've gotten in the door to meet with a prospective client. Now it's time to demonstrate your smarts and relevant expertise. Not only will they want to feel confident that you can get the job done, but they'll want you to have a real grasp on their company, their people and the broader market.
If you want your firm to stand out from the competition, it's more important than ever to show up for client meetings fully educated and prepared, not only about the client's needs, but about who the client is as well. Before walking into the meeting, you should be fully briefed and know the answers to questions such as:
Who is in the meeting?
What are their respective roles?
Who is the decision maker?
When you know your audience you can tailor the message and better steer the meeting.
It's also important to understand what is going on within the prospective client's industry. This means being fully briefed on the latest news surrounding the company in addition to having a deep understanding of what has been going on amongst their competitors and the broader industry landscape. Educating yourself before each meeting can take a great a great deal of time researching. In lieu of manually pulling together comprehensive overviews of the company, the people in the room and the news of the day, there are intelligent technologies available that use algorithms to do the research for you, pulling in the relevant intel that's publicly available in email signatures, social media profiles, company websites and industry news.
Prospective clients may also find value in an educational blog on your website that outlines how a firm can solve a unique business challenge, or even a customer testimonial video of how you solved that problem for someone else in the industry. Additionally, while you do want to sell yourself, your content also needs to also be educational and nonpromotional in nature. At this stage, you are building trust and establishing your firm as a thought leader in your space. If your content helps answer a burning question, your firm is that much more likely to make a prospect's short list. And with 84% of AEC buyers reviewing a firm's website during the buying process, it's imperative you deliver a mobile-friendly experience as well. Nothing can derail trust or confidence in your company like a poor experience with your website across different devices used by your buyers.
Keep Existing Clients Satisfied & Build Trust
Today's AEC decision-makers, like all consumers, expect a higher level of service than in the past. They're less tolerant of delays, cost overruns and permitting hassles—and more than 75% of them say it's never been easier to take their business elsewhere. In this kind of environment, a focus on client happiness and trust is paramount for construction firms that want to grow and keep their business. Implementing digital steps, such as online client satisfaction surveys and automated client check-in reminders, will help achieve new levels of loyalty for your business.
The time is now for your construction firm to begin adopting and using these technologies. Implementing digital-first practices and tools in replace of otherwise-manual processes will not only get you in the door to win new business, but it will help ensure client relationships, both new and old, feel like a priority.