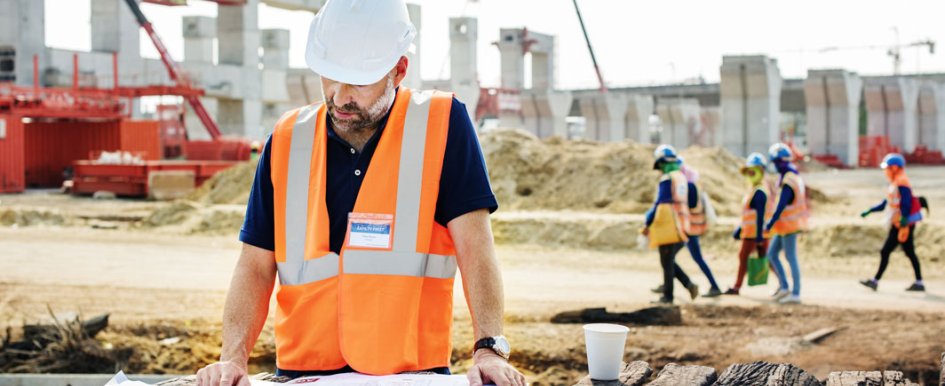 Key insights into U.S. market activity from Dodge Data & Analytics' 2018 Construction Report
Thursday, January 25, 2018
The United States construction industry has entered a mature stage of expansion following half a decade of rapid growth. After rising 11 to 13 percent per year from 2012 through 2015, total construction starts grew by 5 percent in 2016. This subdued pace continued into 2017, with construction starts up and down from quarter to quarter, a pattern typical of a market in the process of approaching or rounding a peak.
An important question at the beginning of 2017 was whether the construction industry had the potential for continued growth. Several project types, including multifamily housing and hotels, pulled back from their 2016 levels during the year, but the pace of growth was buoyed by single-family housing, office buildings and warehouses. In addition, the institutional segment of nonresidential building was quite strong during 2017, led by transportation terminal projects, gains for schools and health care facilities.
With respect to public works, the specifics of a $1 trillion infrastructure program by the Trump Administration had yet to materialize as of mid-December 2017, so activity continues to hover around the plateau for starts reached in 2015. Slower activity was reported for highways and bridges, as well as environmental public works, but new pipeline construction starts are topping even the elevated pace reached in 2016.
Total construction starts in 2017 are expected to climb 4 percent to $746.5 billion, amid an economic environment that could be characterized as "good, but not great," with an estimated real gross domestic product (GDP) growth of 2.2 percent, slower job growth than 2016, but long-term interest rates that remain low.
The damage caused by Hurricane Harvey to southeast Texas and Hurricane Irma to Florida was substantial, especially for single family housing, but the negative impact nationally in terms of slower job growth and higher gas prices should be short-lived. Some of the caution we have witnessed by firms towards investment seems to be easing, and the stock market continued to reach new highs throughout the year. The Trump administration's tax reform proposal is now being considered by Congress, with its shape and the likelihood of passage still unfolding.
So, what can be said about 2018 and the likely outcomes for the construction industry? It is estimated that economic growth will be 2.6 percent for the year. Job growth should continue at a moderate pace, and the lowering of the corporate tax rate through tax reform may provide a near-term lift.
Long-term interest rates will probably see some upward movement, but not substantially so. Market fundamentals for commercial real estate won't be quite as strong as this year, but funding support for construction projects will likely continue to come from state and local bond measures.
Based on the Dodge 2018 Outlook forecast, total construction starts in 2018 are expected to advance 3 percent to $765.2 billion. Gains are predicted for residential building, up 4 percent, and nonresidential building, up 2 percent, while nonbuilding construction should stabilize after 2 years of decline. In terms of specific segments, the forecast predicts the following patterns over the course of the year:
Single family housing will rise 9 percent in dollars, corresponding to a 7-percent increase in units to 850,000. Continued employment growth has eased some of the caution shown by potential homebuyers, while older millennials, mainly ones in their thirties, are helping to lift demand for single-family housing. A modest boost will also come from rebuilding efforts in Texas and Florida after Hurricanes Harvey and Irma.
Multifamily housing will retreat 8 percent in dollars and 11 percent in units to 425,000. This project type appears to have peaked in 2016, helped by widespread growth across major metropolitan markets. That strength has begun to wane in 2017, given slight deterioration in market fundamentals, such as rent growth and occupancies, and a more cautious bank lending stance.
Commercial building will increase 2 percent, following a 3-percent gain in 2017, and continuing to decelerate after the sharp, 21-percent hike back in 2016. Office construction should see further growth in 2018, helped by broad development efforts in downtown markets, and warehouse construction is supported by greater demand arising from e-commerce. However, store construction will remain weak, and hotel construction will continue to pull back from its 2016 peak.
Institutional building will advance 3 percent, maintaining its upward track after this year's 14-percent jump. Educational facilities should see more substantial growth next year, lifted by the passage of recent school construction bond measures. The robust volume of transportation terminal projects in 2017 may not be repeated in 2018, but activity should stay at a high level.
Manufacturing plant construction will recede 1 percent in dollar terms, after surging 27 percent this year due to the start of several massive petrochemical projects. Next year should still see moderate growth for manufacturing plants in square footage terms.
Public works construction will improve 3 percent, slightly more than the 1 percent growth in 2017. Highways and bridges should be helped as federal funding rises to the levels called for by the Fixing America's Surface Transportation (FAST) Act, while the environmental categories will partly reflect reconstruction efforts related to Hurricanes Harvey and Irma. Additional benefit may come from the infrastructure program proposed by the Trump administration, should it achieve passage in some form.
Electric utilities and gas plant construction will drop 13 percent, falling for the third year in a row after the exceptional amount reported in 2015. Power plant construction starts will ease back as new generating capacity comes on line.
It's worth noting that in the latest U.S. Chamber of Commerce/USG Commercial Construction Index, produced by Dodge, contractors in the U.S. commercial construction industry report ongoing optimism about the current state and forward-looking health of the sector. The survey respondents, 201 U.S. contractors active in the commercial and institutional construction sectors, effectively view their business prospects in the next 12 months with as much optimism as they did in the third quarter of 2017. Revenue forecasts are up compared to those third-quarter numbers, and remain consistent with the strong outlook seen in previous quarters.
The availability, skill level and cost of skilled workers continue to be the most important concerns among respondents. However, most contractors expect to employ more workers in the next 6 months, and believe they will see revenue and profit margins increase or hold steady over the next year. A strong outlook for new business, coupled with an expected increase in spending on tools and equipment, is another sign of optimism.
In general, construction industry firms are well-placed to continue to benefit from the positive growth in the industry, particularly in the single-family housing sector and likely in public works, as well, depending on the final shape of the anticipated federal infrastructure package.