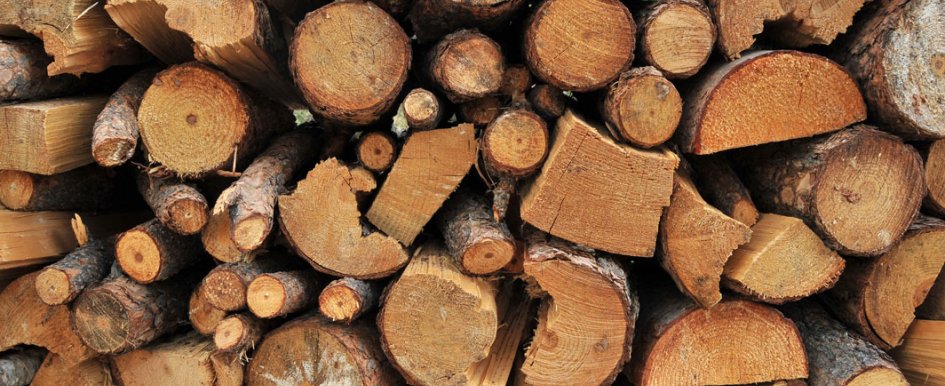 The cost & sustainability benefits of one of the world's oldest building materials
Wood has long been recognized as a versatile, cost-effective and beautiful building material. While light-frame wood construction is still commonly used across the United States, a new type has emerged as a favorable choice for owners, designers and contractors.
Even large buildings that may have otherwise been constructed using traditional steel and concrete are now being constructed using mass timber as the primary material. Whether used on its own or in conjunction with steel and concrete components, mass timber has shown its ability to to bridge the gap between various construction objectives. 
In many ways, mass timber is an innovative building material; however, buildings can utilize mass timber under current building code regulations. In addition, mass timber has been successfully used as the primary construction material for several tall buildings. These pioneering wood structures have illustrated the capabilities of mass timber construction. As a result, building codes are changing and will soon allow mass-timber buildings to reach even greater heights.
Typical Components
The term "mass timber" can refer to a variety of different components, but it's typically used to describe large wood panels and structural members. As detailed in reThink Wood's article "Mass Timber in North America," the following products are considered mass timber: 
Cross-laminated timber (CLT)
Nail-laminated timber (NLT)
Glued-laminated timber (glulam)
Dowel-laminated timber (DLT)
Structural composite lumber (SCL)
Wood-concrete composites
Construction Benefits
The level of construction efficiency made possible with mass timber is one of the major benefits of the product. As reported by reThink Wood, one structural firm estimated that mass-timber projects are approximately 25% faster than similar concrete projects, have approximately 90% less construction traffic and require approximately 75% fewer workers on the active deck. Specific project examples are summarized in Table 1 below, including examples of the construction efficiency achieved on each project.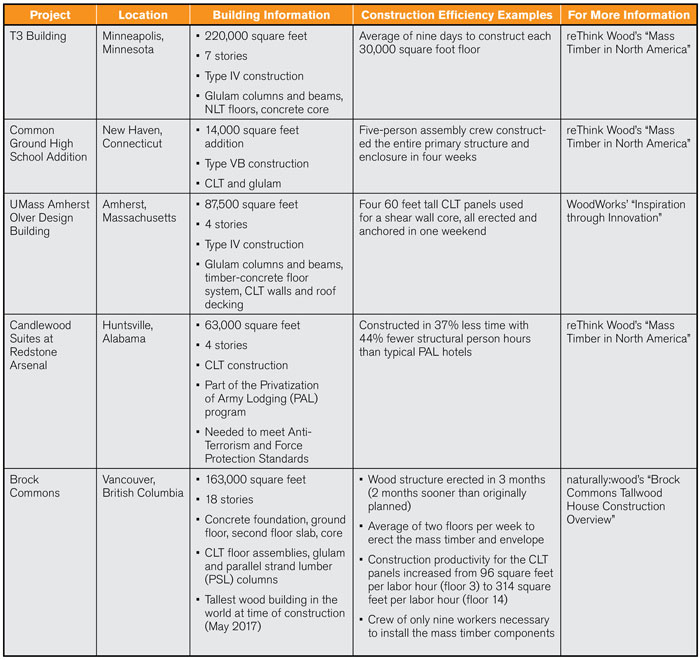 Table 1: Mass Timber Project Examples
Cost Benefits
Greater construction efficiency results in lower costs, and additional cost savings are possible because mass timber is lighter than steel and concrete. For example, the T3 Building identified in Table 1 is estimated to be approximately 30% lighter than steel and approximately 60% lighter than post-tension concrete in a similar design. 
Similarly, the WoodWorks study on the UMass Amherst Olver Design Building recognized that the building would have been six times heavier had it been constructed using concrete. Lighter buildings mean reduced seismic forces and less structural capacity needed in a building's foundation and other structural elements. 
Sustainability Benefits
In addition to cost and schedule, sustainability has become a desired objective for many owners and developers. Mass timber buildings often have a lower carbon footprint than comparable steel and concrete buildings. In the case of the Olver Design Building, WoodWorks determined that the 72,467 cubic feet of wood used for the project had a total potential carbon benefit equivalent to removing 535 cars from the road for a year or the energy needed to operate 267 homes for a year. 
Similarly, the Canadian Wood Council's analysis of Brock Commons identified the potential carbon benefit of the CLT and glulam used for the building as equivalent to removing 511 cars from the road for a year or the energy needed to power a single home for 222 years. 
Mass timber is also a renewable resource. The U.S. Forest Service (USFS) recently partnered with the U.S. Endowment for Forestry and Communities to develop a grant program to help promote the use of mass timber across the country. The USFS sees sustainably sourced wood as an incentive for promoting forest retention efforts and limit the risk for catastrophic wildfires. 
Current & Future Code Allowances
The International Building Code (IBC) is the model code used by various jurisdictions throughout the U.S. While the current versions of the IBC do not have provisions for tall timber structures, timber is allowed in smaller buildings. Currently, wood construction can be used for interior elements in Type III and Type IV construction, as well as for any elements in Type V construction.
CLT can also be used in exterior walls of Type IV buildings where certain criteria are met (2018 IBC 602.4.2). In addition, some noncombustible buildings (Type IB, IIA, and IIB) can utilize heavy timber in roof construction (2018 IBC Table 601, footnote c).
Type IV construction is generally considered "heavy timber" construction. However, Type IV construction can consist of a variety of different wood elements, including solid wood, laminated wood and SCL (2018 IBC 602.4). In addition, any elements meeting the requirements of 2018 IBC 2304.11 are considered heavy timber, including CLT floors and roofs and SCL and glulam members. 
As detailed in the WoodWorks paper "Fire Design of Mass Timber Members," timber assemblies are able to achieve a level of fire-resistance comparable to steel and concrete assemblies. A growing list of timber assemblies have been tested in accordance with the ASTM E119 standard, which quantifies hourly fire-resistance ratings. 
WoodWorks has assembled a database of such assemblies, which can be found on their website. In addition, methods for calculating the fire-resistance of wood members are currently available and are recognized by the 2018 IBC to justify the fire-resistance of timber elements. 
As a result of the recognized fire-resistance of large wood members, and the growing number of tested wood assemblies, the 2021 IBC will allow tall mass timber buildings similar to Brock Commons mentioned in Table 1 above.
Table 2 below identifies the new height limits allowed by the 2021 IBC for three new heavy-timber construction classifications. These construction classifications have varying levels of fire-resistance and exposed wood. In addition to the greater height allowances, the 2021 IBC will also allow concealed spaces in Type IV construction, something that is not currently allowed by earlier editions of the code. 

Table 2: 2021 IBC-Allowable Story Height for Common Occupancies (Fully Sprinklered)A
AType IIIA, IIIB, IV, VA and VB story limits are unchanged from the 2018 IBC.
As a result of the various benefits of mass timber and the upcoming code changes to the IBC, the surge in mass-timber buildings is likely to continue. Combining modern technology with one of the world's oldest building materials has shown that wood is still capable of extraordinary achievements. 
From the development of composite-wood members to the prefabrication of beams, columns and other mass-timber elements, modern wood structures are able to compete with traditional steel and concrete. Consequently, timber structures are reaching new heights and are beginning to change the skylines of cities across North America and beyond.