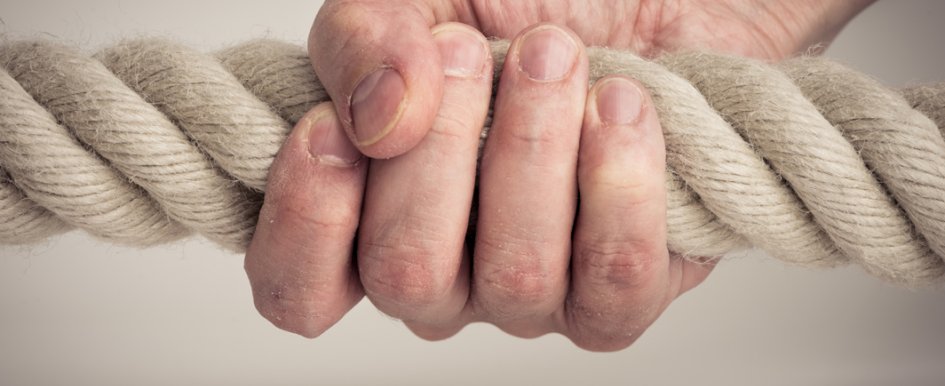 How not letting go is holding you back
Wednesday, March 14, 2018
Currently, there is less than 2 percent unemployment for project managers, estimators and field supervisors in the construction industry. Keeping your best talent should be your top priority. Let's review a few causes of great employees leaving good companies, and what happens when business owners can't let go of control.
Owners who won't let go are stuck in the past. They complain about what used to be—lower pay scales, how employee benefits were a privilege and how building projects for the lowest price was more important than taking care of employees. Now, with the pressures of a limited talent supply and the need to hire and retain the right employees, pay rates are growing at 5 to 20 percent annually. Old-school owners restrain and restrict hiring for what they perceive to be ridiculous pay rates and benefits. When owners can't let go, their companies begin to suffer.
Companies that do not offer their most valuable players or top talent above-market pay, results-based incentive compensation, significant profit-sharing or an investment in ongoing training and personal development will continue to lose valuable people at an alarming rate. As openings become available with other companies, your players will look at their pay packages and career growth opportunities and then compare them to the marketplace. In addition, an owner who is not willing to offer pay and benefits at the highest levels will force employees to look for other jobs.
If your top supervisors and managers do not have the ability to make major decisions on behalf of the owner, don't have cutting-edge technology or software, don't get enough support, are buried in administrative paperwork or are being disrespected in their work environment, they will quickly look for the door, as plenty of great jobs await them across the street. If a business owner doesn't take notice, allow his/her best people to become a part of the company management team, grow and take on more leadership responsibility, run projects or departments or handle larger projects with bigger workloads, he/she will find himself/herself without a reliable team.
An owner who can't let go tends to think small, focuses only on saving money and can't think forward for the success of their business. As a result, they do not place enough focus on their employees' futures and the roles they can play in helping employees to achieve their goals. Most project managers, estimators, supervisors and foremen don't want to keep their current job for the next 30 years—they want to work with their employer to progress toward advancement, earning more responsibility and compensation. Does your company have a career plan compelling enough to keep key people in your employment? As an owner, what tasks and responsibilities can you unburden and transfer to these valuable players to allow them to grow? As a business coach, I have experienced many new clients who can't reach their goals as a result of the owner not letting go of control. The following are a few examples.
Arnie Young is the president of Sure Contractors, a $20-million construction company. Young hired me to help build an accountable management team and get his company to work without providing his constant direction. I did a confidential survey of his 90 employees to discover the issues from an employee perspective. The survey revealed that the biggest roadblock to accountability was Young. He didn't offer market compensation or profit sharing, maintained full control of all company decisions, didn't enforce company standards and was disrespectful to his employees. What held the company back most was that he wouldn't let go of everyday decisions. As a result of this type of leadership, Young could not attract and retain a management team or complete the work he brought in.
David Robinson is the owner of XL Earthworks, a $15-million underground contractor. After 40 years in the business, Robinson was 65 years old and ready to slow down, but didn't have a strong management team in place. Why? He skimped on staffing by being his own project manager on several jobs and wouldn't pay enough to attract another senior project manager. He wouldn't let go of his money to hire the right players to grow his business.
Mary and Sam Pace are the owners of Fast-Paced General Contractor. Sam had employee problems like high turnover, unprofessional supervisors, fading profit margins and low morale throughout the company. The company had a great reputation but couldn't keep employees happy. Mary ran the office and wouldn't trust employees to handle contract issues, submittals, change order pricing, billing, invoice approvals or financial matters. Sam acted as senior project manager, ran the field and negotiated every contract and change order. These owners wouldn't allow their project managers or field supervisors to truly be in charge of their own projects. Over time, this caused distrust among employees, and several key people left. They were replaced, and the new team members soon left, too. The solution was not new people. The solution was changing how the company was run.
Ken Booker is the owner of Control Electric, a $25-million electrical contractor. He contacted me for help creating a simple bonus plan to entice managers and general superintendents as a reward for a job well done. He was looking for a silver bullet that would fix the challenges in his company. Booker never shared the books, job costs, profits or margins with anyone except the controller. He insisted on signing every contract and purchase order. He dictated who worked on what jobs and made all hiring and firing decisions. This need for control caused many problems with employees, and it seemed the only person who didn't understand the problem was Booker himself. As a result of his controlling management style, Booker's employees couldn't work to their full potential, essentially stopping business in its tracks. A bonus plan wouldn't even begin to touch the real problem here: the owner.
When an owner can't let go of control, good employees will leave a company. Great employees want to take on more responsibility and be accountable for results. When stubborn business owners micromanage and don't allow employees to make decisions, those employees will suffer and/or begin to look for better opportunities elsewhere.
This destructive, controlling management behavior causes top employees and your company's best workers—who have potential and a vision for their future—to seek new positions where they'll get opportunities to excel and receive the trust and respect they deserve.
The real question is, "Would you want to work for you?"