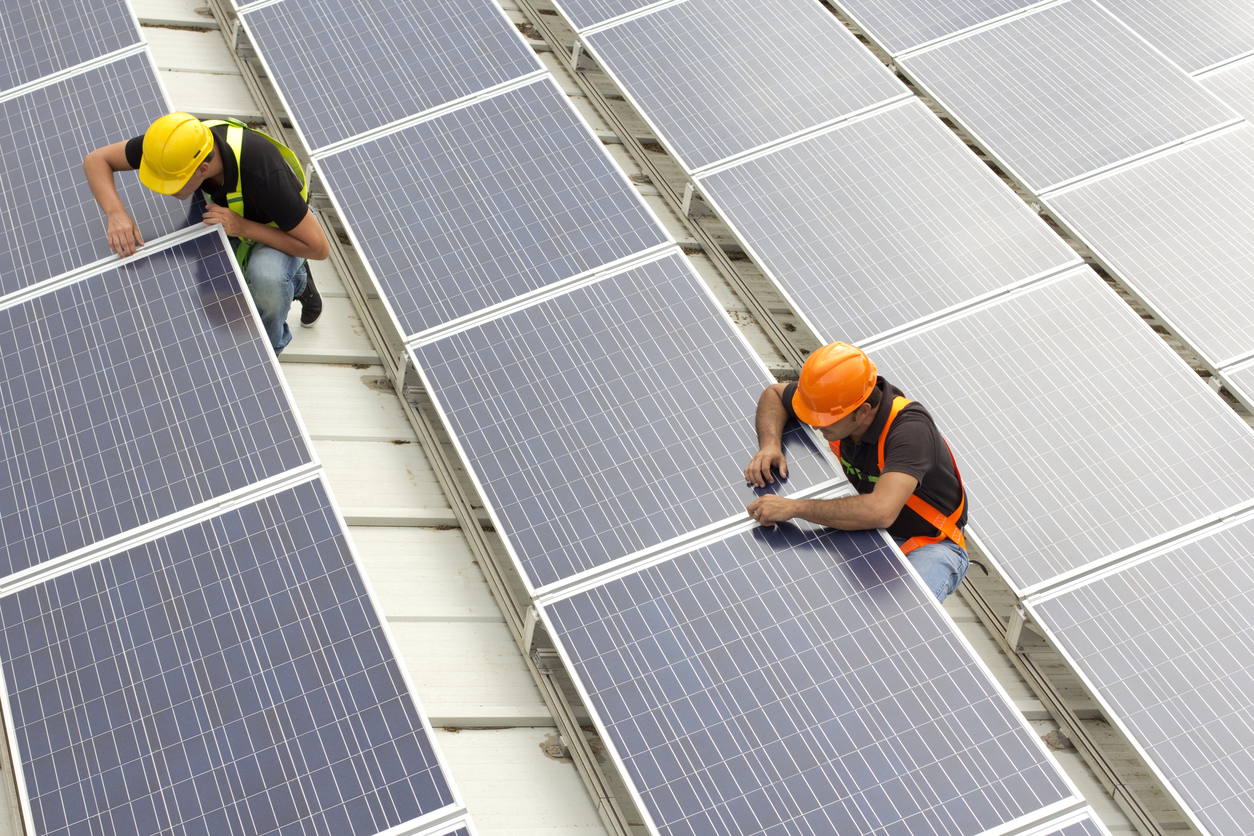 Explore a new potential revenue source for your construction company
Friday, September 8, 2017
Fueled by continuously decreasing prices, the solar industry in the United States continues to grow at a furious pace. According to the U.S. Solar Market Through Q1 2017 report by the Solar Industries Association and GTM Research, more than 14 gigawatts (GW) of solar was built in 2016, comprised of more than 1 GW of commercial and 10 GW of utility-scale installations. In today's solar market, typical commercial and utility-scale solar plants range from less than 1 megawatt (MW) up to 100 MW, meaning that the total solar built that year was spread over thousands of individual projects. For scale, a 1 MW solar plant covers approximately 5 acres of land.
With such rapid growth, many opportunities continue to present themselves in areas, such as civil contracting, electrical contracting, mechanical installation and long-term maintenance. Taking advantage of these opportunities depends on understanding the solar market and creating working relationships with established solar solutions providers. The four key building blocks listed below will help establish a foothold in the industry and poise your company for success in solar.
1. Finding the Work & Requirements
As with any contracting venture, the first key building block is understanding where to find the work and the requirements to pursue opportunities in each specific market. Recognizing lower energy costs and significant potential electricity savings, many states, 33 as of 2016, have adopted energy efficiency policies and standards, totaling more than 55 percent of retail electricity sales for the year. In addition, individual cities and utilities have committed to aggressive renewable energy goals to reduce electricity cost to consumers. Researching individual state policies and goals will provide valuable insight into the number and size of potential future opportunities.
A good starting place is the National Conference of State Legislature, where individual state standards and goals are summarized and updated regularly. After determining prime regional or local markets, it is critical to understand the regulatory, licensing and labor aspects of those markets. Luckily, solar is not unique, in that regulations and licensing are established at the state level. A useful state-by-state summary of licensing requirements for solar contracting was compiled and is maintained by the Interstate Renewable Energy Council. Where solar differs from typical contracting is in the definition and classification of solar components, which is somewhat nonstandard in the relatively young solar contracting industry.
Certain components, such as modules and inverters, are easily classified under electrical scopes, whereas other aspects such as foundations and structure are defined through interpretation of labor boards in each respective state. Due to the wide range of definitions, classifications and interpretations from state to state, local licensing, as well as labor and wage requirements, must be researched and understood prior to the bidding process.
2. Adapting to Specific & Unique Characteristics
With licenses and labor ready, the second key building block is adapting to the specific and unique characteristics of commercial and utility-scale solar installations. It is essential to study and understand mechanical and electrical designs, including their benefits and limitations, to establish consistent best practices and workflow. Furthermore, understanding site conditions, including surface terrain and potential subsurface variability, and how these relate to the aforementioned system designs, leads to budget and schedule control. When on site, coordinate order of operations with your customer and other contractors to minimize potential conflict and delay.
Optimize tasks by studying task cycles and adapting best practices. Lastly, create and promote your own differentiating factors, such as specialized quality assurance and quality control practices. The solar industry is relatively young and still developing, creating great opportunity for leadership roles in creating and implementing industrywide standards.
3. Importance of Experienced Project Management
The third key building block dives into the daily grind and dynamics between office and on-site management to successfully complete projects and exceed customer expectations to secure recurring work. Pre-construction communication with developers, customers and contractors is vital to starting a project with proper expectations. Develop standardized documentation for your operations, including inventory control, quality assurance, quality control and labor compliance.
Working with dedicated, consistent project management teams and site leadership to follow through with best practices and thorough documentation will enhance both productivity and customer satisfaction. With these key elements in place, building mutual trust with your customers becomes a smooth process, allowing for greater flexibility and adaptation over time and many projects. Jumping straight into solar projects can be daunting without previous experience, but you don't have to start from scratch.
Solar energy solutions providers have trained, experienced field service management teams that specialize in solar power plant design and installation. Partnering with these providers ensures that initial projects are executed successfully, on schedule and on budget, while providing your company time to learn and adapt to the solar market.
4. Scaling Your Business for Future Growth
After gaining experience and expertise, the fourth building block involves scaling your business to expand scopes of service and take on more or larger projects. Many solar energy solutions providers look to bundle service to take advantage of cost efficiencies and minimize contractual points of contact. Expanding your service capabilities leads to increased opportunities and more consistent, long-term work for your associates.
With a full suite of available services, the next step is to understand work cycles in solar based on seasons, regions and general industry cycles. Gaining an understanding of slow and peak seasons will allow you to scale your business effectively and without drastic labor ramps or cuts. With these business practices mastered, you can scale your business to take on portfolios of projects, or larger projects, with greater confidence and success.
With the combination of a strong forecast for the solar market and existing, experienced solar energy solutions providers with which to partner, there is no better time to transition into solar contracting. Take advantage of existing resources to learn regional markets and requirements. Use this knowledge to adapt your business to the characteristics unique to solar power plant installation. Finally, by partnering with an experienced solar energy solutions provider and developing a strong project management team, you can expand and scale your business to be more successful and profitable.