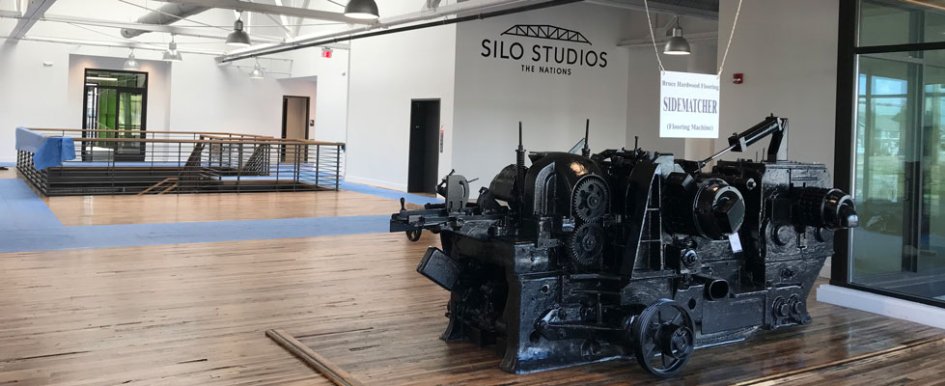 Dowdle Construction Group's insight on converting an old lumber mill into a new office & retail complex
Wednesday, February 3, 2021
Adaptive reuse projects can be tricky. It is a great way to keep an existing (often unused or abandoned) structure and give it a new life. But these projects don't come without their own unique set of challenges.
The 80,000-square-foot lumber mill in Nashville, Tennessee, that Dowdle Construction Group recently converted into office and retail space was no exception. The development—named Silo Studios—was as an abandoned industrial property built in the 1950s. The hardwood flooring company that owned the building had closed in January 2006. From 2006 until spring 2019, the building sat unused.
When the company closed the mill, it removed most of the equipment and left large holes in the side of the building and the roof. It left behind holes in the floors, knocked-out windows and forgotten equipment and materials—so the building was in rough shape when Dowdle Construction got to it nearly 15 years later.
In 2019, with the help of the new owner, Flyway Development and architects from Southeast Venture Design, the Dowdle Construction team began to transform the building. The firm's goal was to use as much of the existing structure as possible, including its unique bow truss design and original tongue-in-groove hardwood floors, while making the space feel fresh and beautiful. This article details a few of the firm's key takeaways from the project.
1. Be Prepared for Anything
With older buildings, especially those left in disrepair, you should expect some surprises along the way. Many of these projects involve dealing with major structural issues and damage reparation, not to mention updating to current building codes. It's hard to know how much damage there is until you start removing some elements of the building. The key is to be flexible when new issues arise and put your best foot forward to pivot quickly when need be. Not every unanticipated situation has to be a major setback.
For example, the construction team didn't expect the amount of water damage there was to the Silo Studios building. It was like dominos—the team started taking things out and found more and more water damage as it went.
This meant the contracting team not only needed to replace more wood than the team originally thought but it also needed to bring in more manpower to do it. Situations like this were a regular occurrence on this job (as they are on many historic renovations). Dowdle Construction had to be adaptable, make adjustments and keep pushing, despite the daily challenges.
2. Lean on Your Team
What helped most in overcoming these challenges was interacting with the project team regularly because the plan changed so often—even on a daily basis. The design team and owners were intimately involved in every roadblock the contractor faced, so they could help create solutions to conquer them, which was a major factor in keeping the project on schedule.
It sounds trite, but it really does require a team effort between the owners, design and engineering teams and the contractor. All parties need to be willing to work together to truly complete this kind of project successfully.
3. Manage Client Expectations
This is perhaps the most important lesson to learn. Clients come to contractors with a vision, and while it's important to follow that vision to the best of your ability, the client must recognize that you may not always be able to accomplish all of their wishes. This is especially true in salvaging and renovating a crumbling structure.
It's crucial to be honest and transparent with the owner throughout each phase of construction. On the Silo Studios project, the owner was intimately involved in any roadblocks the project team incurred, and the team communicated with him regularly to let him know how it was able to overcome each issue.
Of course, adaptive reuse and historic renovations aren't for the faint of heart. Dowdle Construction specializes in this type of project, and it still encounters challenges every time. The contractor has heard from plenty of other firms and developers that it's easier (and less expensive) to just knock something down and start from the ground up.
While that may often be true, it's also immensely important and gratifying to preserve history, including architectural and building styles of the past. There is so much to learn from the past about how buildings were designed and constructed. A vintage façade or a unique structure like the bow truss design of the Silo Studios building can also bring extraordinary charm to a neighborhood.