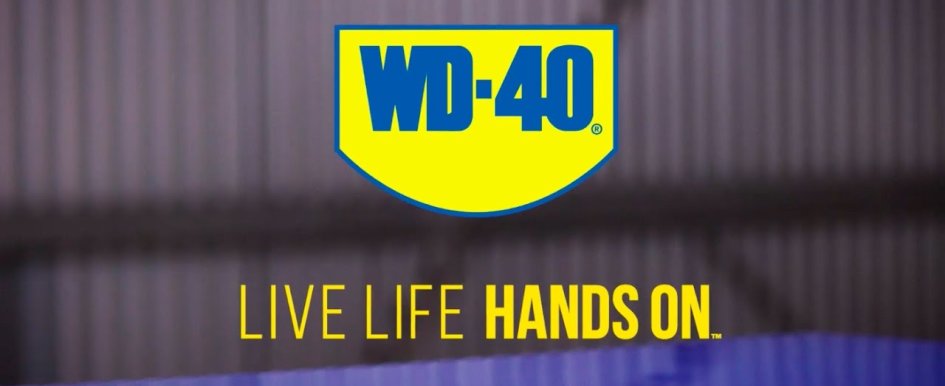 An inside look at the 'Live Life Hands On' campaign
Thursday, November 14th, 2019
It's in your garage. It's in your truck's toolbox. It's in your office storage closet. And it's even in your kitchen at home. Chances are, you use WD-40 Multi-Use Product to keep your tools and equipment running smoothly. The product has been around for more than 65 years, and the original solution has stayed virtually the same.
In 1953, the San Diego Rocket Chemical Company was tasked with developing a formula to prevent corrosion for the Atlas missile. After 39 attempts, the 40th one did the trick: Water Displacement Formula 40. When it was created, project team members realized the product could be helpful in a lot of other use cases. Workers in the specialty trades started using the formula, first in the automotive industry and then in the industrial and construction industries.
As product use in the trades grew, WD-40 Company recognized the need for a line of best-in-class specialist products formulated specifically for trade professionals. In 2011, the company launched the WD-40 Specialist to meet the needs of trade professionals everywhere. In the construction industry today, WD-40® Brand's line of products are used for drilling, equipment maintenance and more.
Sixty-six years later, the brand is a household name. This year, WD-40 Company launched the Live Life Hands On (LLHO) contest and campaign to showcase people in all different walks of life who rely on WD-40 brand products to get the job done right. Entries in the contest consisted of a short, 60-second video demonstrating how entrants use a WD-40 Brand product in their day-to-day tasks. 
CBO recently caught up with Robin Baloochi, a brand manager at WD-40 Company, to find out more about the LLHO contest. Baloochi has worked with the brand for the past five years managing sponsored opportunities, events and brand-building activities. He's also heavily involved in the brand's influencer program and any heavy end-user areas with WD-40 Brand products. Find out more about the LLHO contest and WD-40 Brand's strategy behind it below.
CBO: Can you explain the origin of the Live Life Hands On campaign?
RB: The idea came from a discussion about who our end users are and what we could do to market WD-40 Brand products that crosses borders, job titles and industries. We started looking into aspects of WD-40 Brand product uses that were universal no matter your market or role. What we realized is, no matter what, your hands are involved.
In order to engage with our products, you're using your hands and you're doing something. There is a passion in the end user space for WD-40 Brand products involving everyone from DIYers to industrial workers to specialty tradesmen. If you peruse the LLHO campaign, you'll see that broad range of people represented throughout it.
CBO: Give us a quick rundown of what came out of the campaign.
RB: The campaign ran about six weeks and we had around 90 entries in total. Approximately five of those entries were from end users in the construction industry. We had one grand-prize winner, five second-place winners, and 10 third-place winners.
The contest was really a great way for us to get a detailed look at how our end users are utilizing the products every day. Our contest winner is a farmer in Iowa who provided these great videos detailing how he uses WD-40 Brand products on his farming equipment.  
CBO: What is WD-40 Brand's direction moving forward?
RB: At a high level, we are going to keep pushing the LLHO-style engagement with our users. It's our goal to meet them where they are using our products on the ground—whether it's in a garage, on a jobsite, or somewhere else entirely. We really feel we have the most relevancy as a brand by connecting with them in their everyday lives.