Follow these five steps to ensure safety when working with cranes.
Wednesday, August 28, 2013
If you were to search crane-related headlines for the month of July 2013, you would find the following among the results:
"Crawler Crane Overturns"
"Crane Caught on Fire"
"Crane Overturns at Marina"
"Crane Hit by Lightning"
"Crane Operator Burnt"
"Crane Rolls down Embankment"
"Crane Line Hits Power Line"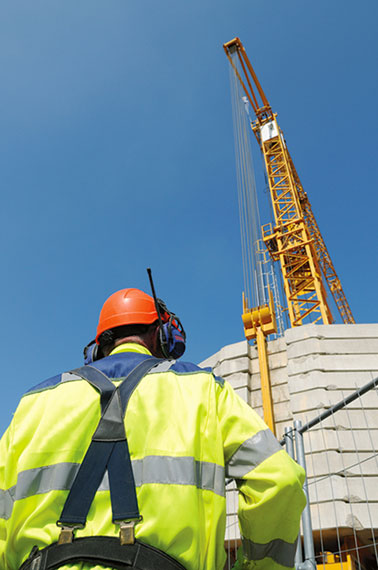 Staying accident free may be a difficult goal when working with cranes, but it is by no means an impossible one. Here are the top five ways companies can achieve safe crane operation:
1. Education
It is important for crane owners, crane operators and site managers to familiarize themselves with the OSHA 1926 standards. From "Industry Definitions" in 1926.1401 to "Standard Hand Signals" in 1926.1442, these guidelines serve as the foundation for crane safety. This is the first and most important step that any construction company working with cranes and derricks can take to ensure employee safety.
2. Safety Training
Training programs should be mandatory and impactful. There is a difference in the effectiveness of a classroom training session compared to an onsite training session. Some degree of classroom training is necessary to cover the basics, but as the number of hours spent in a classroom rise, the training becomes increasingly mundane. This diminishes the training's impact.
Onsite training is more engaging and allows employees to gain direct experience with the safety measures being covered. It also allows workers to become comfortable in a natural working environment and to ask questions about issues that are not apparent in the classroom.
Additionally, instead of feeding employees the statistics of crane accidents, references to specific incidents create a more lasting impression. It is more effective to discuss a construction worker who was injured onsite or who was operating a crane when someone else was injured.
3. Routine Inspections
Crane inspections should be conducted consistently and prior to the event of an emergency. OSHA's 1926.1412 section (f)(1), which establishes requirements for inspection frequency, will make such regularity mandatroy. This standard states, "At least every 12 months the equipment must be inspected by a qualified person …" When using third parties to inspect machinery, all inspectors should have credentials through a national accreditation agency. Along with inspecting the equipment and reporting deficiencies, these inspectors should document and keep records regarding your equipment. They should also help your company bring noncompliant equipment into compliance rather than simply deem it unusable.
Companies should also streamline their inspection processes. Some companies break these processes into categories. This can speed up the time it takes to get cranes back in commission.
4. Electrical Safety
Many construction professionals do not realize that there is a section dedicated to electrical safety in the OSHA 1926 crane operation guidelines. Power lines are often the most prominent concern. Crane operators have been electrocuted by bringing cranes into contact with power lines that they did not know were live or nearby. To avoid crane accidents involving power lines, make sure boundaries are marked, live lines are labeled as such, encroachment prevention precautions are in place, trained spotters are present and proximity alarms are in use. It is also important that employees know the procedures to follow in the event of a power line accident.
5. Awareness
Awareness on the jobsite may be the most important aspect of being a construction worker. Part of this involves responding appropriately to weather conditions. If there is a chance of a storm hitting the site, for instance, you have to consider how lightning, wind and rain will affect work, especially when cranes are involved. If it's excessively hot, you have to make sure your workers are not becoming dehydrated. Construction companies should have policies mandating that local radars and weather forecasts be checked prior to each day's work.
Workers also have to be aware of equipment placement and ground changes. When they are unaware of these details, headline-worthy accidents occur. This awareness can be improved if site meetings occur several times throughout the day to discuss the ways the site will change.