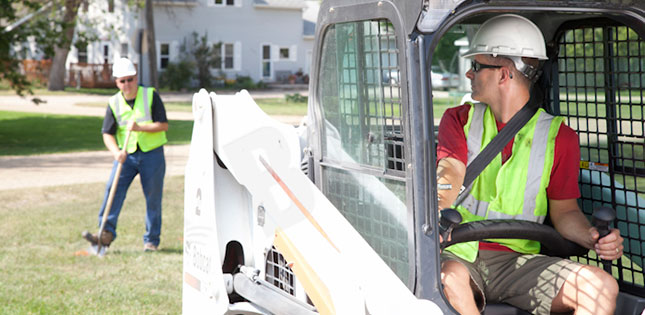 Education and training on compact equipment safety result in a safer workplace, better performance on the job and more satisfied customers.
The correlation between safety education and training and the production levels necessary to achieve profitability in construction is not difficult to understand. Operators who know how to properly and safely use their equipment are not only much more likely to operate it safely, but they also are able to work faster and more efficiently, leading to better overall performance. Performance leads to profits, and fewer accidents result in fewer expenses and insurance claims. Once profitability is headed in the right direction, you certainly don't want carelessness to turn things around for the worse. Creating a safety culture can help you win on all fronts—you will be able to run a more efficient business and decrease your risk of losing revenue. What's more important is that a safety culture can decrease your employees' risk of injury on the job.
Compact machines—loaders and excavators equipped with attachments—are among the most versatile types of equipment on the market, so they often see heavy use on construction sites and rental yards. As a business owner, you must ensure your equipment operators understand the machines before they run them. Realizing a machine's capabilities and limitations and exercising appropriate behavior inside and around the machine can help minimize the risk of accidents and injuries.
Most safe operation tips are specific to the type of equipment. However, some guidelines are universal for almost all compact machines, and they should become second nature to your crews and operators. These include:
Before operating any type of compact equipment, consult the operation and maintenance manual. Pay close attention to capabilities and load capacities.
Always follow instructions on machine safety signs to avoid situations that can cause serious injuries or death.
Wear tight-fitting clothing that cannot get caught on controls or in working components of the machine. When working in some areas, hard hats and eye protection may be necessary.
Always face the machine when getting into it. Use grab handles and steps that are provided, and maintain a three-point contact.
Use the seat belt, and fasten it snugly.
Pay attention to all gauges and warning lights. A machine may need servicing before operation.
Never attempt to start the engine or operate the controls from outside the machine.
Always look to the rear before backing up, and check each side before swinging or turning. Your work area should be clear of bystanders, and no one should ever approach the machine while it is working.
Operate at a reduced speed until you understand and can control the machine.
Never allow riders on the machine. The majority of compact equipment models are designed for a single operator.
Never stand on or lean out of a machine while it is running. Keep arms and legs inside the operator's cab.
Be aware of any overhead power lines or obstacles. Contact utility companies to have them mark underground utility lines before digging.
If you must work in an enclosed area or building, make sure proper ventilation is provided.
Move slowly uphill and downhill, with the heaviest part of the machine uphill. (Note: When loaders or handlers are empty, the heaviest part may be the rear of the machine.)
Avoid steep slopes (more than 15 degrees) and drop-offs. Avoid driving over rocks, culverts and stumps.
Avoid sudden stops, starts and turns.
When finished working, stop the machine on level ground. Always lower booms, lift arms, buckets or attachments before leaving the machine.
Engage the parking brake, and stop the engine before leaving the unit.
When exiting, face the machine, use grab handles and steps, and maintain a three-point contact.
Always follow manufacturer's instructions for transport—loading, unloading and securing equipment to a trailer.
Your operators should apply all these instructions to virtually every type of compact equipment. For more detailed information and education on specific machines and models, business owners and operators should turn to an owner's manual—the most ideal source for equipment information. Some manufacturers also offer operator training kits and safety videos designed to improve safety and productivity for their machines.
Educating your operators on construction equipment capabilities and safe 
operation is paramount to minimizing risks on the jobsite. Cultivating a safety culture will also cause your crews to take more pride in their work. When workers are careful, they are diligent. They pay more attention to their surroundings, they follow instructions and provide clearer direction to one another, and they communicate more effectively.
According to research done by the Occupational Safety and Health Administration (OSHA), a commitment to a safety culture almost always leads to better employee safety and health, less hazardous working conditions, lower workers' compensation and other insurance costs, improved productivity and efficiency, enhanced employee 
morale and reduced turnover. Visible ownership and management commitment to safety also facilitates more trusting relationships between management and employees. Customers are also likely to notice this commitment to safety. Being safe always presents a favorable impression that can go great lengths in promoting your business.
Ask your equipment dealer or manufacturer if they have resources available to help you create a safety culture in your business. The amount of money you invest in safety education and training can reap dividends in increased performance and profitability as well as decrease the negative consequences of a careless work environment—injuries, insurance claims, lost revenue or worse.
5 Building Blocks of a Successful Safety Culture
A safety culture is much more than a collection of policies and programs. It's the mindset and the behaviors that emphasize safety as a top priority. While a strong set of core values provides the foundation, a safety culture is effective only when behaviors reflect those values. Building and nurturing an ideal safety culture typically involves five common elements.
Embrace shared responsibility at all levels. A safety culture starts with participation from management and operational staff who fully support equipment, shop, office and work site safety initiatives. A successful culture is nurtured by company leaders who treat safety and health as an investment and not a cost, and field champions who value and demonstrate model behaviors.
Supply proper training and information. Operators who know how to properly use their equipment and follow a manufacturer's instructions are much more likely to operate it safely and efficiently. Safety and training information that is plentiful, current and accessible has a much better chance of being embraced.
Integrate safety daily. A positive culture treats safety as a standard part of an employee's workday that factors into every decision and not as a separate issue that is addressed only at safety meetings or training events.
Implement continuous improvement. A true safety commitment is never completed. It is always being refined. Dedicating resources and time to continuous improvement will help a firm identify areas that need to be strengthened and develop strategies that can positively impact safety performance.
Celebrate successes. Focusing on a good safety record is important, but positive reinforcement of a safety culture includes celebrating and acknowledging your team's efforts, planning and incremental improvements.