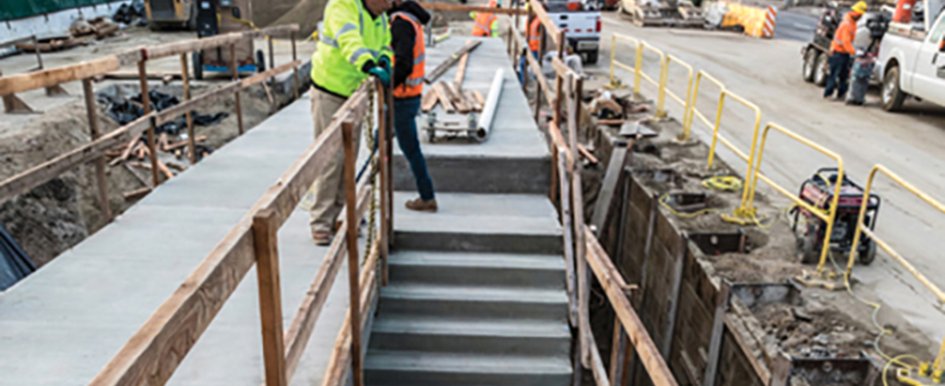 The California project took a critical path toward safety
Construction business owners face challenges daily. Whether it's a delay in materials, finding skilled labor or keeping projects on budget, there is no shortage of obstacles.
Perhaps the most difficult issue for owners is workplace safety. According to statistics compiled by the Occupational Safety and Health Administration (OSHA), construction is the most dangerous job in the United States. The federal agency reported 4,836 workers were killed on the job in 2015—an average of more than 93 per week, or 13 per day. More than 21 percent of private sector deaths occurred in the construction industry, and 10 percent of construction workers are injured yearly.
Workplace hazards can be hard to manage at just one site, so imagine the difficulty in keeping workers safe along an 8.5-mile rail line like the Metro Rail extension that is being built in Los Angeles. Some of the work is also being done underground, which only adds to the risk.
"Working underground is dangerous," said Dave Pebley of Specialty Building Components in Pico Rivera, California. "The first thing an underground worker wants to know is, if there's an emergency, they can get out quickly."
Pebley's company delivered six emergency exit hatches and four large doors for access to underground control systems for the project to the Los Angeles County Metro Rail System.
The doors provide code-compliant egress for underground workers and, eventually, subway riders. Walsh/Shea Corridor Constructors is building the rail line, which will connect the Crenshaw neighborhood and Leimert Park to the city of Inglewood and Los Angeles International Airport.
"Even before there were any designs, they knew they wanted a door that they wouldn't have any problems with," Pebley said. "It had to meet code requirements, but it also had to meet demands of the job. These doors are located on the sidewalk, and each one had to be tested by the fire department. The doors had to meet H-20 loading specifications but also be light enough to be opened with a 30-pound push."
An H-20 rating refers to the ability of a roadway or safety component to safely accommodate 3- and 4-axle vehicles. The code also requires that the door must be opened with a push of 30 pounds or less. "The doors are sprung very carefully," Pebley said. "They are well-engineered and designed."
Aside from construction workers, the doors will be important in the event of emergency for subway riders. "It's critical that you know the door will work in an emergency," Pebley said. "You don't want to get to the top of the stairway and the door won't open. You also don't want the door to pop open and hurt somebody above ground."
The doors are made with Type 316 stainless steel hardware and include an automatic hold-open arm lock to ensure safe egress. The heavy-duty construction and positive latching mechanism help to prevent unauthorized access. These particular doors include a 25-year warranty, along with grating systems and ladder assemblies that help to ensure worker and rider safety.
Pebley said workers encountered design challenges throughout the installation. The most problematic was customization, as architects and engineers returned to him eight times with resubmittals. "They not only had to meet the egress code requirements, but they also had to be built to the right dimensions," Pebley said. "We did a lot of work to change the width or an angle."
Architects designed the project with the exact number of doors needed to keep riders and workers safe. Pebley said there are two emergency doors at each of the three underground stations. Four stations will be at-grade, and one stop will be elevated.
The new transit line is also expected to bring commercial and retail development and help to ease congestion on the region's jammed roads. The project did not seek state or federal money, and is instead being funded with sales tax revenues and local sources. "Measure R," the half-cent sales tax approved by Los Angeles County voters that is providing the bulk of the funding, was passed in 2008. The cost is projected at $1.47 billion, with about 82 percent of the funds coming from sales tax revenues.
The project was planned after the Los Angeles riots in 1992 to better serve transit-dependent residents in the corridor and to provide an economic stimulus to the region. Reports last fall said development was booming along the corridor, and real estate prices were rising around many of the stops.
"This is a project that is important for Los Angeles," Pebley said. "We've been working with the Metro since its first station was built in downtown Los Angeles 25 or 30 years ago. We have doors on those stations that are still operating beautifully."
While this project is much-needed and anticipated, rider and worker safety is of critical importance. Pebley feels the Metro Rail Line and Walsh/Shea did their due diligence in taking the proper precautions.
"These doors work easily," Pebley said. "The owner of the project took the safety of the workers and the riders into consideration very early on, even before there were any designs. They understood that, in a project like this, safety was paramount."